Ferry Over

Beez Neez now Chy Whella
Big Bear and Pepe Millard
Fri 19 Sep 2014 22:57
Interislander Ferry Back to Wellington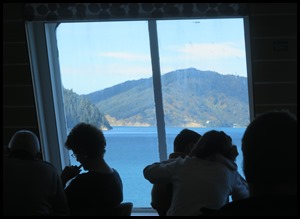 We left behind our very last tourist activity on South Island, the wonderful experience with Edwin Fox, jumped into Mabel and drove the five minutes to the booking in lady. Reference number given, boarding ticket issued in a few minutes, off we went to join queue three. Lunch eaten, what about a game of backgammon. I was four one up and had just put the bet on, bristling with the knowledge of an easy decisive win. Oh. Off we went. Table perched on my chest, I quickly put the game away and we boarded the ferry, up a level, out in the open on this bright sunny day, the promise of slight sea conditions and a pleasant journey. We settled in the forward facing cafe and soon enjoyed views out of the window of a very blue sea. As I would find out later, I should have taken the game with me as later, I did win the non-finished one, but I was out of rhythm, clearly, I lost the next game. Cross as a wasp.
After picking our way through the Sound, we felt the hard right to clear the rocks at the end, and out to see, full steam ahead. We both agreed it was lovely to be back on the water and hope for a couple of smooth journeys like this one to gather our sea legs.
Farewell South Island. We've had a blast. Mabel fifth back from the cattle truck.
So pleased the cows are having a smooth crossing, some even lay down in the sunshine.
Nearing Wellington and North Island.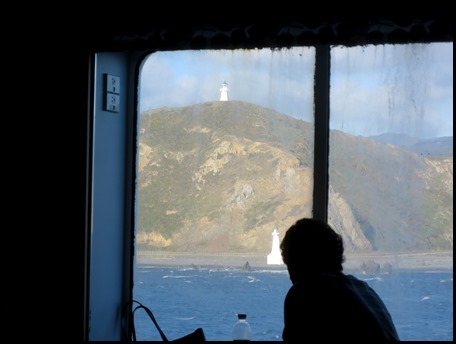 Left at the transit – 'lining up' markers and we are called to make our way to Mabel. Off the ferry and half an hour later we are finishing the said game of backgammon. I did feel confident that I could take the next game, but 'you know who' decided otherwise and got on one of his 'lets see how many double sixes I can throw' stints. He can go for days throwing a two and a one, then has these phases. As I said, cross as a wasp as I cooked supper. That's the way it should be. What cooking supper or the cross as a wasp. Both.
Have you ever seen anyone round on another with a hot wok.
Bear has.
Disappear Bear. Disappear.
ALL IN ALL A VERY PLEASANT DAY WITH A SHODDY ENDING
SAD IN SOME WAYS BUT EXCITING TO MOVE ON
---