To Sanctuary Cove

Beez Neez now Chy Whella
Big Bear and Pepe Millard
Tue 26 Apr 2016 22:57
To Oscar and Peta's Jetty in Sanctuary Cove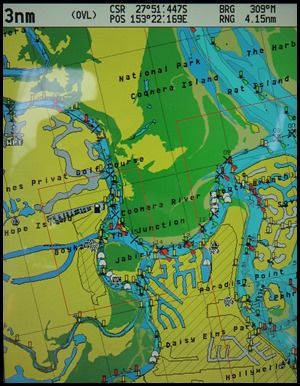 I entered the six and a half mile course to Sanctuary Cove, looks a bit busy.
In reality.
Engine on at nine thirty, it took ten minutes of motoring forward so Bear could get the anchor up in gusts of twenty seven knots and a current like someone had pulled a plug out somewhere. At least we could see across the bay to Crab Island, sad we never got to bimble ashore but it was nice to be on the move.

A working girl passed us with a rather smart piece of machinery aboard. A couple of huge motor cruisers, going in opposite directions, both were very polite and slowed so we didn't leap about in their cross-wakes.
A little further, wow, a one careful owner. Not what we expected to see in these parts.
Some very parsey houses, so reminiscent of our time on the ICW going through Fort Lauderdale.
Several turnings on the left were to developments, anchorages and private harbours.
The view behind us on the Coomera River.
The river was first discovered by
Patrick Logan
in May 1827.

The waterway was originally named the
River Arrowsmith
after a London cartographic firm by Robert Dixon, a government surveyor. However,
Thomas Mitchell
, the
Colonial Surveyor General
, overruled this and other names, replacing them with Aboriginal names

. Another left turn.
A big open space, a new development with a big house on the corner.
An even bigger one on the next corner.
Gold Coast, Queensland or somewhere in Florida ?????
Empty slot, possibly five hundred thousand pounds.

More big houses.
Our favourite so far.
Smaller houses for a change.
Our turn on the left, at the bottom of the turning Oscar was there to take our ropes. Soon we were indoors enjoying a cappuccino and a catch up.
We had the perfect guide for our tour around the area. Sanctuary Cove will host the biggest boat show in the Southern Hemisphere in May. After stopping at the local store for a few bits we returned to Beez, ate lunch, I won a tight five four game of backgammon and then the heavens opened. We have the use of a car and free reign of the house but we tucked ourselves in tight, a few indoor chores and an episode of Broadchurch.
ALL IN ALL CANNOT GET OVER THE KINDNESS OF OUR HOSTS
BEAUTIFUL, QUIET AND NO BOUNCING
---