Back from Tual

Beez Neez
Skipper and First Mate Millard (Big Bear and Pepe)
Thu 21 Jul 2016 22:57
Back from Our Market Bimble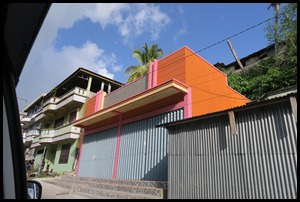 Leaving the market we had the chance to see local houses.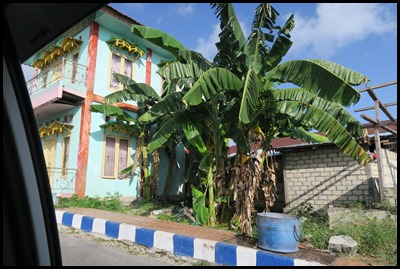 Motorbikes and scooters everywhere. Each time a car (or bigger) passes a two wheeler they beep, we will have this for many months to come. Interestingly, it is two pounds fifty to hire a scooter for the day and twenty five to hire a car. The soil is reputed to be poor here so it was nice to see a banana tree in a front garden.
The local car wash. Nice to see a Stop sign, we only saw one set of traffic lights but they were broken.
Most vehicles bear the potential for One Careful Owner but we did see some posh ones.
Out of town housing.
The Department of Fisheries College is built like a ship.
B&Q.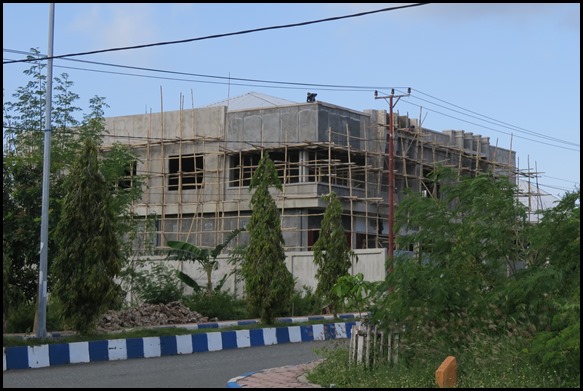 As we expected Health and Safety doesn't exist. Traditional bamboo scaffolding.
Our final turn to the port sported a Wonderful Sail 2 Indonesia banner. The Port entry complete with fountain.
A one carefully owned crane resting quietly.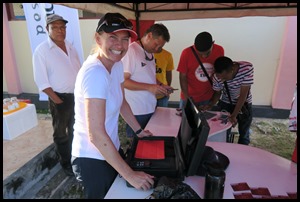 Back at the hospitality suite, we found Bamboozle dealing with internet connection. Only Jamie and Lucy would have a big Pelican case for two IPads and a hand-held radio. Lucy wanted us to see her crew cap.
The organist leading the karaoke, looking cool. Some of the officials hit new heights singing for us, some were really good.
We watched the stage being built and by the time we left there was just the fountain to be set and the plants to be distributed. A bit of dancing with our hosts..........
Posing with my new friends.
Sunset, time to wend our way home.
ALL IN ALL A HAPPY PEOPLE
SIMPLE MECCANO BUSILY ERECTED
---