To Dong Hoi

Beez Neez now Chy Whella
Big Bear and Pepe Millard
Sun 14 Jan 2018 23:57
To Dong Hoi
Late breakfast, cup of tea in reception and a ten minute taxi journey to Hue Station for the three twenty six train to Dong Hoi. Finally, we get to watch a Vietnamese train come in. Soon settled in the third carriage, we have a window that we can see out of – well half of one, Hurrah.
We go over the river and see a dragon boat and beyond the city, paddy fields.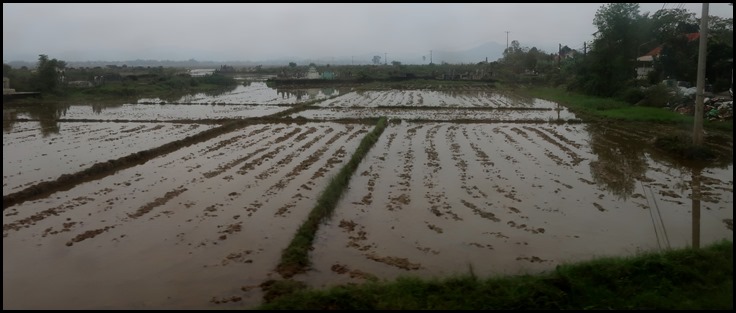 Mile upon mile of paddy fields.
Snack cart and stew cart.
One hundred and sixty eight kilometres later we pull in to yet another generic station with the usual throng of taxi drivers. We tell them all we must go to the ticket office for our train to Ha Noi in a few days time and they all thin out, except one, who follows us and waits for Bear to hand our tickets to me for safe keeping in our Passports. Off we go through another generic town.
A bit of light relief at a traffic light when the chap on the top of the shop shade (spot the chap) did a bit of spot welding, no mask, a drizzle of sparks and not a care in the world.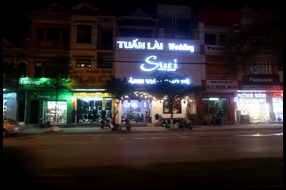 We pass loads of wedding dress shops, some fancy boutiques and several eateries before crossing the river.
Our ten-storey digs stands on a very small footprint. Bonsai mania like Hue.
Sitting area and reception in this fairly new hotel.
We settled in a room on the sixth floor. I went to check the river view – ah, only if I put my cheek to the tiny window and squint hard right. Down I go get new room key on eighth floor. Identical save the painting above the bed. Boys happier, we have a side and front window. The room is really cold, so when I take the sixth floor key card back I ask for a heater, "No, fire risk". OK bed fully clothed, watch a film and eat the rolls we brought with us from breakfast. Bear had Camembert Gromit and I had Laughing Cow – we know how to live it large.......
ALL IN ALL VERY PLEASANT
AN EASY JOURNEY WITH RURAL SCENERY
---