To Mooloolaba

Beez Neez now Chy Whella
Big Bear and Pepe Millard
Mon 2 May 2016 22:57
To Mooloolaba Marina
Well, what a difference a day makes, after yesterdays gloom and wet, we awoke this morning to a clear, bright day. Behind us, the resort – to our left the sandy beach. All ready, we left at eight for the thirty seven mile journey to Mooloolaba.
What was amazing after yesterdays half a mile visibility – today we could make out the hills of the mainland some twelve and a half miles away. Yet another massive area of sheltered water that had the First Fleet arrived at, would have been chuffed to find everything they needed, just to the left the big river entrance to Brisbane.
After we had got going I excused myself from the cockpit in order to carry out a very delicate operation – to bid a fond and moving 'farewell' to my beloved action trousers. I had officially worn them for the final time en route to Peta and Oscar's and they too had witnessed their last act as faithful friends. The decision had been taken on the back of the grief felt at saying goodbye to my 'twenty thousand plus mile' bloomers the day before. I laid them carefully on the replacement pair for a memory shot. Stroked their thin, in some places see-through material, so soft................ then looked at each of the wear holes.
I hadn't been able to wear the replacements today favouring my back-up pair.
Back in the sunshine, we looked back toward Moreton Island, hard to believe this is an island and not the mainland, still getting used to the size of everything here in Australia.
We were now out at sea, all around us the ocean – in sixty feet of water.
After losing at backgammon AND upword by two for the second day running I was as cross as a wasp. There was the corner and Point Cartwright Lighthouse. Two dolphins gave us a slow pass that we took as a welcome.
We slowed up a bit and let a lady overtake and let her be our guide in. Thank you Sapphire.
The corner.
Once round, we had a view of the bay.
Mooloolaba derives from the
Aboriginal
word
mulu
, meaning
snapper fish
, or
mulla
meaning
Red-bellied Black Snake
. Originally known as Mooloolah Heads, the name was changed to Mooloolaba by Thomas O'Connor in 1919 when he subdivided land for sale here

. It was odd to see how, in our eye, the yachts entering seemed to be nearly on the beach. In this picture one has just popped in and her sail is visible, the other has made her swing beyond the entrance and is now turning left.
The entrance seen more easily but we still have to head straight for the beach before it is our turn to hang a left.
Sea conditions were predicted to be a one metre swell only noticeable as a fishing girl went past on her way out to work.
We could see two Maritime Rescue boats on watch. This bar entrance has silting to the east, out from the entrance, so you have to aim for the western wall. Although today was perfect for us, it doesn't take much for things to be very different as seen with the fishing girl battling against huge waves. The bars here are not to be taken lightly, only done in conditions to suit your craft, so pleased it was nice for me. Next bar it's Bear's turn – Wide Bay, perhaps the one to be respected above the others.............Current lat and long waypoints are available if you telephone or email the VMR (Voluntary Maritime Rescue).
We knew about the shoaling here from a notice read out with the local weather, also on the marina website. Just part of the notice from the Department of Transport and Main Roads:- Maritime Safety Queensland: Mariners are advised that a hydrographic survey of the Mooloolah River and its coastal bar on Friday, 4 March 2016, shows a shoal patch extending from the end of the eastern breakwater in a westerly direction towards the centreline of the channel. The shoal has a least depth of approximately 1.2 metres at LAT near the eastern breakwater and a depth of approximately 1.8 metres at LAT near the centreline.
What smashing people.
Safely in at high tide, we look back through the doorway. Just shy of high tide and the lowest we had below us was one point two metres.
Moorings on our right.
To our left.
Back to our right, the working girls, beyond them, the marina.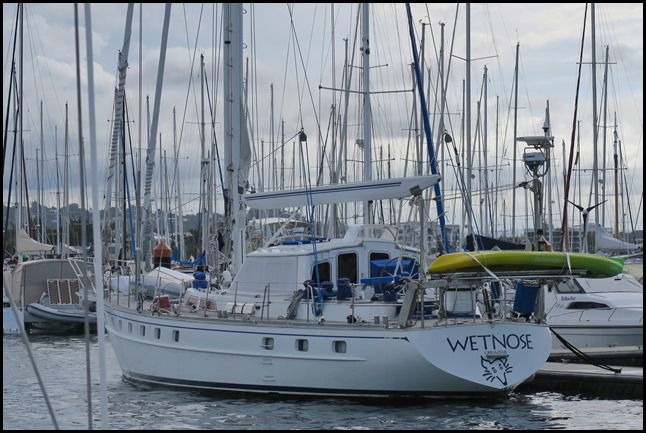 We loved the name of this girl registered in Gibraltar.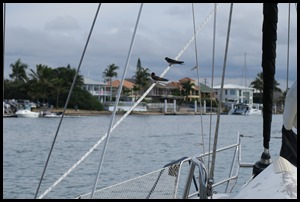 Just then the sweetest chirping from one then two little chaps.
One of them came closer for a private audience.
Safely tucked on D28, above the yellow arrow.
The afternoon went by very quickly with a few chores and housekeeping bits and bobs, time for a shower. As we left the girl our next-door neighbours were just coming home, Linda and Bill remembered seeing Beez in Grenada. Then the fun began. Today, a Bank Holiday, meant the office closed at twelve thirty. Sharon had emailed this morning giving instructions on where to park, told us of a locked box outside the office, the code to get into it to pick up our gate – shower – washing machine tab. I suggested Bear stand at our jetty gate and wait until I had said tab in hand and checked as I didn't want us to be stranded outside a locked gate with not too many folk about. Yep, inside the box was an envelope with our names and inside was indeed our lanyard and little tab. All well or as they say in these parts "saul good"...........we tried the shower, red light and a buzzy noise. Bear bimbled to our main gate – red light and buzzy noise. Oooooooooooo. I remembered several envelopes and a few other lanyards, Bear went this time and came back with a 'Spare Key'. Hurrah, this one worked. Both clean and suppered it was time to watch the finale to series one of Happy Valley.
ALL IN ALL A WARM, SMOOTH JOURNEY AND HAPPY BAR ENTRY
A TIDE AND CURRENT ASSISTED PASSAGE
---