Farewell Zebedee

Beez Neez
Skipper and First Mate Millard (Big Bear and Pepe)
Wed 6 Mar 2013 23:47
Farewell – For Now, To Zebedee
We had farewell drinks yesterday with Alan and said we would be on duty at six thirty this morning (before the wind gets up) to see Zebedee off, on his way to The Pearl Islands. We did laugh when Alan suggested we would probably 'beat him' to The Galapagos Islands where we would once again be welcome to a glass of his exceptional home-made rose wine.
We were to be 'on hand' just in case Zebedee's nose got too close to other yachts in the tightly packed anchorage. We had all had to put out so such anchor chain there was no knowing where Zebedee would really end up before being free. We watched in awe as Alan wound in the anchor, the wind staying quiet during the process and then witnessing the expert handling of the Yuloh as Zebedee silently moved off.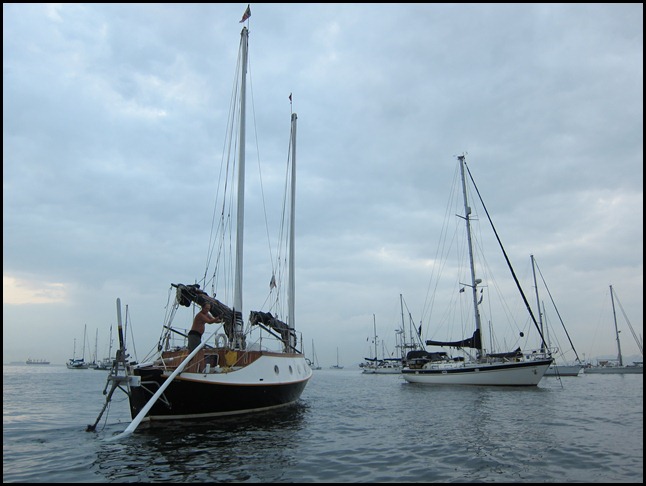 Zebedee heads over to say 'farewell' to Beez
As if by order the breeze gently awoke, Alan hoisted the front sail and the sun began to rise.
The result – a classic shot of man and boat
We sat idling in Baby Beez and just took in the scene
Back aboard Beez we watched as Zebedee disappeared, hoping to meet this unique pair again.
ALL IN ALL FAIR WINDS AND FOLLOWING SEAS TO BEEZ FRIEND
---