Enduro Zero

Beez Neez
Skipper and First Mate Millard (Big Bear and Pepe)
Sun 8 Feb 2015 23:57
Outboard Nadda, Weekend Ends with Ribs
Steve and Bear engineering together
Thursday. After a wet few days it was lovely to get a call from Chris and Steve, they would pop in en route south from a visit to Cape Reinga calling half an hour before they arrived. Bear had been out and about in the morning and had no cause for concern with the trusty steed Baby Beez. Call came. Bear set off – no, the outboard wouldn't start, he sold our old one on Monday, the one that started 99.999999% of the time. The Enduro was his Christmas present in Panama, not used much should have been well rested and ready for action. Next call, our royal visitors were asked to wait in the Yacht Club. Many bad words and growling from Bear. Rushing about changing fuel, pulling starter cord, still nothing. I got on the radio, Mary answered, thankfully Rod was home and ready to act as standby water taxi. Royals delivered, much laughing, stuck aboard, kidnapped, stranded, might as well stay then.............. Rod and Mary came over later for supper.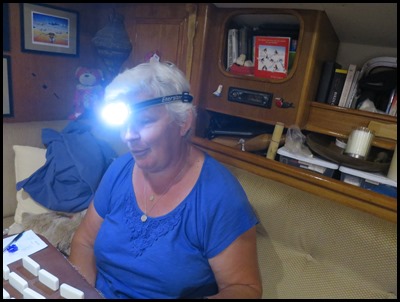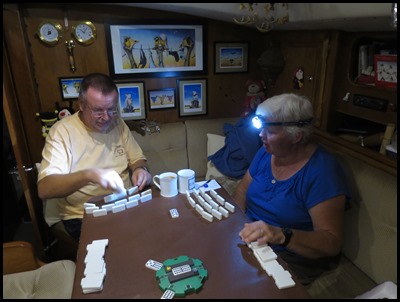 Friday – actually cold. Beez bucking at her tether, not safe to work on Baby Beez engine, nothing for it but to play Mexican train dominoes. Maj, short for Majesty was not impressed at the lack of light. Simple – head torch.......... Oh and a new world record for Maj, one of our games dealt her some heavy blows. 728 took over from my 693 achieved some time ago, you know they say – if the crown fits wear it. Oh Maj, is that you growling. Baileys and ice.............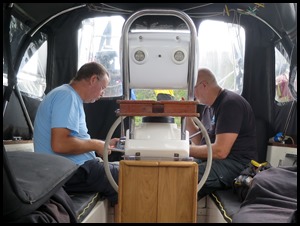 Saturday. Between downpours the boys got Baby Beez to the back of Beez and the poorly outboard was hoisted. Tools of all shapes and sizes were employed and the two surgeons got to work. Blocked carburettor we heard.
We were very impressed at how everything was laid out. Very soon everything was put back together and hurrah. That means the stranded ones could leave, too late today, may as well get Rod and Mary over for supper. A fun thing watching Maj try and reach the bottom of the fridge. Mary brought bolognese, we did chilli, good fun.
Sunday. Breakfast as per usual was boiled eggs, Bear as usual produced the goods, sadly, no egg events. While they were boiling he set about making toast. Now back before Christmas there was an incident whereby Bear gave Maj a dodgy skimmed milk on her cereal. This morning we were using up the campers bread. Bear made quite a show checking it for anything untoward.........
The boys combo.
Off to Paihia in Stan. Baby Beez and her serviced outboard back to being our trusty little steed. We have only ever popped into the shops so it was really nice to bimble in the sun. We even walked the length of the modest pier, watched the world go by and then we were treated to ribs, the best since Antigua. Back to Opua our stranded guests made a bid for freedom and we returned to Beez. Backgammon then. So long as I win...........
ALL IN ALL A FUN WEEKEND
---