Round Efate

Beez Neez
Skipper and First Mate Millard (Big Bear and Pepe)
Mon 5 Oct 2015 22:57
A Drive Around the Island of Efate
We set out this morning to give the Cultural Museum a thorough look – closed, later we would find out that today is a Bank Holiday. Enthusiasm for the day was not dampened and Bear suggested we visit Port Havannah and maybe have some lunch. Off we went. We slowly followed a car that Bear thought was searching for his drivers license, funnier still was a chap carrying a long coconut tree trunk, stopping to trim off bits with his machete.
Up the steep hill, missing as many of the huge potholes as I could, Bear took this picture overlooking Port Vila to the left and Hideaway Island in the middle.

Down the other side we saw Artok Island [or Hat as Captain Cook named it] and the unmade, left turn we took to meet Captain at the beginning of our Roi Mata Cultural Tour. The main road swept to the right and on we went.
Ahead we saw Lelepa Island.
A really bumpy bit over a hastily repaired bridge.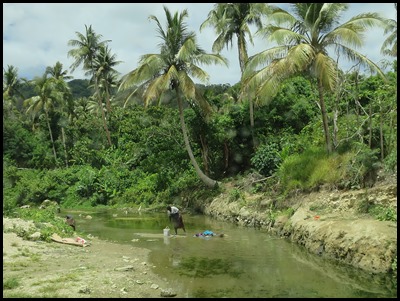 A lady was doing her washing in the river. This house was mostly intact – during the day we saw many houses still wrecks as a result of Cyclone Pam, several emergency relief tents provided by the people of Japan and some piles of rubble that are beyond repair.

The next stretch of road was surprisingly smooth and for the first time since we got here, I actually managed fifth gear........... The scenery was very volcanic. The lampposts were brand new and later we saw many lying at the side of the road ready for lifting.
Ooops, we missed the turning to Havannah but saw a sign saying we were not far from the WWII museum, so we carried on after a quick stop to take a picture of Nguna Island on the left and Pele Island on the right.
No signs, but we saw the ferry service to the islands. I had wanted to go to Pele to visit the seahorse farm – I found out that it was a farm that kept horses that you rode to the beach and swam with them, both our eyes shot up, they are a primitive means of transport and to get with one...........argh........Bear got out to get the griff, he spoke to a local lady who told him the price over was five hundred vatu – about two pound sixty. Next he spoke to a ferryman who said the price for us was twenty pound return for the two of us.........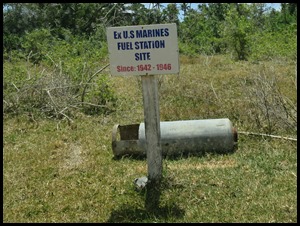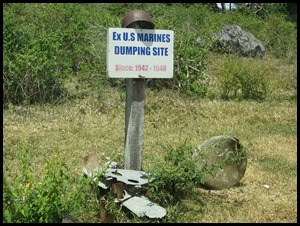 A few miles further on we saw the sign for the World War Two Museum, followed the twisty, bumpy, mainly grassy track. We knew all was well when we passed signs alluding to U.S.Marine uses for the area.
Sadly, we got as far as two propeller gate posts which looked newly cemented in place, but our onward path was blocked by a barbed wire fence, beyond we could see many trees down and much storm damage. Clearly this was not our day for museums. We couldn't find a soul to ask about snorkelling the wreck so there was nothing for it but to head back to the main road.
We stopped at the top right corner of the island in a village called Takara, the home of the hot springs. Incredibly windy [apparently it always is here and it used to be popular with surfers] we walked to the beach, to our right was the remains of a resort – open for late lunch. We thought it was a good idea to support the Beachcomber and in we went.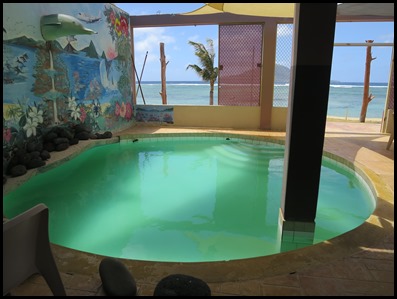 A fairly nice man welcomed us, we ordered pan toasted sandwiches with chips and a drink and while it was being prepared we went for a look-see. The hot spring pool was not very hot and not very appealing, we could have used it for free as we were eating but......... no.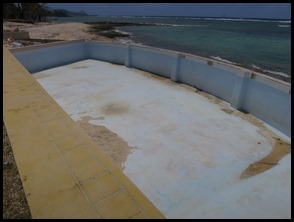 To the front of the building the children's pool [we assume] was in really bad shape, the main pool not too bad and the right hand pool was being slowly filled and looked in good repair. The boundary wall was new and the grounds were fairly neat.
Later, we found a picture of how the pool used to look. On Trip Advisor the place comes 46 out of 46 and has a very sad history of a dispute between brothers and an unfriendly reputation. The grounds with missing coconut trees. The restaurant showing half the roof covered with tarps.
Sadly the place looks like a shell with so much work to be done.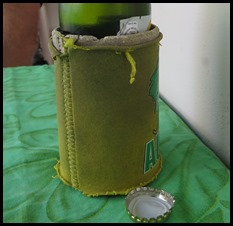 Our food was very nice but Bear's beer cooler had seen better days.
After we had eaten we went to look at one of the bedrooms. The fan had a very jaunty shape and half the roof was missing. The glass was broken and the cupboard doors were swollen and mis-shaped with water damage. Back to 'reception' our host told us the water level after Pam hit, rose to over seven feet and had made a terrible mess of things. We bade him 'farewell' and wished him good luck for the future.
After our break we started down the east coast that was hit hardest by Pam. We saw so many fallen trees.
Some of the road was in bad shape.
We passed a work party of children who were filling sacks with sand.

A bumpy bridge.
We thought these twin banyan trees were pretty impressive.
My favourite tree after Bear had taken us on the 'scenic' route. More potholes than you could shake a stick at, nowhere near the sea and evidence that a resort had been planned and then forgotten about.
Through Eton Village about half an hour shy of Port Vila, – our circumdrive complete.
Epau village shown on the map below – half way down the east coast has a sign that shows the distance each way along the Efate Ring Road.
ALL IN ALL AN INTERESTING DAY
GOOD TO SEE SO MUCH RECOVERY
---