Lenny Update

Beez Neez
Skipper and First Mate Millard (Big Bear and Pepe)
Mon 8 Apr 2013 22:27
How is Lenny ???
We have had emails from as far away as Brisbane wanting an update on Lenny. Well he had a bit of a shock the day Bear turned on the generator to charge up, he slid quickly into the water and I was worried he would leave home – permanently. This morning there he was AFTER Bear had turned on the genny. He had been fishing with Lionel all day yesterday and instead of coming home with him, sent a message through him to say he was going to a party. Oh I hope he's in by midnight, no, so I went to bed more worried. About three I heard him slip in very quietly but very wobbly.
I wondered why he was on the other side of the stern platform......
..............................soundo.
He managed to lift his throbbing head, manage a cheeky wink, ask for two paracetemol, mentioned a puckered kiss with a little hottie before slumping down into a deep sleep. Apparently he had been too tired and just flopped where he landed. (Note to self, ask Bear as captain and father figure to go through the birds and the bees - 'man talk'.)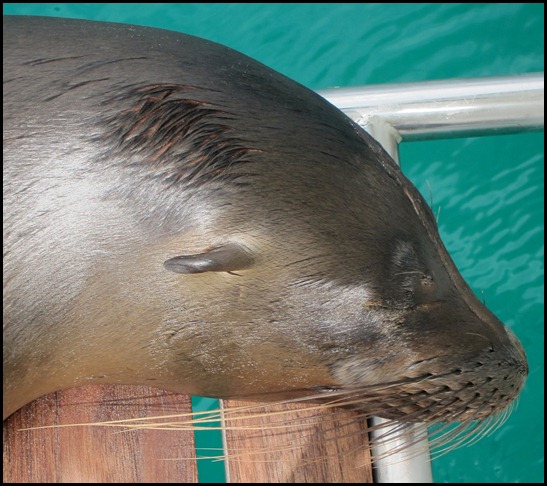 ALL IN ALL OUR BOY IS GROWING UP FAST
---