To Hellville 2

Beez Neez now Chy Whella
Big Bear and Pepe Millard
Tue 13 Aug 2019 23:57
Our Second Visit to Hellville
A colourful local lady with Fob to her right.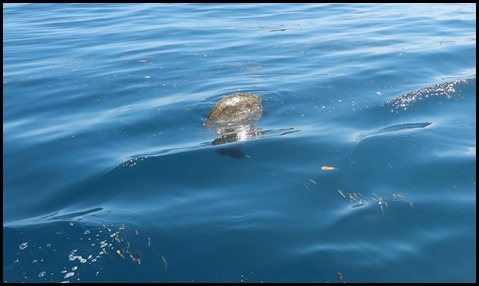 We left Sakatia Island at nine for the thirty-three nautical mile, Bear at the wheel (autopilot still not playing nice) and I took to cleaning the bedroom and kitchen fans. A loathsome job. Goodness knows how they get so fluffy and dirty looking but it is a Pink Job. Bear sadly took this picture of a dead turtle, pleased to say this is a first in all the years we have been sailing.
Passing Crater Bay our anchorage on the morrow.
A small container ship anchored out from Hellville.
Anchored in Hellville at 14:15, Bear asked if I would like to go ashore but, bit between the cleaning teeth, I opted to oil the wood in our bedroom and do a bit of tidying. Off he went to buy more internet. He came back just as the katabatic afternoon wind blew a Hooley and once again, as happened one afternoon the first time we were here, Beez bounced up and down for an hour and a half. Games, supper, A Stalker and a New Tricks after showers and then an early-ish night.
A quiet night, the container ship all lit up.
ALL IN ALL A GOOD DAY OF CHORES
FROM A LOVELY ANCHORAGE TO THE NOISE AND BUSTLE OF TOWN
---