Return to Jolly

Beez Neez
Skipper and First Mate Millard (Big Bear and Pepe)
Wed 20 May 2009 22:55
Time to return to Antigua
We left Low Bay, Barbuda at 08:00 and had picked our way down the coast to put the sails up in open water by 09:20. As I was attempting to switch the engine off, reel screamed into life.
Result - nice little Tuna - who took on my lure just for greed sake as he had a full stomach
Very soon after I had cast the lure I caught a reasonable sized barracuda, but, as we had supper lined up we let him go. Meanwhile an exhausted racing / homing pigeon - clearly suffering and trying to land on the sea, decided we looked friendly enough and settled in for a doze, woke a bit quick as I reeled in my third catch in fifty minutes.
In all the kerfuffle of landing this good looking beast, Pidge went straight back to sleep. I got Bear to model my catch as I was in fits of giggles It's all skiddy and hard to hold when you are trying not to disturb a tired passenger, can I suggest you hang up your lure for the rest of today. With that I became redundant as a fisherman, all over by 11:20. I felt I should be busy, so settled down with Skipper's tooth brush and toothpaste to give my first barracudas jawbone a good cleaning. I don't really know what to say to this. "Well you are the one who sacked me".
Three dolphins swam over to say hi - sorry Colin no jumpers. A couple of container ships anchored off St John's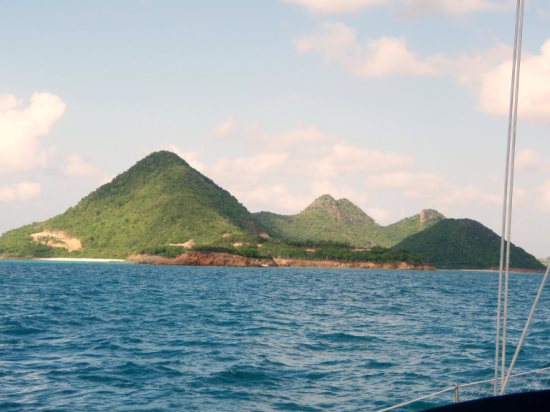 Skipper perusing his kingdom. The entrance to Jolly Harbour has some nice scenery.
A whole swarm of sea birds came to welcome us. Anchored about eighty feet from where we were before, in to the marina tomorrow to get ready for Jump Jet arriving on the 23rd.
ALL IN ALL a cracking good sail and not bad provision of supper, brought the cost per fish down a tad, steady.
---