Chi Lin Nunnery

Beez Neez
Skipper and First Mate Millard (Big Bear and Pepe)
Wed 26 Dec 2018 23:37
Chi Lin Nunnery
Feeling brave, we bimbled to the end of our road, used the footbridge to cross four carriageways and jumped on a bus. Easy as wink, we used our Octopus Cards and counted the bus stops as they appeared on our hotel room telephone. The bus had an electric sign that between little Santa's telling passengers to have a Happy Christmas said the next stop in Chinese and English.
We used Hammer Hill Park as a short cut to the Nunnery.
We passed a lovely bonsai tree and stood outside the Prayer hall for a while to listen to the melodic chanting, then our first bougainvillea bonsai and through the main entrance to Chi Lin Nunnery.
Established in 1934 and renovated in Tang dynasty style (AD 618–907) in 1990, the Chi Lin Nunnery is a large temple complex of elegant wooden architecture, treasured Buddhist relics and soul-soothing lotus ponds. The complex also includes a series of temple halls, some of which contain gold, clay and wooden statues representing divinities such as the Sakyamuni Buddha and bodhisattvas. No photography is allowed in the sacred rooms but it was a shame in one part as the plants were spectacular. We enjoyed the water features, the peace and the bimble.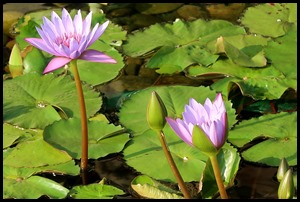 ALL IN ALL TRANQUIL HAVEN SURROUNDED BY A BUSY CITY
BEAUTIFUL AND TYPICAL BUDDHIST TEMPLE
---