Glamping 1

Beez Neez now Chy Whella
Big Bear and Pepe Millard
Sat 17 Jun 2017 22:57
A Weekend with Glampers
Adam had worked hard in the garden all week (well, all except Wednesday and that was a hard session of golf.....), disappointed as a camping weekend failed to happen, we stepped in and organised a glamping weekend with us at Dolbeare. There are two Lotus Belle Tents at the top of the field and there was delight as Adam, Jen, Faye and William arrived and moved in.
Excellent fish and chips for supper, a bit of a play and time for bed. Faye and William soundo. The tent looking rather splendid as darkness fell.
Up this morning ready for action. Jen, Adam and I prepare for a day of fun. Bear builds his new toy.
Adam, William and Andrew start a water fight whilst Faye is thrilled to have a real-live doll in the shape of Edward.
A game of chess is a good break from the hot sun.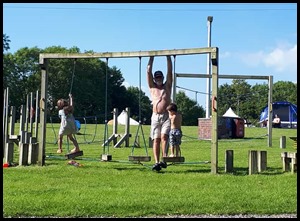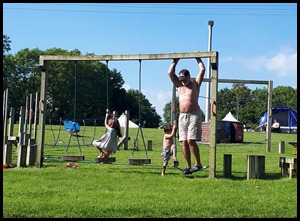 Boni unimpressed as Bear leads the way on the assault course.
A cute picture as the blow-up chairs await the onslaught.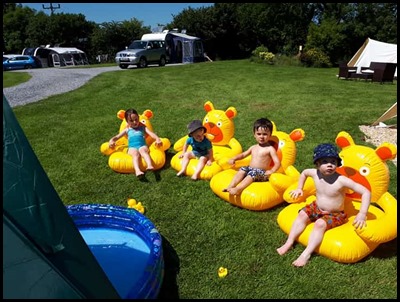 Cousins test driving the chairs.
William launches into the paddling pool.
Soon followed by Andrew.
A change of venue until William suggests lining up on the bus and becomes the driver.
Everyone on the journey. My favourite picture of the weekend.
Lunchtime mayhem.
A long walk for Edward, cuteness with ducks and crashed out.
Very dodgy application of sun screen.
Supper time, Bear did really well as a first attempt on his BBQ. Then story time.
Last hug with Boofie and Edward crashed.
ALL IN ALL SO MUCH FUN
SOMETHING DIFFERENT AND SUCH GOOD FUN
---