Chums and Bridge

Beez Neez now Chy Whella
Big Bear and Pepe Millard
Sat 21 Jan 2012 23:07
The Talmadge Memorial Bridge Complete with Chums
We bimbled down to the famous River Street in Savannah and as soon as I saw the bridge with a chum parked behind it, I crossed my fingers and hoped a to see one come in. I had seen on the internet this nice picture of the bridge with a chum and very much wanted one of my own. We had a great lunch and were continuing our stroll down the road to see the statue of the waving lady, I was busy reading funny t-shirts in a shop window when I heard look left Pepe. Yeeee haaaar.
Grand Gromit, I got my pictures, almost and fully under – yeeeeeeee har
The Yorktown Express was built in 2002, registered in Yorktown, Vancouver. She had left Panama on the 17th of January at a quarter past three in the afternoon. Beez Neez is 39 feet 4 inches long, just under 13 feet wide and a draught 5 feet 6 inches; once we made 10.2 knots for a few seconds and average around 5.4 knots compared to Yorktown at a length of 797 and a bit feet, beam 105 feet and her draught is nearly 32 feet, her maximum speed is 22.9 knots and averages 12.6 knots. Her gross tonnage is 40,146 tons or simply a very big girl.
The Talmadge Memorial Bridge spans the Savannah River between downtown Savannah and Hutchinson Island. Completed in November 1990, the new Talmadge Memorial cable-stayed bridge replaced the old Talmadge cantilever truss bridge (built in 1953), which had become a danger for large ships entering the Port of Savannah, home to the largest single ocean container terminal on the U.S. eastern seaboard.
Tribute to Eugene Talmadge: The structure is dedicated to Eugene Talmadge, who served as the Democratic Governor of Georgia in 1933-37 and 1941-43. The new bridge was originally named for the Native American Creek leader Tomochichi, an important figure in Savannah's founding in 1733. After public forums on the issue, the original name was restored for the new structure. Many of the piers (vertical supports) of the original Talmadge bridge still stand and a couple can be seen in the photo on the right.
Dimensions: The new bridge provides 185 feet of vertical navigational clearance for oceangoing vessels. Its horizontal clearance is 1,023 feet, with both main piers located on the north and south banks of the Savannah River. With a main span of 1100 feet and a total length of 1.9 miles, the new Talmadge Memorial carries four lanes of traffic. The north end of the bridge ends on Hutchinson Island, an island situated between the Savannah River and the Back River. A separate, older, two-lane bridge spans Back River, connecting Hutchinson Island with Jasper County, South Carolina.
Comparison with Arthur Ravenel, Jr. Bridge: Arthur Ravenel, Jr. Bridge and the Talmadge Memorial Bridge do look alike to us. Completed fifteen years later, the clearance under the Arthur Ravenel, Jr., Bridge is actually only one foot taller. Unlike the Talmadge Memorial Bridge, however, the Ravenel Bridge has eight travel lanes; the Talmage has just four. The Ravenel also features a dedicated bike/ pedestrian lane.
YM Efficiency. Her length of 882 and a bit feet, beam nearly 105 feet and her draught 32 feet, her maximum speed is 16.6 knots and averages 10.9 knots. Her deadweight is 51,870 tons or simply even heavier than Yorktown. Yang Ming has forty six ladies with a total dead weight of more than 2,000,000 tons.
Georgia one of the many working girls on hand to give a gentle push, pull or nudge
Georgia Ports Authority handled more than 2.3 million containers in 2007 making it the fourth busiest but fastest growing port in the U.S.A.. Maersk Line, Heineken and Ikea all have distribution centres based here in Savannah. The weekly Suez Express (SZX) provides increased capacity via Savannah to and from India and Southeast Asia, deploying eight vessels. The SZX, originates in Singapore, calls on Colombo, Sri Lanka, before Savannah and then returns via Jebel Ali, Port Kelang and then Singapore. It will take just twenty-five days for the SZX service to transit from Singapore to Savannah. The weekly East Coast Savannah Express (ESX), provides increased capacity between south and central China and Savannah. The ESX has a transit time of just twenty-two days from Hong Kong to Savannah, making this service the fastest available to the U.S. East Coast.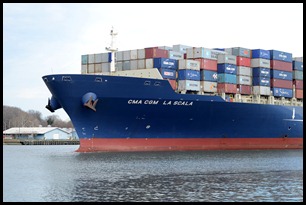 Our third and last lady of the day; we saw – the UK flagged La Scala, she can carry five hundred containers, has a maximum speed of twenty five knots. Her length is 1096 feet, she is 140.5 feet wide and her maximum draught is 47' 7". She was built at the end of 2009 by Samsung Shipbuilding & Heavy industries Co. Ltd, South Korea.
ALL IN ALL DEEP JOY
---