Obidos

Beez Neez
Skipper and First Mate Millard (Big Bear and Pepe)
Fri 22 Aug 2008 20:30
OBIDOS
Óbidos is a town of around 3,100 inhabitants, is located on a hill and is still encircled by a fortified wall. The well-preserved mediaeval look of its streets, squares, walls and its massive castle have turned the picturesque village into a preferred tourist attraction in Portugal. ( and was a must for us to visit as it is in the 1000 places book)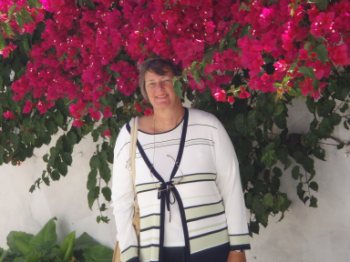 The southern town gate to Rua Dieita filled with small shops, me under the beautiful bougainvillaea in the most amazing colour.
The name "Óbidos" probably derives from the Latin term oppidum, meaning "citadel", or "fortified city". The wall is in incredible condition for its age. There is no "health and safety" when it comes to walking the ramparts, Bear was not very happy when people were coming the other way, he kept to the inner and let the passers-by do the outer. Funnily enough body space meant nothing, people came very close in fact cuddled up on passing. An allotment in the centre of town.
After the fall of Roman domination, the region must have come under the influence of the Visigoths, although material evidence is lacking. The Roman town of Eburobrittium was probably abandoned in the 5th century for the more secure hill where Óbidos is located. Sometime after 713 the Moors established a fortification on top of the hill. A Christian community of Mozarabs lived in the Moncharro neighbourhood.The area was taken from the Moors by the first King of Portugal, Afonso Henriques, in 1148. Tradition states that one knight, Gonçalo Mendes da Maia, was responsible for the successful storming of the Moorish castle. The retaking of Óbidos meant the end of the Reconquista of the Estremadura region, after the conquests of Santarem, Lisbon and Torres Vedras. The village received its first foral (charter) in 1195, under the reign of Sancho I.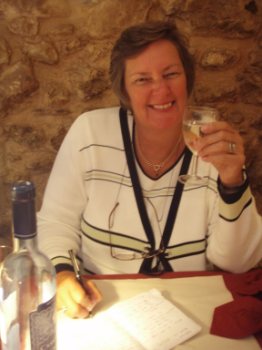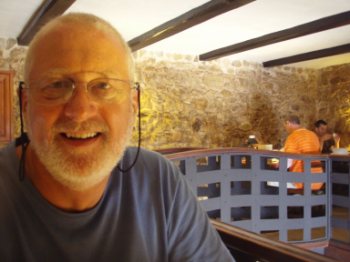 Bear by this pretty little cottage. Waiting for lunch I wrote some blog notes. The food was exquisite and the first time we have seen "green wine", meaning young. Behind Bear is a bridge to the other side and tables.
In 1210, King Afonso II donated the village to his wife, Queen Urraca. Since then Óbidos has often belonged to the Queens of Portugal, giving rise to its informal title as Vila das Rainhas (Queens' village). Several Queens enriched the village with donations from the Middle Ages until the 16th century.
Santa Maria Church of Óbidos was the setting for the wedding of King Afonso V with his cousin, Princess Isabel, on August 15th, 1441, when they were both still children of 10 and 8. Bear by the pillory and pots.
The town has a magnificent castle, now hosting a pousada or inn with 14 rooms. The tiles seen here are 18th century, same view from above. Not many cars wiggle in and out of here.
The castle of Óbidos and the walls of the village were remodelled under King Dinis I The village was also enlarged around this time, with settlements created outside the walls. The massive keep of the castle is attributed to a building campaign sponsored by Fernando I (late 14th century).
We thoroughly enjoyed our visit to this unique little gem.
---