Team Tinson

Beez Neez now Chy Whella
Big Bear and Pepe Millard
Thu 20 Mar 2014 23:57
Time with Team Tinson
Mark picked us up from Heathrow and off we went to Swindon. Kate and Seth welcomed us. What a welcome. Our first cup of English tea for two years, a very long time. At three we went to meet Jack at school. Kate stood forward and he ran over to greet her. Then he saw us and galloped over, what a hug, a massive snuggle. Then it was out for a milkshake to celebrate at Frankie and Benny's before Jacks swimming lesson and KFC for an early supper, our first in a long time. Bear managed to keep his eyes open until six and we all laughed as he bade us 'goodnight'. Having said that, I only managed until seven, really funny to go to bed before Jack and Seth. Wide awake at two in the morning, it may be awhile before we get into any rhythm. On Saturday we all went to Lydiard Park where Jack showed us his moves.
Mark came in for a dodgy tackle, but, with some fancy footwork we awarded a throw in.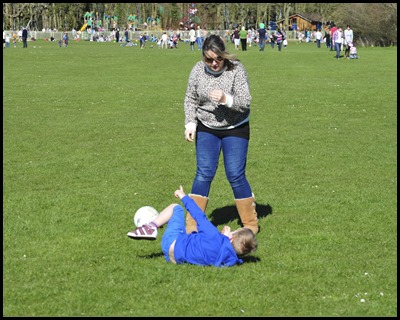 Kate ran in for a late tackle and we had to show a red card for the messy end.
It was lovely to bimble around the lake in the afternoon sun and take in the sights.
Later, Mark built a toy cupboard. Grandpa and Jack built a robot and at one point I watched as Jack tightened his grandfathers nuts. I said nothing.............. Meanwhile, what was Seth up to..............
No sooner than the new cupboard was in use, himself had crawled up to it, assessed it, crawled around the back, pushed object out of the way and made a short cut to the kitchen.............
When you first meet Seth, you cannot help but think words like elfin, cute, fragile and gentle. Nothing of the sort – he's a rough house. You really have to love him when you change the world's nastiest nappies, whole peas and all.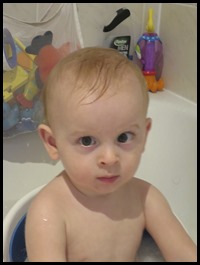 The short cut continued, the robot building too. Seth showed me how to attack a dishwasher and go through a planter rather than go around. Kate got ready to go to a friends hen night and it was bath time for the small people. Once again I was lulled into a false sense of cuteness – shortly I was soaked.
Adam and Simon both drove up from Plymouth to lend us Simon's favourite warhorse (a BMW 530d), then a Chinese takeaway was followed by – a first for us – slamming Sambuca. Things got a bit messy. Best only put a tiny picture in of Simon in, one minute chatting, the next out for the count. We managed to stay up until midnight and slept soundly until four thirty, still a way to go on the body clocks. Sunday passed in a gentle way. Monday Bear went off to stay with his mum for a few days whilst I babysat my new mate, Seth. What fun we had until Jack came home from school, then to watch the two of them was a joy. Jack is a marvellous older brother. Our final picture is of the three Tinson boys together.
.
ALL IN ALL A SMASHING TIME
---