Guinate Tropical Park

Beez Neez
Skipper and First Mate Millard (Big Bear and Pepe)
Wed 26 Nov 2008 23:01
Guinate Tropical Park
Guinate Tropical Park or Zoo by any other name. We wiggled off the beaten track to seek out this park in the north of the island, not certain what it was. It had better be special for 14 Euros each entry.
.
Katy Kookaburra and a couple of cheeky Toucans as soon as we got through the door, made it obvious this was indeed a zoo park of small animals and birds. Plus a cactus garden.
Meercats. Immediately we could hear in our heads Bill Neighey commenting from the BBC2 Meercat Manor. One little one almost did for the camera lens with its very long claws.
This Ostrich bonded with Bear, almost had my face off when I took their photo and promptly showed me its rear end.
You did tell it to smile and let's be honest can you blame it with a face like yours.
Have you ever seen someone's head shut in a souvenir shop door.
Pepe has.
Ding - a - Ling. Ding - a - Ling.
Poor Bear. Rub Bear Rub. Poor Bear.
Painted Mandarin Pheasants. Painted they looked stuffed to me. This parrot wanted to do me some serious damage.
What do you expect if you offer it your finger. Like KFC it's finger lickin' good !!!!!
Obviously recovered from the souvenir shop incident, Bear did not notice Pepe's lips disappear.
Erase Pepe's lips.
Have you ever seen anyone pulled through a chain fence. Bear has.
Flee Bear Flee. In fact. Fly Bear Fly.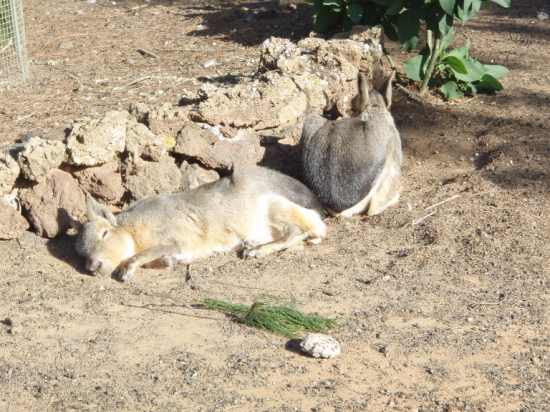 Tiring work this being on show. And another rear end facing the photographer. See Bear Run. Flamingos looking for a now wet Bear.
16:00 was feeding time for these rare penguins from Peru. Numbers down to 5,000 breeding pairs as El Niñeo wiped out their numbers dramatically. The proprietor wandered up to tell us all about them and their enclosure that has just celebrated its first birthday, he has been here for 22 years and his daughter will take over at some point in the future, he originally came to Lanzarote from Newent, near Gloucester !!! That gave Bear much to talk about with him. Dave the keeper is a world authority on their care and breeding.
Glass panels (70 mm thick) gave us a good view of feeding. If only dolphins would be so accommodating I would get one jumping (Colin I'm still going for it). The ARC boats set off from Gran Canaria on the 24th November, on one blog a crew have seen a pod of about 150. Let me at them.
16:30 we took a cup of tea to the Parrot Show. The chap in the centre actually allowed himself to be laid on his back in the deck chair, a lit cigarette put in his mouth, hat and shades on to complete the picture. Amazing all for a peanut I'm zipping my lips at this point.
These pretty pink parrots were quiet compared to the Macaws, after this one had had his drink he climbed upside-down and really got one on him. Bear has said he has always wanted a parrot for years and years, I did take a video as to remind him of the colossal row they make, painfully loud squawking in fact. No different than living with you, Dear.
See Bear exit the park at a sprint.
Run Bear Run. Run Bear Run.
All in all a pleasant afternoon, remind me to take my staple gun out next time !!! Careful Bear Careful.
---