To Long Sault Motel

Beez Neez
Skipper and First Mate Millard (Big Bear and Pepe)
Tue 17 May 2011 22:11
En Route to Long Sault Motel, Ontario, Canada
We jumped up at four forty five and took our final look at the Falls before leaving to catch a taxi with Stan; a seventy year old born in Arkansas, who spends his winters in Florida. He says he does a few shifts to keep himself out of mischief.
Our tickets (Bear's first as a senior, that means I'm the only adult - is that responsible adult ???) asked us to be at the station a half an hour before departure. Being timely we added fifteen minutes arriving at the Niagara Falls VIA Station at five thirty. However, no one bothered to mention the doors only get unlocked at six. The ticket man is used to a flood of people the second after six and was quite surprised that there was a delay - I was so cold by the time I saw the nice man with the keys that I couldn't work out it was a pull door, Bear had to tell me. Settled on the very high up train it took two cups of tea to feel a little thawed out. We left on the dot of 6:16 for our two hour journey to Toronto.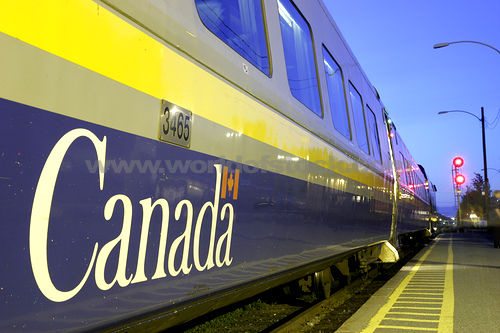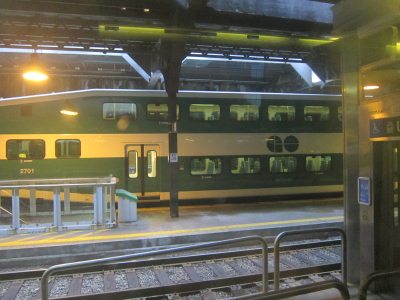 Bear was delighted to see a double decker train or two and I was thrilled to pass through Aldershot Staion (my birth town in England). Here it is the western terminus on the Lakeshore West line train service in off-peak hours, with buses continuing on from here to Hamilton GO Centre and the McMaster University Bus Terminal. Eight trains (four in each direction) continue on to Hamilton during peak hours. Some rush-hour trains use Burlington GO Station as their terminus, and GO buses connecting to these trips stop here as well. Aldershot serves Burlington and Hamilton on Via Rail's Quebec City-Windsor Corridor routes. It is served by trains to Toronto, Ottawa, Montreal, Windsor, and Niagara Falls, and by the joint Via-Amtrak Maple Leaf train, connecting Toronto and New York City through Niagara Falls. Burlington Transit connects with this station via 'Route 1 Plains/Fairview' and Hamilton Street Railway 'Route 18 Waterdown' connects to the station during peak hours - just in case you felt life could not continue unless you knew this particular nerdy info......
We pulled into Toronto at eight twenty five, queue for a short while until we settled on train 56 leaving on time at nine twenty five. The equivalent of the Skylon Tower.
This four hour journey had fantastic wi-fi, so a chance for me to do a couple of blogs. Still didn't feel I could take any layers off.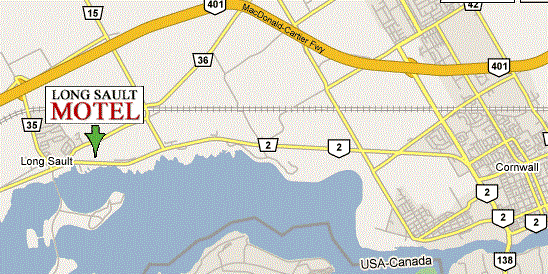 Jeff was at Cornwall Station waiting to meet us, off to get our fishing licenses, Bear's excitement level palpably rising. Then a quick transfer to Jay's car as Jeff's decided to get poorly and we had to leave it where it died - wheel bearing knackered, then off to Long Sault Motel (pronounced Long Sue).
The Long Sault Motel was built in the 1960's when Highway #2 was the main route from Montreal to Toronto and the waterside villages along the route were flourishing.
When Marian and Jeff Vaughan bought the property in September 2004 the motel had fallen on hard times and was badly in need of some loving attention. Over the ensuing years the motel has been extensively renovated, both inside and out, and is now far and away the best equipped and cleanest motel in the area. After extensive research last October - this was the place to surprise Bear.
Marian and Jeff are still based in England, only living at the motel between April and November. During the winter months the business is very ably run by Jay Lalonde (our rescuer, local resident and close friend of Jeff and Marian).
Originally the business was purchased due to Jeff's love of carp fishing. The Long Sault Motel is situated just minutes from the best carp fishing in the world on the beautiful St Lawrence River. Carp fishing and the Canadian Carp Club are still a very important part of the business, but the motel is also kept busy with a continuous stream of both regular repeat customers and others visiting after recommendations from friends. If you type in Jeff Vaughan carp fishing an enormous amount pops up. Down to earth, REAL knowledge from extensive fishing experience all over the world makes this man a true gem.
A couple of pictures of Jeff taken from the very instructive website - just to wet the whistle.... and throw down the gauntlet.........
ALL IN ALL SO WELCOMING AND I'M NOW VERY EXCITED
SO INFORMATIVE, SO HELPFUL, SO COMFORTABLE
.
---