Splash

Beez Neez now Chy Whella
Big Bear and Pepe Millard
Mon 16 Nov 2009 23:22
Beez Neez Finally Gets Wet
Our slot was 09:30, so we were up early to do the final jobs before Blue and the gang came to prepare the girl for movement. The air was full of excitement and the prospect of "bobbing about" at bedtime very appealing.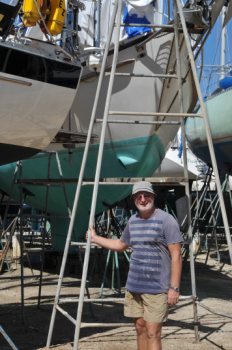 An expectant Bear. The trolley arriving at 09:45. Bear saying farewell to his faithful friend, the scaffold and plank.
Blue preparing the trolley, quick look up and the Peakes wagon that fully qualifies as a "one careful owner"
Trolley in place, one of the four pads in place and Leon at the controls. Michael obviously chose today as holiday when he saw the worksheet.
Cheesy Smile. Blue final locks on the pads. Bear in his usual "I have delegated my charge and it worries me" position. Easily recognised by the firm grip on two fingers behind his back
Off she goes. Bear goes to say farewell to the young French couple, our next door neighbours who bought their boat and arrived with nothing but a backpack. Hope all goes well with their rebuild.
Halting traffic and rounding the bend.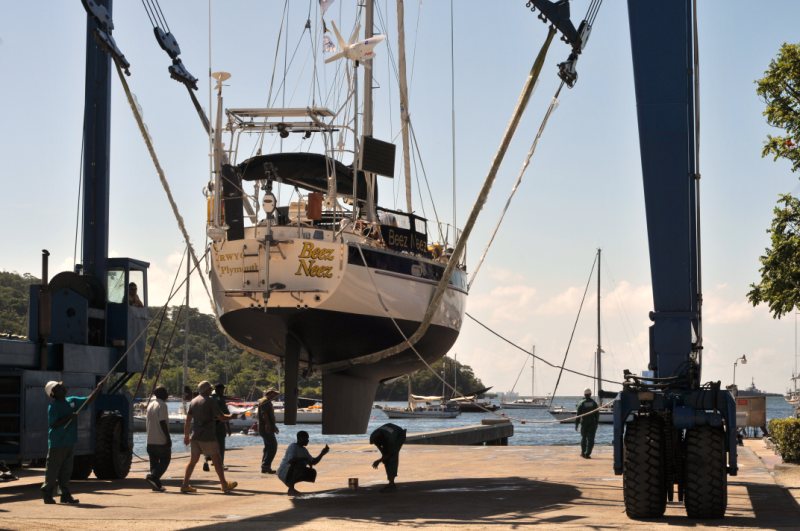 By the time we caught up, Beez was already in the strops on the crane with many men around her bottom, just as she likes it. Final bits of anti-fouling applied.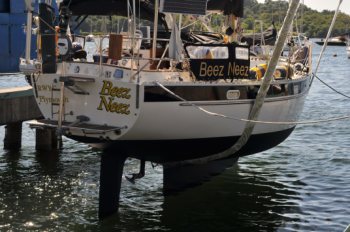 It was sooooooooooo good to see her slowly lowered into the water.
The boys pulled in her bottom so Bear could quickly get aboard and go and check for leaks. Had the new bow thruster or the en suite toilet thru-valve shown leakage Beez would have been lifted straight back out. All the poles had seated Pelicans watching the show and looking back we could see the next boat ready for the crane. Six boats were launched just this morning and one moved for anti-fouling, a very busy Leon.
We did a victory three hundred and sixty degrees around Delicado in the anchorage before gently moving to Coral Cove Marina. I managed to park with the waiting hands of Hayden (dock master), Dick and Sara.
ALL IN ALL GREAT TO BE BIB-BOBBLING AGAIN. GREAT TO PUT THE FRIDGE ON SO I GET MY BOOZE FRIDGE TO MYSELF AGAIN.
---