A Unique Graveyard

Beez Neez now Chy Whella
Big Bear and Pepe Millard
Sat 19 Oct 2013 22:47
A Very, Very Special Place of Rest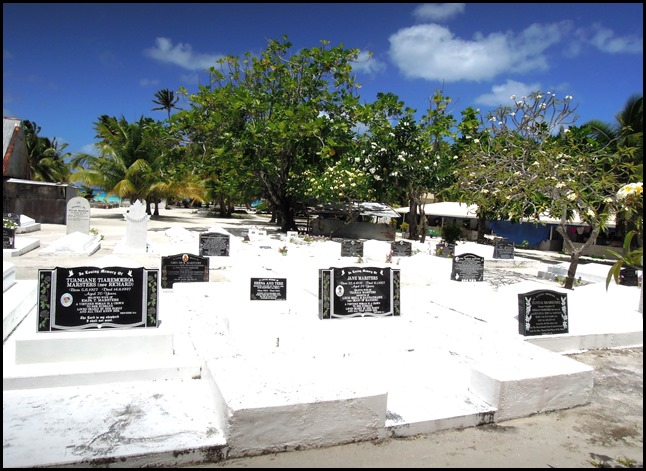 Palmerston has the most unique graveyard we have ever visited, everyone is related to everyone, except one........
William Marsters and his first wife Sarah. With Sarah he had Ann (drowned aged two in Samoa), Elizabeth (died aged one on Manuae), Joel 1860-1918, William II 1862-1946, James (Coffin) 1864-1920, Edward 1865 (died aged six months), Elizabeth 1866-1930, Kura (unknown) and Tearaia 1881-1931.
Tepou, his 'third' wife is buried in Tetautua, Penrhyn. His children by her are: Marion (unknown), John Maretapu died 1905, Thomas died 1918, Richard (Dick Rahi) died 1945, Ann Rahi died 1943 and Rapahua Carry (Kare (unknown).
A ten minute walk away is the 'other' graveyard. Some believe the raised grave at the back is William's 'third' wife – Matavia, others don't. What is certain is this is the resting place of William and Matavia's family. Their children were Pedrin died 1939, Andrew died 1942, Taenga (Alfred) died 1951, Joe died 1947, Mary, Aaron Bury, and Mahuta.
Elizabeth,William's daughter and Jane his daughter-in-law.
William II and his second wife Elitapete Teipo – Marama
William II and his clan.
Tuatai (daughter of William II) died aged thirteen. Elizabeth (daughter of William II and his first wife).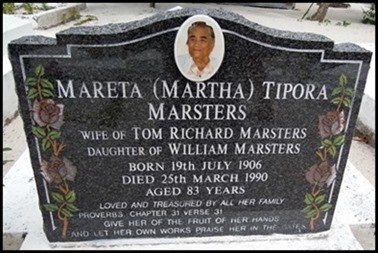 Martha daughter of William II, who married her cousin Tom son of Elizabeth (above). Tom's sister and Elizabeth's daughter Sarah.
William II's son Ned (our host Bill's grandfather) married Kako and welcomed the Royal Yacht Britannia to Palmerston several times.
Tavake married Richard the son of William Marsters and his 'third' wife Tepou Tinioi.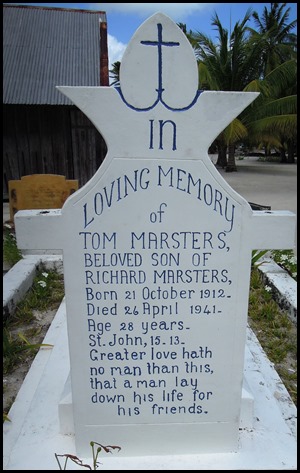 Richard and Tavake's sons, Tom and Richard.
Tuarau, Tuarau and Pokura sadly all died young, John their father was a son of Richard and Tavake, nephew of Tom and Richard. That makes Tuarau, Tuarau and Pokura great grandchildren of the original William and his third wife – Tepou Tinioi.
This grave belongs to Ned's son (above with the Royal Yacht captain). Incredibly hard to read it says:
Tuakana Ned Marsters
Born 1st November 1925 Died 21st June 1999
Aged 73 years
Beloved precious husband of
Inano Marsters nee Thomas Tikaroa
Treasured memories of 55 years married life togeher
Son of Ned William Marsters and Kako Banaba
Beloved father of Moera, Kako Mary, Sarah Sally,
Terani Puaiata, Bill David, Ngariki Varopana
Friend of Commander Victor Clark of England
Sadly missed by his grand and great-grand children
and those who knew him.
A man who made crafts with his hands and shared gifts to many families,
friends and visitors
'"A devoted man and one that feared God"
God loveth a cheerful giver
Forever remembered
BIll David is of course our host, but, perhaps the most amazing story comes from the line: Friend of Commander Victor Cark. Rose (currently teaching at the school) told us the story. Her dad was shipwrecked here many years ago and was helped by Tuakana. They became firm friends and Victor always said his favourite place on earth was Palmerston. Rose (Rosalind) as a last minute thought packed her dads ashes and brought them here with the intention of scattering them over the lagoon. The families here would countenance no such thing and insisted he be buried next to his friend, you can just see Victor's picture above, to the left of Tuakana. The special exception..............
Commander Victor Clark.
Mum – Inano, still has the picture that Victor sent his dear friend, she keeps it with her treasured photographs.
Inano, Tuakana, their children and their dear friend.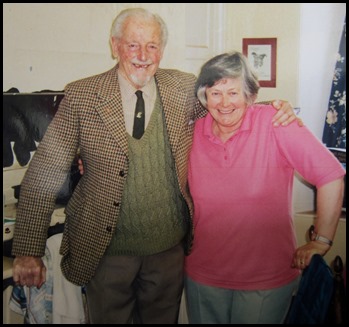 Victor and Danae and with Jessica and Rose.
Rose today - next to Bear. In front Bill David, Sydney, Caroline, Nagariki, Juliana and Metua Kimiora. Sitting is mum - Inano
ALL IN ALL UNLIKE ANYTHING WE HAVE SEEN BEFORE, AMAZING
UNIQUE AND HARD TO KEEP UP WITH......
---