Niue by Van - 3

Beez Neez now Chy Whella
Big Bear and Pepe Millard
Sun 27 Oct 2013 22:07
Niue by Van – 3
We met this morning at nine, a real lay-in. Off we went o todays adventures. A unusual house built of coral.
A little gem.
Quite a view.
Can you believe it – the main road goes through the middle of a quarry.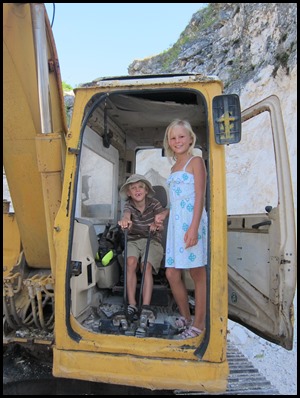 A photo opportunity too good to miss.
A full package.
Tufukia Playground.
Tufukia was the site of the very first government school and hospital. The school opened on the 10th of August 1910. Two hundred applications were received for the sixty four that were accepted, all male.
Eight years later on the 18th of August 1918, the hospital, named after New Zealand's first Governor General, was opened. Lord Liverpool Hospital continued for many years, providing health care to generations. It underwent a number of refurbishments and up-grades;and withstood the onslaught of many severe cyclones until Heta. In the afternoon of the 4th of January 2004, the severest cyclone in living memory effectively demolished the hospital in a manner of hours. All that remains to mark the site is a stone wall.
Tukukia School was moved to another location in the mid-50's which allowed Lord Liverpool Hospital to expand with the addition of nurses and doctors accommodation. These units were later converted to the Justice, Lands and Survey Department, the Niue High Court and Niue Dive. All were destroyed by Cyclone Heta.
Opposite the junction of the road to the airport is a concrete foundation and a water tank, all that remains of the Huanaki Museum and Cultural Centre, opened by Governor General Sir Paul Reeves on the 19th of October 1987. The building was once the home for New Zealand education administrators on secondment before the museum and cultural centre opened. In March 2005, the Niue Government declared all crown land formerly comprising Tufukia School and Lord Liverpool Hospital as historic reserves.
Our last stop, a coral beach near the quay, Vailoa.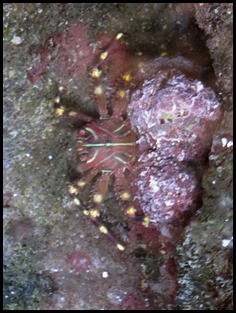 Interesting goings on in the rock pools.
Last burst of energy from Windarra.
ALL IN ALL WHAT A PACKED THREE DAYS
GREAT TIME EXPLORING NIUE
---