Our Eva

Beez Neez
Skipper and First Mate Millard (Big Bear and Pepe)
Thu 8 Jun 2017 22:57
Our Eva – Introduction
After a hearty breakfast, we left our dear friends Geoff and Sabby and headed to Highbridge. Heavy rain to begin the two hour journey but by the time we arrived at just before eleven – the sun was shining. The lovely ladies in the office were too busy to hand over paperwork and asked if we would like to meet our Eva first and come back later. By our cheesy grins the answer was obvious. Back in the car and to the far end where girls are handed over near the service area. There she was – Our Eva.
Within minutes we were joined by Will, a smashing chap who took us through 'the systems' so similar in many ways to our beloved Beez Neez – or as she has been described "Beez without the sails". Bear listened attentively to all the 'blue stuff'.
Outside for a demo of Eva's POWRtouch Mover – no I haven't left the e out of powr, it's a trademark thingy..........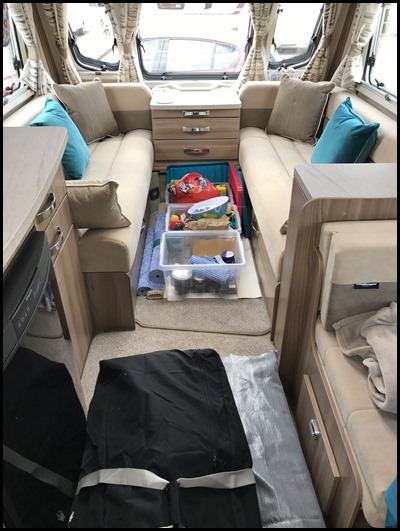 Meanwhile, indoors soon became chaotic but by a quarter to six things were pretty orderly save for a few boxes. Isabel the awning laying in readiness.
Our number 22 notice was replaced by a Delivery card – funny she was delivered to plot 22 in her new home the very next day......Clare, an immediate hit with us, popped her head in to say she would safely deliver Eva on the morrow. Cannot wait.
So, for now, a kiss for Eva and lovely to say – see you on the morrow....
ALL IN ALL SIMPLY WONDERFUL
VERY, VERY EXCITING – A GOOD DAY WAS HAD BY ALL
---