Stomp Busy

Beez Neez
Skipper and First Mate Millard (Big Bear and Pepe)
Fri 7 Sep 2018 22:57
Stomping and Busy, Busy, Busy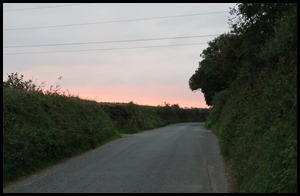 Todays stomp. I remembered to bring the camera with me but sunset wasn't the fiery orange and red it has been since we got back from Clitheroe, just a muted one. Bear has joined me for the last two evenings but today he had lots going on and by the time I went off he hadn't returned. Each morning he has asked to go fishing. No, I won't go without you. Guilty, I have promised we could go on Monday......
My days have been chocker trying to get Margaret's Family Tree printed before we see her on the 15th. As soon as Bear gets up and I spread out pictures, Census, file sleeves, glue, scissors, pen, highlighter, paper.........so much paraphernalia . Next thing I know it's lunch time then I blink and it's stomp, supper and the small hours. Blogs have been shelved for the time being, I don't want to think how many I'm behind so I simply don't look backwards on the calendar......
Bear returns each day, usually via the storage unit, with 'stuff' for Beez in all shapes and sizes. I fully expect Christmas wishes via email from the various chandlers around Plymouth. This evening a sheet of soundproofing.......... apparently I'll rip out the sonic hull-keeper-clean gadget because it ticks. When was that little gem going to surface. Well........I'm going to make a little hat for it. So we'll see ??? Something like that.
Three cases are now open across Isabel the awning. The bilge pipe has to go inside the black vent pipe and both will be stuffed with various pharmaceuticals to see us through to South Africa. In the morning (7th) Bear has an appointment with Sadie (our GP) as I know his Tiara (Giardia he picked up in Nepal) has not gone away and his little parasites are still wreaking havoc and then more 'blue job shopping'.
8th. We have to be at Miff and Rachel's to babysit the boys so they can have a date night for Miff's birthday (on the 11th)
9th. See Martin, Kim and boys.
10th. The promised fishing
11th. Turn fridge off, be busy until going to Ivybridge for typhoid and tetanus boosters and then on to Adam and Jen's for Chinese takeaway.
12th. Bear swapping car back, packing and printing case contents in case we are pegged as baddies – clock innards and all.
13th. Eva to bed, excess caravan stuff to store then on to say 'Farewell' to Miff, Rachel and boys before heading to Winchester. Hoping not to have to take the printer with me........
14th. Was supposed to be for meeting friends but Pete is poorly, now pegged to visit the cathedral.
15th and 16th. To Roger and Margaret's in Newtown, Hampshire.
17th and 18th. Southampton Boat Show.
19th and 20th. Going to see The Scotties.
21st. Surrey to Swindon. Drop cases at Kate's before delivering the car back to Adam at work in Torquay.
22nd. Ladsit Jack and Seth whilst Kate and Mark go to Birmingham for the day.
23rd. Hopefully a family Sunday with Team Tinson.
24th. Final case weight jiggling before Mark takes us to Heathrow. We fly at 21:35.
25th. We land at 17:50, get the bus at 21:30.
26th. We arrive at the bus station at 03:00 and hope to be on Beez by 03:30. Our bodies will have no idea whether to fancy cornflakes, a sandwich or a curry so I guess it will be a cup of tea and sort one of the cases before crashing and burning for a few hours before heading out in the marina car for food supplies.
27th. Any chance of a day off............
No wonder when I see caravan neighbours sitting outside with a cup of tea and the daily papers I want to beat them to a pulp.
I better sit and enjoy the timid, tepid sunset for a few minutes then.
ALL IN ALL NOT A USUAL RETIREMENT ???
BUSY DIARY AND CHORE TIME
---