Unusual Bung

Beez Neez
Skipper and First Mate Millard (Big Bear and Pepe)
Fri 13 Mar 2015 17:27
An Unusual Bung in the Shape of an Egg Sack
Bear had been ferreting around under Beez for some time, I trotted off to the ladies and on my return was summoned with I think I found one of the problems with a blockage, it was stuffed up the toilet outlet a long way and took some extracting I can tell you. Words to charm any girl me-thought....... Where is this find I asked enthusiastically, honestly I was expecting nothing more than a ball of grass-like stuff with a few worms shading their eyes from the sun. What I saw presented to me on the end of a screwdriver peeked my interest. An egg sack. I laid it carefully on the floor, posh spot this on Beez ground carpet, blue - you can tell. Rubbery is this business. I sent Bear off for some salt water from the 'beach', this gave me the opportunity for a closer look and a prod or two. I thought I saw a black eye but after a good wash in the presented inch-in-the-bottom-of-the-bucket, it was extremely slippery and I did my best. Yes dear. A few baby barnacles were picked off and I was a bit disappointed to have become distracted by nothing more than a tiny piece of grit. Undeterred I peeled back the really tough outer layer and got Bear to stick his thumb in for perspective.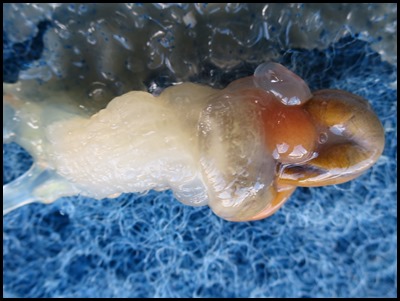 I peeled off the next layer and some thick watery stuff came out. The white bit was firm to the touch. Another good wash and Baby Whatever was spread out carefully. There is clearly a loop of intestine about an inch long and a half long, probably best part of half an inch wide, clearly another organ attached, maybe a heart in a soft orangey colour.
I am very keen to know what this chap is, anyone know ???
Bear got back to his ferretting, screwdriver in hand, I would say this noble tool put to the use it was born for, but no, he began picking barnacles off what the skipper calls the non-stick-to-barnacle-ninety-pound-paint-guaranteed-for-a-year-and-totally-useless, within a second I looked down to find a bit and a whole of the said creatures looking up and winking from around breasticle height on my pure white tee-shirt. Oh the look of cuteness made me want to slap it, you'll be proud of my discipline dear reader as I sashayed toward the ladder, retreat stage left in a ladylike fashion, camera clutched just that wee bit tighter in hand.
Half way up the ladder I was arrested in my progress by the said instigator of my now living garment, can you pull the stern ladder out for me, not a good angle for me. No problem, retaining string undone I grabbed firmly and pulled. Once down I saw the screwdriver back in flicking mode. I stared at my grimy left hand, tutted as I saw bits of 'stuff' flying, this time somewhat closer than comfortable and bade a hasty retreat into the safety of Beez. Straight to the internet, via washing my hands and downloading the new pictures of our mystery guest. Google ever a good friend failed this Sherlock. I searched every sea creature that had an egg sack with single occupant. I got fed up with the various shark purses, mermaids this, squid that. Google then very helpfully asked if I would like to search by picture, never done that before.
I browsed, I selected img_2412, I uploaded, I waited with short pants and baited breath, several seconds went by – what did the mighty world wide web come up with ???
I'm positive that these young, strapping, and somewhat distracting muscular specimens are thrilled to be on the same search page as our mystery guest.......
ALL IN ALL A RARE FIND
NOT TO BE REPEATED I HOPE
---