To Billesley Manor

Beez Neez now Chy Whella
Big Bear and Pepe Millard
Wed 27 Jun 2018 22:57
To Billesley Manor
We bade farewell to Team Tinson this morning as they went off to school and work, leaving us to potter about and pack. We left after lunch as to time our arrival at Billesley Manor in Stratford-upon-Avon at three o'clock. Bear took us the scenic route through very pretty countryside then all of a sudden we were at the edge of the town made famous by William Shakespeare.
The High Street.
Along the road, past a church and over the river.
A tourist spot – at its quaintest.
Over the bridge.
Very picturesque.
Shakespeare looked down as we passed his place at the corner of the park.
We passed some pretty side streets before heading out once more to countryside.
Five minutes from town we took a right and saw the hotel sign. Wow, gorgeous grounds and then we pulled up at our digs. A great place to hold a reception. So looking forward to Joanne (Bear's niece) and Ashley's wedding on Saturday. there will be some beautiful pictures taken here.
Beds settled, thankfully no air-con but a fan in the corner if Sweaty Boy leaks......
The view from our window over the Topiary.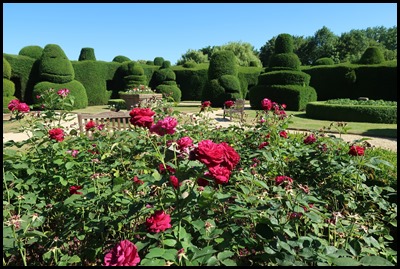 Time to explore. Our room is through a maze of corridors (seen middle floor far left) down the side of the main building, further left is the small indoor swimming pool, after a sit in the rose garden for a while we went for a dip and a short sauna.
Certainly there are many photo opportunities for Saturday. Features and baronial splendour.
We found many routes led back to our room, on one staircase we saw an article written by Charles Lines (published in Warwickshire and Worcestershire Life of December 1977), that tells some of the Manor Story.
Handsome with gables and tall old chimneys, and chiefly of pale-hued limestone, Billesley Manor stands in a quiet Warwickshire countryside between Stratford-upon-Avon and Alcester, and close to Aston Cantlow where Shakespeare's parents may well have married.
Christmas festivities must have figured prominently in the building's complex history, and, though Billesley Manor is no longer in private occupation, seasonable hospitality – probably more lavish than on many a past occasion –
will be in evidence this December, for it is now a residential country club and restaurant of high repute.
As Manor and Hall – it has been known as both – the mansion goes back in some small part to the sixteenth century, when it belonged to the Trussells, who possibly had more than one previous home on this spot, for their ownership began in the reign of Henry II. A colourful family, they achieved much wealth, and eventually Billesley ceased to be their principal residence.
According to historian Dugdale, Richard Trussell, "was of the retinue to Walter de Beauchamp in that Rebellion of the Barons against King John ... for which respect his lands were seized on", but these were later restored. A son of the same name was slain fighting beside Simon de Montfort at Evesham. Sir William Trussell was Speaker of the Commons in the Parliament which denounced the unfortunate Edward II in 1327, but was pardoned by Edward III and sent as ambassador to the King of Aragon.
Bloodstains are by no means absent from their story. Speaking of Edward II, one recalls that a Trussell was concerned in the killing of that king's favourite, Piers Gaveston. Another, who fought valiantly under the Black Prince (my favourite man in history) at Poitiers, received a pardon "for beating of Will Musard.....and killing one of his servants". In 1585, Thomas Trussell committed robbery and felony on the highway in Kent, and was sentenced to death, but the execution does not appear to have been carried out.
1. A circular pool reflects gables and mullions and the dark branches of an old cedar. 2. One of the finely-panelled restaurants which are today a feature of Billesley Manor. That was originally two rooms, and in more recent times became a billiards room. 3. Chinese rugs and French furniture in the delightful entrance-hall designed by Detmar Blow for the Hon. Charles Hanbury-Tracy. The screen at the far end dates from the eighteenth century.
At the close of Queen Elizabeth I's time, the Billesley estate was bought by the future Sir Robert Lee, a rich mercer soon to be the Lord Mayor of London. He was duly succeeded at Billesley by his son, another Robert, and recipient of a knighthood, and it was this Lee who, to quote Dugdale again, "new built a great part of the Mannour House, and made it his chief seat", and incidentally, adorned it with magnificent woodwork still to be seen today. The Lees, who later acquired a baronetcy, retained the property until 1689, when it was sold to Bernard Whalley from Leicestershire.
Quite soon, it passed by purchase to Thomas Sherlock, Dean of Chichester, created Bishop of Bangor in 1728. He was to play a very prominent role in the great Bangorian Controversy, which means precious little to anyone nowadays, but produced pamphlets by the score and caused the suspension of Convocation for over a century.
Thank you to Wiki for meanings: (
The
Bangorian Controversy
was a theological argument within the Church of England in the early 18th century, with strong political overtones).
A
convocation
(from the Latin
convocare
meaning "to call/come together", a translation of the Greek
ἐκκλησία
ekklēsia

) is a group of people formally assembled for a special purpose, mostly ecclesiastical or academic).
Subsequently Sherlock was appointed Bishop of Salisbury, and then of London, and, had he so wished, it seems he could have become Archbishop of Canterbury. His splendid library went, on his death, to Cambridge, the childless Bishop's large fortune passing to his nephew, Thomas Gooch. Gooch's son and grandson sold Billesley to John Mills, a member of that same banking family in the news of late, in connection with the sale of the Warwickshire manor of Pillerton Hersey.
A period of neglect followed, and for many years the house was divided into two dwellings, a farmer occupying one portion of it. A picture of 1875 shows it minus all but one of the gables which now adorn the south front, though the original Jacobean porch, with weathered Tuscan columns, has survived. Much good work was done in the early years of this century, first by Hon. Charles Hanbury-Tracy (Later Lord Sudeley) and then by H. Burton Tate, whose father was the founder of the Tate Gallery. It was Hanbury-Tracy who added the present delightful entrance-hall to the north employing the distinguished Gloucestershire architect, Detmar Blow.
In 1934 – after one or two more sales – Billesley was purchased by the late Sir Martin Melvin, Bart., whose business interests included ownership of the Roman Catholic journal, The Universe, and he entered into occupation on Christmas Eve of that year. Sir Martin made a chapel on the top floor, but this no longer exists. Since then, there have been other owners.
4. The Shakespeare Room with one of Sir Robert Lee's handsome chimney pieces. There is a hiding-place behind the over-mantel, with a slot giving the occupant a view of the room. The bed is a reproduction in fibre-glass ! 5. Steel locks, with dolphin decoration, probably made by German or Flemish armourers working at the Tower of London. 6. A view of Hanbury-Tracy's topiary garden, where the hedges incorporate "doors" and "windows".
The immediate setting is charming, with lawns embracing a large circular pool busy with goldfish, a fine topiary garden, too of Hanbury-Tracy's day. While old stone barns and urn-topped gate-piers flank the approach from the east. Within, perhaps the chief beauty lies in the woodwork, some of it believed to be of London origin.
The Galleried Great Hall has a fine, carved chimneypiece and wainscoting with elegant pilasters. There is another excellent chimneypiece in a first floor bedroom decorated with mouldings in pear and other fruit wood. This adjoins the entrance to a hiding-place from which an occupant could see into the room by a – surprisingly obvious ! – slot in the centre of the overmantel.
Very important, too, are the handsome steel door locks – said to have been consigned to the cellar at some time – and which may well have been made by German or Flemish armourers at the Tower of London. In this connection it is interesting to note that a Sir Henry Lee, probably a relation of the Lees of Billesley, was Master of the Ordnance at the Tower at the end of the sixteenth century.
And Billesley has a surprise or the stranger to this part of Warwickshire. It's village – save for some earthworks – vanished centuries ago, victim probably of the Black Death and certainly of sad depopulation due to the changing fortunes of sheep-farming.
But there is a parish church, hidden away among trees not far from the manor house. It is a most attractive rebuilding by the same Bernard Whalley I mentioned earlier, and the William and Mary style has been little altered. The bell-turns apsidal chancel and very attractive windows recall a noble period in English architecture. Inside are memorials connected with the big house, and a west gallery. And you may well imagine a certain cleric of the past – having been driven over from Alveston by coach and horses – picnicking with his household, between services in a capacious box pew, with a footman in attendance.
The church incorporates parts of a medieval edifice where in 1639, Shakespeare's granddaughter and last surviving descendant, Mrs Elizabeth Nash, was married to her second husband, John Barnard, later a baronet. Why Elizabeth chose Billesley for the wedding is not clear, but it is worthy of note that in 1501 a Thomas Trussell acted as trustee for some property on behalf of the poet's maternal grandfather and great-grandfather. They of course, were Ardens, and it is suggested there was a relationship between that family and the Trussells, even so, that would hardly have been a reason for Mrs Nash's choice.
Legend of course, has been very busy, and Elizabeth's famous grandfather has been credited with writing As You Like It at Billesley Manor. There is also a tradition that panelling from his New Place home in Stratford was brought here. Be that as it may, it is a reasonable assumption that he knew Billesley and the Lees. He would find Billesley Manor a gracious enough place today and still, one may say, with a country-house air about it amid its tranquil gardens. It would, I am sure, please Bishop Sherlock, who would surely long for Billesley as a refreshing retreat in the throes of the Bangorian Controversy.
7. Richly-carved wainscoting adorns the galleries Great Hall. 8. There is no village at Billesley now but a tiny parish church still stands among the trees. Built at the end of the seventeenth century, it embodies remains of the church where Shakespeare's grand-daughter Mrs. Elizabeth Nash married John Barnard.
I put the article in as most of the people – including the Black Prince are in Bear's family tree, although pretty distant relatives.
ALL IN ALL GORGEOUS COUNTRYSIDE BUT WAY TOO FAR FROM THE SEA FOR ME
A PRETTY JOURNEY THROUGH THE COTSWOLDS
---