To Tobago

Beez Neez
Skipper and First Mate Millard (Big Bear and Pepe)
Fri 18 Jun 2010 22:18
From Antigua to Tobago
We flew back to Antigua on the 5th of June as usual over laden with luggage plus Simon. After a couple of days sorting, shopping and getting the girl ready we set off at 11:30 on Tuesday the 8th of June for the three hundred and eighty five mile journey to Trinidad. We arrived at ten in the evening on the 11th and spent the night on the Customs Dock in Chaguaramus. The sail down with the motor on and off for about thirty two hours was either windless or winds up to Force Eight. The sea was in part smooth but more often we felt like we were in a washing machine on a Rita Scale of fourteen. Beez Neez thought the squalls were all "In the best possible taste" but it did make our diet somewhat less ambitious on my part as getting near and staying near the cooker was a chore all of its own. We performed really well as a team when winds suddenly went from twelve to forty knots in a matter of a second or two, Bear got on the wheel and I called like a rally drivers' co-driver "Left Left Left" etc
Next job was to shut Beez Neez down in Coral Cove for our two week holiday on Tobago. Hire a car from Econocar, which as the name suggests rents no Limos. Ours has done over two hundred thousand miles, has fairly shiny tyres, squeaks a bit and between the dents was once pure white. When Bear went to collect it, it was parked behind several others, the lady at the office asked Bear to move the others as "I can't drive" - that is a first. Then it was to the supermarket Hi-Lo to fill with stock and plenty of Champagne. When our baggage, Bear's Booze Fridge, turned down to lowest setting to move the freezer stuff (on back seat, plugged in to cigarette lighter), Simon and the kitchen sink - I feared ever getting to the ferry.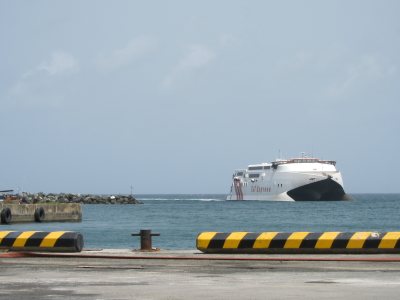 The 16th of June. Said fast ferry for the two of us and car was the princely sum of forty five pounds return. With the noise coming from the back axel I was just relieved when we pulled away from the dock in the pouring rain. The journey took two and a half hours and soon we pulled into Scarborough in search of a B+B before moving into the villa the following day.
The bedroom and kitchen we rented for the night, opposite the airport for twenty five pounds
Next morning early. the 17th, we rang Tobago Plantation, villa was ready, many speed bumps to scrape over, we unpacked and waited for Jump Jet to land. The lounge / diner and Jumps room
The jacuzzi smelt like a damp cellar so I added some shower gel - I know, I KNOW
Bear removed some of the foam before settling in with a small sherbet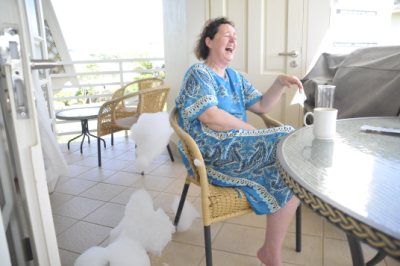 Jump awaiting a dollop of foam - but the wind took it beside her. We now don't recommend eating spag bol in a jacuzzi balancing a glass of champagne
Next morning the 18th of June was explore the plantation time. Sadly the once beautiful Hilton Hotel (on site) has been closed since January. Once the premier place to wed, reception and honeymoon on Tobago was built with sub-standard steel so all must now be replaced. Angostura have bought the whole site, including the very smart golf course and are getting the place back to scratch.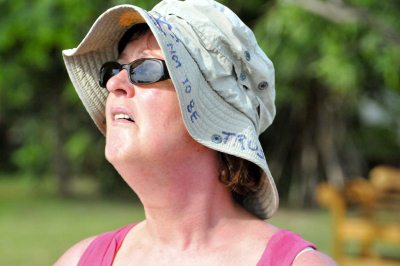 Not far from our villa was the sea, lava rock means very sharp edges but Canoe Bay is just up the road. One carefully owned boat and Jump sunning her neck
ALL IN ALL GLAD TO BE SETTLED IN
---