Gatore Ki Chhatriyan

Beez Neez now Chy Whella
Big Bear and Pepe Millard
Sun 21 Apr 2019 22:47
Gatore Ki Chhatriyan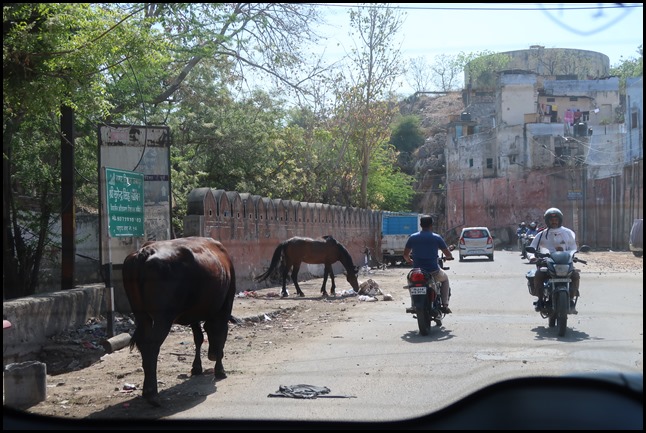 We left the Birla Mandir and headed through some side streets – a horse as well as a cow.......
The area is crowded with temples so we hope for something unique or different here.

Mob stopped in the car park, to our right the track up to yet another temple, The entrance steps. Inside and to our left a pretty chhatri with engraving.
The main temple.
Neat box hedges each side.
Each side of the temple was a guardian – a lion – odd, no.
Wiki says: - The Asiatic lion is a Panthera leo leo population in India. Its range is restricted to the Gir National Park and environs in the Indian state of Gujurat. On the IUCN Red List, it is listed under its former scientific name Panthera leo persica as Endangered because of its small population size and area of occupancy…….
……In May 2015, the 14th Asiatic Lion Census was conducted over an area of about 20,000 km2 (7,700 sq mi); the lion population was estimated at 523 individuals, comprising 109 adult males, 201 adult females and 213 cubs. In August 2017, a similar census revealed 650 wild individuals.
Tiles and murals on the temple floor.
Temple pillar and monkeys playing, with a thoughtful one.
Two little write-ups:- Surrounded by green hills, the Gatore (or Gaitore) Ki Chhatriyan is a complex of temples and tombs in the foothills of the Nahargarh (Tiger) Fort. It was the royal crematorium for the majestic rulers of Rajasthan. The beautiful edifice also has a cenotaph for each of the more famous maharajas cremated there. Engraved with beautiful Rajasthani carvings, the cenotaphs are one of the major attractions of the place. The cenotaphs are shaped like umbrellas (chhatris) and hence the place is called Gatore Ki Chhatriyan.
Gatore Ki Chhatriyan is the royal crematorium ground for the Kachwaha males, the Rajput family that ruled in the region. The site was designated by Maharaja Jai Singh II - the founder of Jaipur in the 18th century. The royals' cenotaphs are scattered throughout the complex, creating what looks like a mix of shrunken open-air palaces and ornate towers. The structures mark the spots where former leaders were cremated.
They're beautiful pieces of architecture to behold. Each is topped with a chhatri (umbrella-shaped dome) a common fixture in Indian memorials or cremation sites. The most impressive structures are made of marble while others are of sandstone. Some are embellished with intricate carvings of elephants, battle scenes or nature.
Pictures we took as we headed back through chhatris, visited the far temple, took in the scenery and bimbled back to the car.
Our new friend was where we left her.
ALL IN ALL A REAL TREAT AND INDEED, UNIQUE
WONDERFULLY NEAT AND CARED FOR
---