We're Here

Beez Neez now Chy Whella
Big Bear and Pepe Millard
Fri 13 May 2011 22:07
We're here in Niagara, Ontario, Canada
From left to right. Henry, Millie, Catherine, Bear and Bill.
After chores and closing up Beez Neez, Bill came to pick us. Once again we had been offered the fantastic hospitality and overnight stay at Millie and Bills. They had invited their good friends Catherine and Henry for supper – what a supper. Hors d oeuvres - homemade spinach and cheese dip on crisp bread. Mains - homemade lasagna, crab cakes, salad, garlic bread, copious amounts of wine then sweet.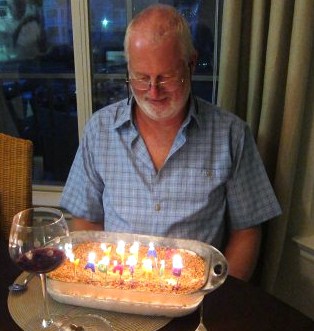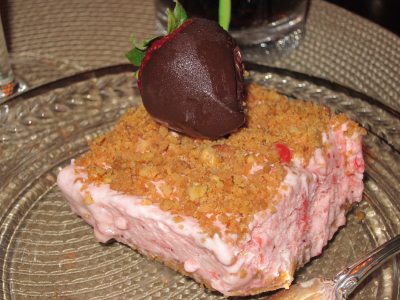 A lovely surprise for Bear.
Up this morning to the wonderful smell of home baked muffins in the oven, cheese, fruit and tea – just right. After hugs with Millie, Bill very kindly took us to the airport for our 11:44 flight to Atlanta. We have heard if you die anywhere in America you will go via Atlanta en route to the other side. The 214 mile flight was uneventful but Bears excitement made up for that. Only a few minutes and we were boarding our 760 mile trip to Buffalo, New York. A bit bumpy, but nothing to dampen the widening smile across a certain face.
Herb met us for Bears first and second real surprises of the day. This girl is the same length as Beez.
What a way to pass out from America. The lady from Homeland Security came to the car window to collect our passports, asked us if we had tobacco or alcohol products in our cases, were we meeting anyone and when would we be back. She trotted off to stamp us in to Canada. Our first look in this new country.
Saying 'farewell' to Herb
Bear had to wait a few minutes whilst I got a few things sorted, then it was up to the fourteenth floor of our 'Mrs Miggins'. I asked Bear to shut his eyes and led him to our window for his first proper look at the view.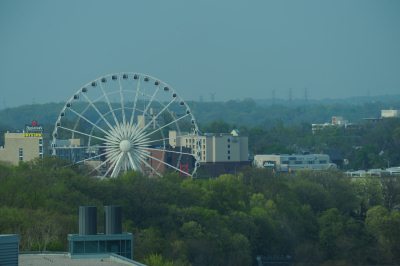 Views left, front and right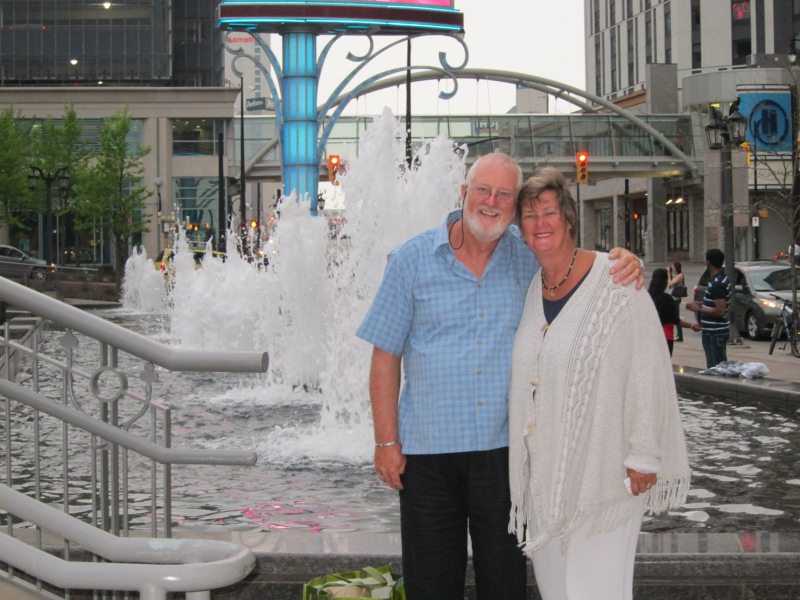 Gloria on the hospitality desk told us we would not go far wrong eating at The Famous in the food court of the casino next door. Our hotel fridge has cans of beer at $6.95 so a little walk to the liquor store was on the cards. Two blocks away is a vast shop selling wine, beer and spirit from all over the world, we checked the numerous Australian lagers, but no Beez Neez; we will have to wait for that pleasure. Walking back toward the casino we saw an electronic billboard featuring Don Henley (ex Eagles). Bear suggested we eat then find out more.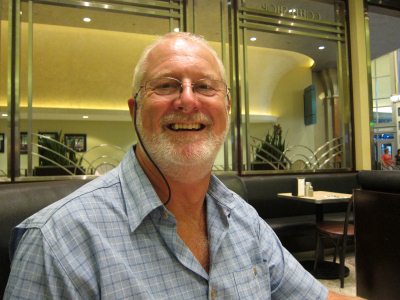 Wrapped in an Art Deco theme, The Famous is a 24-hour upscale diner that serves the freshest of foods in a casual, comfortable setting. The all-day breakfast is complemented by a menu that covers everything from hamburgers to comfort foods like macaroni cheese and dinner entrees of rib-eye steak, pan-fried halibut and meatloaf. Bears eyes lit up when he saw liver and onions, I had chicken and gravy. Celebrating we shared a rose, not done that for a very long time. Our bottle of Sowhilo was made no more than twenty miles away, we had no idea we are also in a town famous for no less than seven vineyards and in fact many come here to go on wine tours as we have done in South Africa. Dean was our attentive and knowledgeable waiter.

Sufficiently full to say the very least we wandered off to find the box office to inquire about Don, two tickets available on the balcony, just able to get in at nine, we did it. What a great show – but I couldn't get used to looking up and not seeing the rest of The Eagles there with him. He did loads from Hotel California, a couple of romping rock, one or two slowies. His band is very talented and the harmonies were tight. Fantastic.
Back to our room at eleven, tired, happy but time for a quick soak in the Jacuzzi with a night cap. Nestled in our vast bed not many seconds before someone close by was snoring nicely.
ALL IN ALL QUITE A DAY
SPECTACULAR SURPRISES
---