Goddess Stream

Beez Neez
Skipper and First Mate Millard (Big Bear and Pepe)
Sun 20 May 2018 23:57
Goddess Stream Boat Trip
This afternoons activity was a trip up the gorge of the Goddess Stream. A picture on the wall advertising the trip gave us an idea of the local topography.
The view from our cabin.
After lunch we bimbled from the big boat, along a jetty filed with tour boats, met our guide, joined our little boat and off we went.
Dramatic scenery, other tour boats and steep sides.
Situated at the south bank of the Yangtze River. Goddess Stream, with its source among Guandu district of Wushan County in Chongqing City, flows into Yangtze River at Qingshi Town, opposite The Goddess Peak in the Wu Gorge. Upstream is named Guandu River, midstream Ziyang River and Goddess Stream (our trip) measures 31.9 kilometres. The Goddess Stream is surrounded by steep mountains. During the Three Gorges Project many locals had to relocate.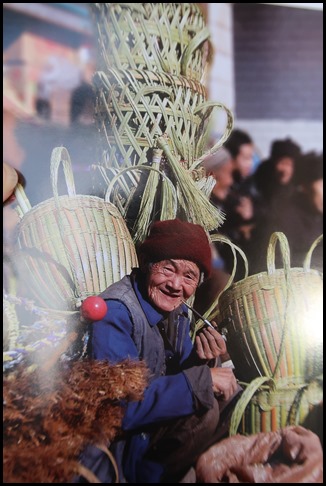 Our guide showed us a lovely book filled with pictures of yesteryear. A quote read: After the completing of the Yangtze Three Gorges Dam, the great dam of "To hold back Wushun's rains and clouds till a smooth lake rises in the high gorges" has totally come true. Many new scenic areas have been developed properly. The ancient towns and cities have already become new and modern cities. All the sceneries below 175 metres above the sea have become our memory of the image.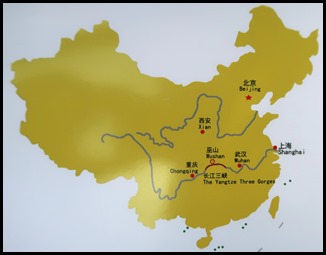 A massive area affected by the building of the dam.
Shangsheng, Qiyun and Palm Peaks.
A closer look at a tour boat and engine.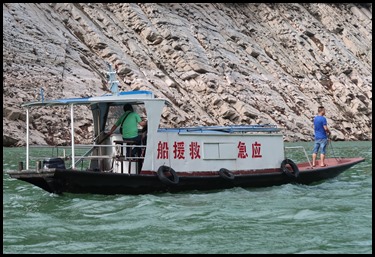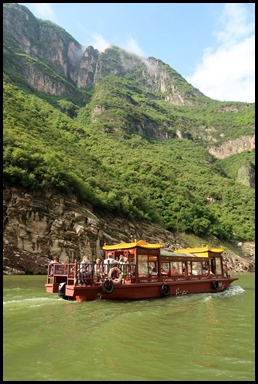 Once docked, we passed new buildings that have replaced the old.
On our way back to Century Sun we had to cut through a local tour boat with tiny cabins.
Off once more along the deeper water of the gorge.
Happy us watching river traffic whilst enjoying a sherbet – and onward scenery.
ALL IN ALL BEAUTIFUL BUT SO MANY VILLAGES AFFECTED BY THE DAM
EXTRAORDINARY - THE ORIGINAL GORGES WERE OVER 150 METRES DEEPER
---