Medana Market Run

Beez Neez
Skipper and First Mate Millard (Big Bear and Pepe)
Sat 10 Sep 2016 22:47
Medana Market Run
The plan for the day was to pick up laundry – minus three pillow cases but later found amongst the fleet, have lunch, collect diesel and head the five miles over to Gili Air for a snorkel. Plans changed as the diesel would not be here until late afternoon or early evening............Apparently a big boat had cleaned out supplies and we had to wait for a delivery boat to replenish stocks. Gin hatched a plan to go to the market and the next thing we are looking at Dashi and his owner who I swear both gave a collective sigh when they saw the crews of Wishful Thinking and Beez Neez (polite to say none of us are exactly lightweights). Our driver had to bear down on Dashi to stop his little legs dangling mid air as we climbed aboard. Loading up was like being born in reverse.......
We set off at a trot through the resort of Medana, the 'one careful owner' roof creaking and groaning.
We pass through a village with a posh mosque on the corner, the local junior school and with our driver leaping out to help Dashi over a huge rut we make it to the main road, our first sight was of a man about to cross the road carrying chicken baskets. There we were thinking we were in for a short journey but twenty minutes of trotting and gritting our teeth.
The gritting came with the closeness with which 'things' sped by. Motorbikes were not so shocking but a truck looming up and its wing mirror missing us by nary an inch was a little breath taking. Safer on the nerves to look out the front only to see no obvious gap through which to wiggle between several bikes on each side, a bus at a stop and a lorry coming the other way flanked by fifty scooters – eyes shut and all was well.
A modest load.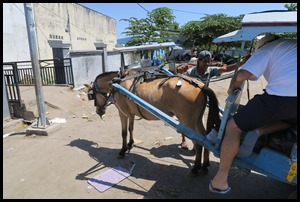 We turned into the 'car park' and Dashi fair cantered to his spot. Disembarking was every bit as cumbersome as getting in, our trusty steed wasted no time in closing his eyes nary out of breath.
Over a stinky ditch via a small bridge and we find ourselves at the start of the market.
All becoming a familiar sight and smell.
A bold statement, but I think I would rather become a vegetarian than buy meat from any market in Indonesia.
We did find some of the fattest grapes and as we haven't had any for such a long time we bought half a kilo. Dashi was on the main road waiting patiently as we made our final purchase – a coolie hat for Bear. Gin and I decided we would walk back behind the cart but with half the weight Dashi sped off leaving us giggling and very much behind.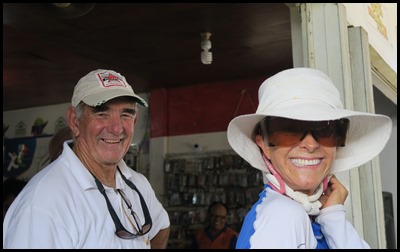 We bimbled past a couple of posh fuel pumps and caught up with the boys at a data shop (topping up the dongle seems to be a variable task with very variable results........all for a bit of internet). Agnes was there and began hatching a plan to get the 'girls' to have hair trims, head rubs and eyebrows dealt with later this afternoon............Mmmm we'll see. Michael (in the picture with Agnes) finally beginning to look stronger and rosy cheeked after his rotten fortnight suffering from typhus – still thin in the face though. We left the boys to telephone top ups, data for the dongles and an ATM stop.
We bimble past a construction with traditional rickety scaffold, not a lintel in sight.
We pass a fancy wall and over the gates see a pretty, pink house.
The boys pass us once more and we wonder how we ever fitted in and how Dashi ever managed a trot.
A bit of greenery with a single kapok tree in bloom.
B&Q wood yard........the boys had to do a u-turn to visit a different bank ATM.
We get back to the mosque and opposite – a house completely hidden by bougainvillea.
The 'high street'.
How will this new build fair – tiny joint wires, no lintels and poor cement...........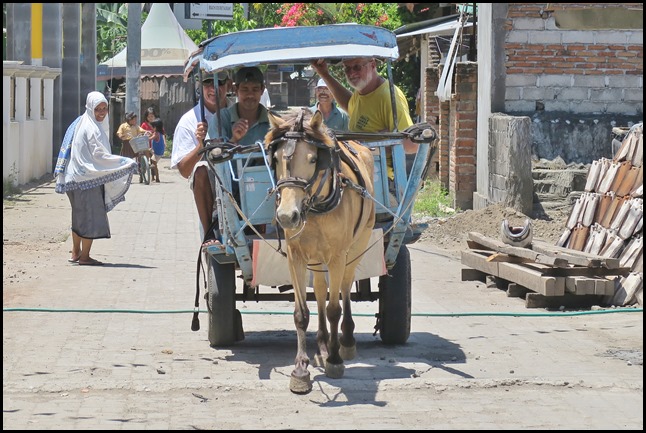 We look up to see the boys have caught up. Time for a beer................ Altogether now, "Where did you get that hat, where did you get that hat ????"
ALL IN ALL A VERY DIFFERENT WAY TO GET TO THE 'SHOPS'
FANTASTIC FUN
---