Rugby on Beez

Beez Neez now Chy Whella
Big Bear and Pepe Millard
Sat 19 Sep 2015 22:57
A First, Television on Beez Neez for the Rugby World Cup
While you are in town can you get me one of these at about a metre long. I look down at the tiniest drawing I have ever seen. I think I need an explanation. It's a male-male aerial wire. OK I can manage that. Half the tread on each flip-flop later, I watch as a niftily fingered young man makes me one. He had a good laugh at the drawing and liked my left thumb-index-finger circle with right index finger poking through. That evening saw Bear disappear in the bedroom cupboard, we have one TV channel. Saturday morning it turns out to be the only one we need and we settle with our huge mugs of tea and a packet of ginger nuts. Bear had already pledged support for England so I went with the Fijians, something to do with tattoos and thighs............. Bernie and Bobby cheered with the skipper. Beds with Claude perched on his head were with me. Here they are seen intently watching a scrum.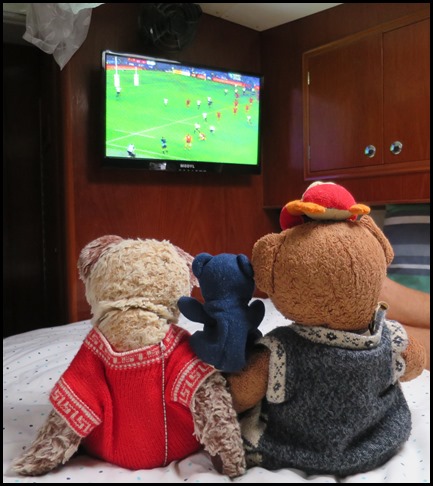 Monesh, the engine man arrived and we all watched. I thought there was far too much involvement from the Television Match Official, Shaun Veldsman and the whole game ground to several halts when the referee [Jaco Peyper]drew his imaginary box for all to see. I was as cross as a wasp with Dominiko Waganiburotu when he was seen dangling Jonny May upside-down, the penalty awarded was justified. Then he gave a try to what appeared to be a brilliant solo effort from Fijian halfback Nikola Matawalu but the TMO was back in action and we had to sit through jaw dropping replays until a dropped ball was given and the ref had to reverse his decision.......
When the rather lovely Nemani Nadolo [the twenty stone winger] caught the perfect cross from Ben Volavola - his soon to be teammate at the Canterbury Crusaders and we had to endure many more replays until we heard the South African accent saying "I see no reason not to award this as a try" I was incandescent. The commentator had just learned the word 'ascendancy' and I'm sure it was a bet before the game to see how many times he could use it. Time for another ginger nut. Must thank the Guardian for the picture of the gentle giant. Sadly, my boys missed too many opportunities and the half time score did not reflect the effort that had been put in.
The second half saw much more of the old game with England doing some great running and passing. 35-11 and me seen commiserating every Fijian I saw for the rest of the day. At the end of the day we heard about the Springboks, the champions of 1995 and 2007, being stuffed 34-32 by the little Japanese team, wouldn't like to be in their hotel tonight. Nearly 30,000 watched in Brighton as the Japanese won only their second world cup game since Noah kicked a ball around during a ark building break. We wish them well against the Scottish team.
Oh, the next day we watched some of the France Italy game but the 'ascendancy' word took me to my chores and a much needed victory at backgammon. Much needed my foot.
Meanwhile, Monesh and his game disappointment grew clucky and tut-tutted quite a bit. Just as well he is tiny, but he is clearly used to working on super yachts or boats with a bigger space around the engine. He extracted himself at one point and Bear and he decided that new pipes need to be ordered for two of the injectors. I would like to get to the bottom of my leak. Yes dear of course you would. With the promise of three to four days delivery Monesh took himself off. Well, if we are waiting for bits I would like a new switch for the bow thruster, seems silly to have a new one with a dodgy switch. Yes dear. A quick call to Josh in New Zealand and another promise of three to four days we have plenty of time for stocking up, tidying and readying for our onward passage to Vanuatu. Bear seems pleased with himself and took to the task of a little bit of electrickery before helping me.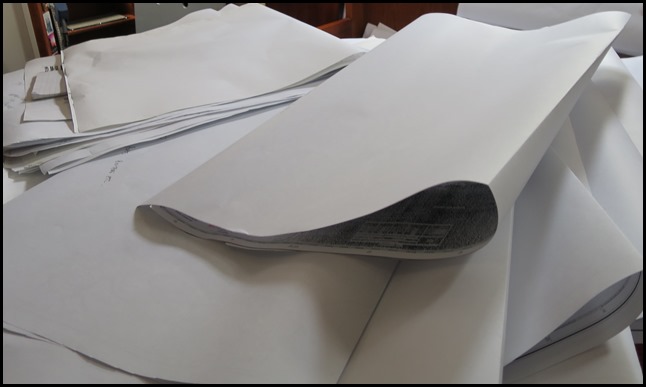 The rest of the day was spent at the task of sorting the hundred or so maps from here to Singapore and beyond – a mammoth task getting them in order, in the correct pile and then filing them in the various plastic holders.
ALL IN ALL QUITE A DAY
QUITE A DAY INDEED
---