Nimue, Bernie and Beds

Beez Neez
Skipper and First Mate Millard (Big Bear and Pepe)
Wed 2 Sep 2009 22:27
Nimue, Bernie and Beds
We were delighted to meet up with Nimue, that is Michael and Anne. They had been visiting friends near the Dartmouth Yacht Club where we met them for lunch. Thank you to Jump Jet for taking this great photo of the four of us. Sailing life really suits them and we had to comment on how well they both looked. The last time we had said farewell was in Cascais in southern Portugal. We keep up with their blogs and their adventures can be found on mailasail.com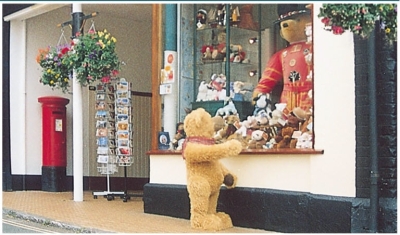 After lunch and a good long chat that flew by in what seemed like minutes, I said to Jump Jet that no visit to Dartmouth on this side of the river would be complete without a look in at the world famous Kingswear Bears and Friends. Off we all went. Anne and Michael were disciplined, looked in the shop and bade us "farewell". Hopefully the next time we meet will be the other side of the pond. Whenever that may be we wish them safe winds and following seas.
I on the other hand was shouted to by Bernie. Sitting at the far end of the shop. The owner - Sarah said he was a bad - ish Charlie Bear as he had five bells on his collar, she introduced us to Jackson who had a set of bells the like you would see in the percussion section of a Philharmonic Orchestra. Sarah backed up and knocked a bear to the floor, stooped and picked him up by the ear. With that said "Oh it's the kindest way to pick them up as they have no nerves in the ends of their ears". "I'd like to see you do that to a Grizzly or Polar Bear". I'm sure she must be right as she is greatly experienced in bear matters but I still felt that "Bernie is not being bought but rescued". Jump asked how Beds would take this new addition, well time would tell and we would know soon enough. Bernie said his "goodbyes" and clung tight as we left the shop. It was pouring hard and Big Bear had gone for the car. Sarah stuck her head out of the shop and said "For heavens sake, don't let Bernie get near to alcohol". "Oh".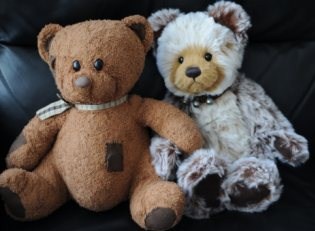 Well the boys met about an hour later back at the apartment. We left them to do their own introductions while we went for a cup of tea. Soon enough a friendship was formed. Beds was deeply concerned about the said collar and bells. Bernie explained that every time he heard music he couldn't help but do a few moves but as that set the bells jingling he was often in trouble for doing nothing wrong. With that Beds snatched it off. "No friend of mine will endure such a thing".
Over the next couple of hours we found out that incredibly Bernie likes rose, which sits well with Beds who is partial to a good red or two, so out came the glasses. Soon followed by Grandpa Bear (permanent apartment resident) who was happy to pose with the "collar", unbeknown to the rest of us and always ready to party had quickly swung into action. Lights went out, music came on and 'Voila'.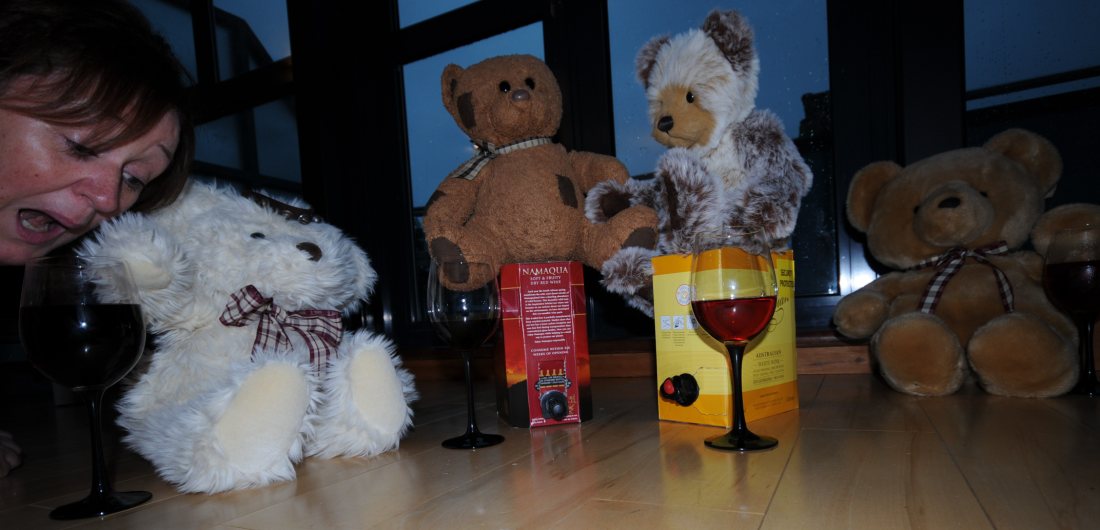 Next to arrive was Rusty (another permanent apartment resident) and Jump Jet who smelt out the red.
Within minutes more arrived and the party really got going
Bernie showed us some of his moves and could manage a spectacular moonwalk. He finally began to giggle and really look like he belonged.
Jump Jet the reluctant photographer felt compelled to take a few of the event.
A more special event than one may perceive as Jump Jet took her camera all the way to Antigua and took zero photos, except for one of Pepe in bed just to show her how the said piece of equipment worked.
Not to be outdone Floppy Dog leapt into a flying back-flip landing quite conveniently under the wine box, next was seen falling off said box.
As soon as "Ooops upside your head" came on, down everyone got into the floor tapping and rolling moves. Apparently people don't stay strangers too long after being squeezed between thighs. I'll say nothing"
While the "Slowies" were on, Bernie showed Jump Jet some moves.
By the end of the evening, the usual scene. Beds and Bernie were still in deep conversation.
That final conversation resulted in something quite amazing. Bernie had apparently told Beds that it was the first time in his life he had felt free to be himself without the tinkling collar giving him away even when he was being a good boy. He had recognised that Beds was number one bear and had assumed he would put the collar back on, he thought he was only let off wearing it that night and everything would go back to "normal" in the morning or even after the party guests had left.
Beds was so incensed by this he immediately set out to show how much Bernie had become his right hand man. Bonfire time. There was not a dry eye in the place and everyone cheered and whooped for joy. Bernie had certainly made his mark in their hearts. But what happened over the next few weeks ??????????
Back safely on Beez Neez the two boys watching The Dark Knight - still completely inseparable.
The burnt remains of the said collar came back to Trinidad and Beds has asked that they be thrown to sea on our first voyage.
ALL IN ALL AS FRANKIE VALLI and the FOUR SEASONS SANG - OH WHAT A NIGHT.
---