Bora Bora by Car

Beez Neez
Skipper and First Mate Millard (Big Bear and Pepe)
Wed 25 Sep 2013 22:37
Car Hire Day Exploring Bora Bora
Off we went at ten in our tiny Fiat hire car with Gordon and Liz (Cattitude). The lady in the Avis shop told us that the whole island could "be done in an hour." Two and a half miles wide, we can't exactly get lost and there is a road all the way around the edge. Within minutes of leaving the marina we knew that One Careful Owners were not going to be in short supply (own blog). In the 1950's James Michener called this the "the most beautiful island in the world." Pretty church, sorry about the power cables Colin, but they were rather droopy. A plastic garden Tiki, whatever next.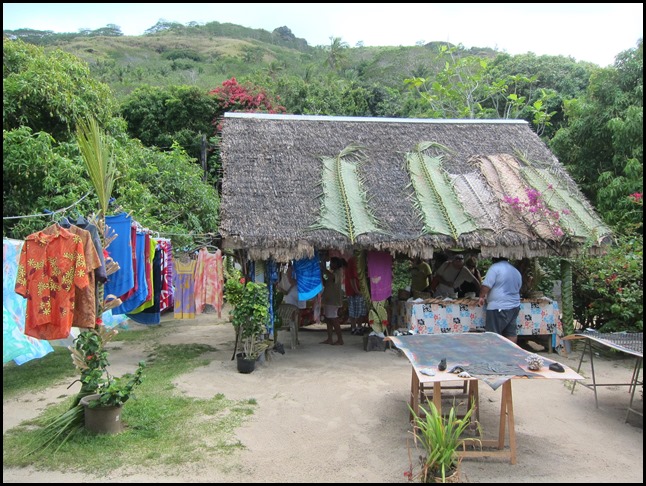 We found a tiny artisanal.
Sarongs and then we found they made them on site.
The lady showed us the tying, the dipping and the laying.
Shapes representing the island are then laid on the wet sarong. The colour leeches from under and the result is white where they were.
Bear liked the Chez Doct, no idea what it was.
We found the very typical scene Judith Chalmers had promised us.
A motu and lovely colours.
A hotel motu.
Very lovely.
Fascinating little rock.
Bloody Mary's is an island must do.
Gordon and Liz posing.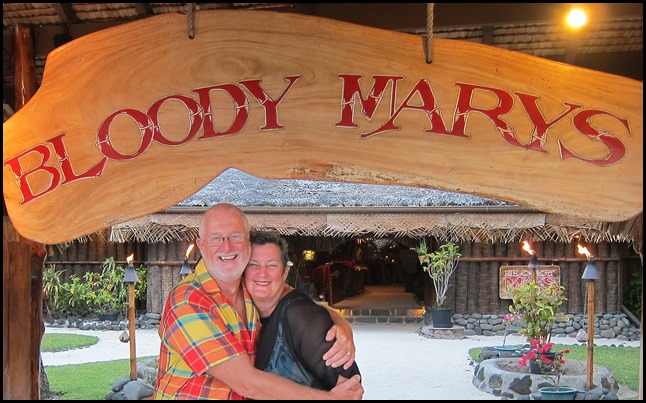 We did too.
We read the four name boards some we had never heard of and we did wonder about the gap on the right.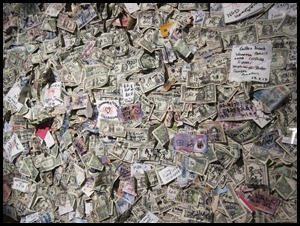 The money board in the foyer.
I felt left out, I sent Bear into the men's toilet to take pictures and found out later that all the ladies went in and took their own.......The sink is quite an event.
The big thing – Oh bad choice of words – is the toilet pull.
A good fun night with seven boats.
We got back to great excitement, a baby manta ray was using the lights of Cattitude and Encore to scoop up the attracted plankton.
The lighting was terrible but it gives an idea of his scoop. We watched for ages.
ALL IN ALL AN INTERESTING DAY
GOOD TO DO, SURPRISINGLY UNIMPRESSIVE
---