To The Majestic

Beez Neez now Chy Whella
Big Bear and Pepe Millard
Sun 31 Dec 2017 23:47
To The Majestic Hotel
We had a slow morning after breakfast enjoying a couple of films while we packed. Now two days on the trot Minh has been found with his bottom in the air and twice we have returned to our room to find what looked like a fight had happened between Beds (both ears back) and Minh (Minh's left leg skyward). Well, how incredible, as we packed the boys we found Minh with a hole in his bottom and a slash across his left knee. The boys had been trying to tell us, now on the job list. We checked out and hit the street at five past twelve and off we set. Twelve fifteen saw us sitting in the foyer of The Majestic Hotel holding iced mango juice. Bear was in charge of making sure our room was as requested – pole position to see tonight's New Year's Eve firework display. Colour me incredibly happy. We had braced ourselves to spend for two nights here what we had spent on eight nights at our last digs. Bear almost skipped back, it's a hundred dollars cheaper than our quote. Oh deep joy and thun-de-bolt. Five minutes later Beds was leading the chase to check out the bed – luxury................
The boys happy with each other and now content in the knowledge that we now understood that Minh had been rescued from a rough previous life. Bear sunk onto the bed giving it a huge thumbs up, one pillow a firm foam, the other dreamy soft. The two orchid blooms a nice touch.
Now for the all important view. Downriver toward to soon-to-be-tallest building in the city and upriver where the fireworks will be set off on the left of the picture. So pleased we have triple glazing to minimise the road tooters and boy, can they toot.
Exploring the bathroom, another flower, that's pretty.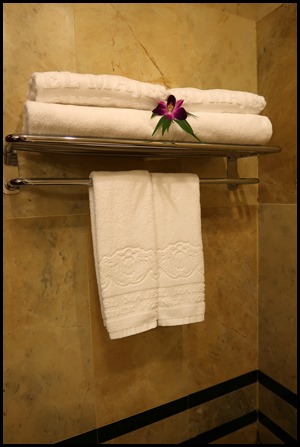 Flowers on the towels, toilet with flowers (toilet roll cover available for five pounds), flannel, yes another flower.
A plant in the corner. We sit and discuss our New Year's Eve options. One event here includes a band, a fashion show, a game show.......a big buffet and drinks for ninety eight pounds each. Ouch and we hate game shows with excited people we cannot begin to understand (our level of fluency stops past hello, thank you and delicious). On another floor there was western food with no drink at fifty one pounds. A glass of wine is six pounds and a can of beer four pounds fifty. We decide that room service was perfectly reasonable (and available twenty four hours), pot noodles as a back-up plan. Bear went out for more Coke Zero and Pringles, I settled to finding plug holes, I pull my bedside unit out – Ooooo, I can't get it back having given one quick look at the electrickery. Call in the hall and Bear trots back from the lift to help. Off he goes again.
A look in the wardrobe at a couple of Peignoirs (twenty six pounds (the hairdryer is available for sixty eight pounds about six ninety nine in Argos)) and slippers, time to nip in to spend a penny Well Colour-Me-Incredibly-Happy. Cannot wait for Bear to come back and report my find. A nozzly-thingy.......
By the window we have a bowl of fruit, bananas, green orange, something we cannot identify and a dragon fruit. Lovely card left by the bed.
The Majestic Hotel began life in 1925 when it was built for the one of the richest Chinese businessmen here in Saigon. Huang Wen Hua was born in 1845 in Xhamen, China. Arriving in Saigon at the age of twenty, he secured a job in a pawn brokers. His boss, Mr Antoine Ogliastro suggested he apply for French nationality to progress their business ventures, this he did in 1887 and adopted his name by the way the French pronounced it, Hui Bon Hoa, later also known as Uncle Hoa. His residence is now the Ho Chi Minh Fine Arts Museum. His success in pawn broking and real estate allowed him to bring his three sons over from China and with their input an empire was born. In his old age he returned with his wife to China where he died in 1901 and is buried in Quanzhou.
The original design of the Majestic Hotel had three storeys and forty-four bedrooms. In 1948, Franchini Mathieu, head of the Indochina Tourism and Exhibition Department bought and used the ground and first floor, renting out forty-four rooms over the next thirty years. Two more storeys, designed by Vietnamese architect Ngo Viet Thu, were added in 1965.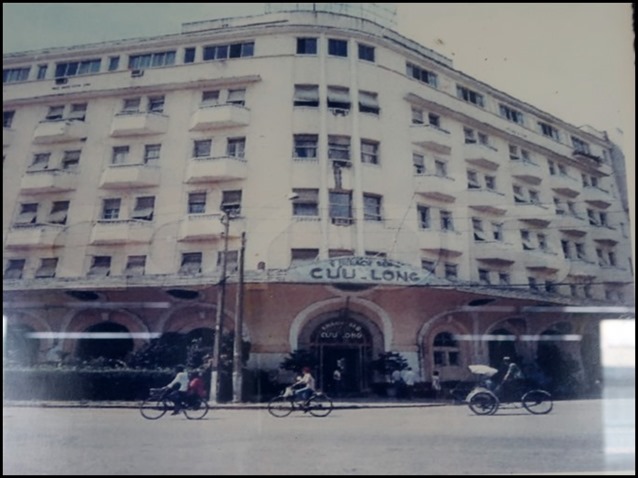 In 1975, the hotel became a government guesthouse and was known as the Mekong Hotel. Saigon Tourist (state-owned) changed the name back and in 2011 announced plans for a two trillion Dong (sixty-five million pounds) construction of two towers over twenty storeys with three hundred and fifty bedrooms and over two hundred other rooms to be completed by 2014. This has not happened.
The Majestic Hotel (as taken from the hotels website), the helipad from the current tallest build peeking out from the M on the roof. Our room at the pointy bit of the red arrow. So did we get a quiet room with the best firework views as requested at time of booking back in March ???? Yes, without question. We were directly opposite the launch site over the river with uninterrupted views and had we been on the floor above we would have been pestered with chairs scraping on the restaurant floor.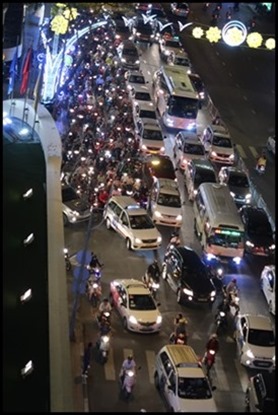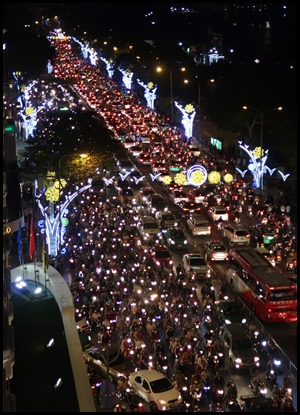 Meanwhile, back to the run-up to 2018. At dusk, the road below was crammed below in the lane nearest to the building. Half past seven saw near gridlock and by nine o'clock pedestrians only.
Advertising boards over the river.
Cruise ships getting in to position. Bear enjoyed chowder and a steak, me salad and carbonara. We very much enjoyed watching movies and readied ourselves for the balcony at ten to midnight.
ALL IN ALL OUR LUSH, JOINT PRESSIE FOR NEW YEAR'S EVE IN STYLE
SUCH A LONG WAY TO GET TO POSH DIGS WITH GREAT VIEWS
---