Day Two Dominica

Beez Neez
Skipper and First Mate Millard (Big Bear and Pepe)
Fri 6 Mar 2009 22:00
Day 2 – Car Hire, Dominica.
Apparently I was so successful in typing the last blog, I got to do it again. I'm glad I don't have to do the photo resizing and labeling.
Sasha's itinerary for the 2nd day was just as exciting though involved an early "Aussy-style" seven thirty start. The drive took us into the centre of the island, we stopped near the entrance to chat to a Park Warden on the way to parking at the start of the trail to Middleham Falls by eight thirty, he was just off to take his wife to work and was quite shocked to see tourists so early in the day, usually its cruise ship dwellers later in the morning or early afternoon.
Arriving in the park we saw a sign showing us what to look out for, we saw forest flowers and tree orchids
Being high in the rainforest mountains we started off in light rain for a supposedly grade three (of five) forty five minute hike - Pepe with her Mary Poppins brolly up, wading through or hopping over streams, mud and moss in her trusty yellow Crocs. Sasha wore her official hiking boots, never once breathing hard or panting - en route to these very spectacular falls. It took us about an hour and a half to reach them, though we stopped frequently to admire some of the amazing flowers and plant life, all the while trying to spot the Sisserou Parrot (as on the Dominican National Flag) which we could distinctly hear, but were unable to see. The trek, though well structured and maintained was not for the faint-hearted as we climbed up & down the wet mountainside. The falls were in good flow despite being the "dry season" and it was a very worthwhile effort. Coming back down the mountain was much quicker.
We didn't see a land crab - the Cyrique, although we saw one crossing the road later in the day. This ugly brute is called a Crapaud, suits him I suppose - this is only the medium size specimen and a tree frog we looked hard for Ednbal.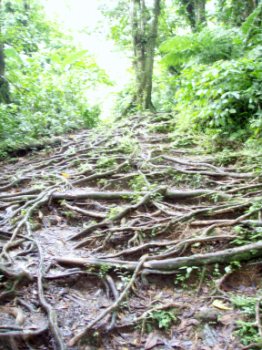 We saw many Southern Daggertails and White Peacocks and some amazing tree roots.
An adolescent fern leaf, the plant having grown itself in a bromeliad. One of the many small waterfalls we saw en route to the main Middleham Falls and a tree stump that looked like a knobbly kneed man crossing his legs.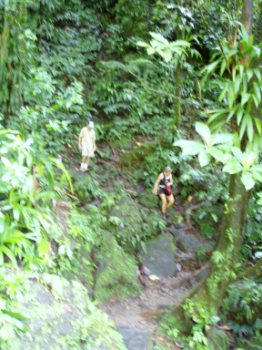 Sasha and Roger leading the way. We saw hundreds of Heliconia and the impressive height of the gorge surrounding the Middleham Falls
Middleham falls at over three hundred feet. The basin at the bottom and a tree fern.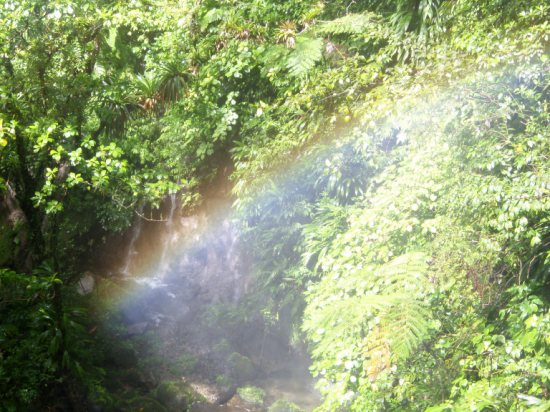 Bear wondered how people got close enough to swim as the up draft was so strong. I was lucky enough to get this rainbow as the sun came out, below is the fine mist sent up by the force of the fall.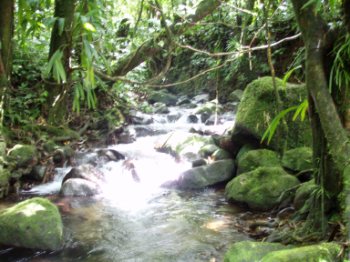 Views on the return walk, a stream we crossed, my favourite Norfolk Pine and a shot over the rainforest.
Roger then took us through the centre of the island to its south coast for fabulous views from high up cliffs as we then followed the Atlantic coast north, stopping for a picnic in the sunshine on a totally deserted beach on the way. The roads through and around this World Heritage site were extremely tortuous, and frequently steep enough to make Lynton in North Devon, look a doddle - a 4X4 was not just a good idea. We reached a our destination of the Carib reserve by late afternoon, experiencing the taste of freshly made Cassava bread before after much U-turning finding the Carib Centre (see separate blog).
We headed back to Roseau as Sasha had told us about the produce market being best on a Friday night Not disappointed with the market, clutching a long chunk of sugar cane, a coconut for twenty five pence (the bounty bar type), Paw-Paw, Mango, a water melon, pineapple and some beans and yams.
Some shots of the journey. A lovely cove, a happy garden, a beach and Josie with Bear.
It has become a local tradition for barbecues outside various bars and private houses. So Sasha and I found fish and Roger and Pepe found Chicken at Josie's Delight. We sat talking to Josie, learning about food, cooking, her family – when Pepe mentioned my favourite food was Rabbit Stew – Josie immediately invited us to Sunday lunch, celebrating her brother Marcus marrying Eileen (own blog).
ALL IN ALL a full and energetic day.
---