Sacred Heart, Suva

Beez Neez now Chy Whella
Big Bear and Pepe Millard
Wed 12 Aug 2015 22:47
Cathedral of the Sacred Heart, Suva
The Sacred Heart.
We walked past Our Lady, up the stairs and into a classic Roman design, other then the ceiling fans factored in at the time because of the tropical location. A full set of pews made a change from the mats seen in our last few church visits.
Very clean lines on the ceiling.
Lovely stained-glass windows.
Just so right for Fiji.
Simple and Holy.
We looked out of the side door and looked down at the Bishops' final resting place and then out of the main door to look at the commemorative plaque – which someone carefully crafted – To the Glory of God. The foundation stone of this Cathedral of the Sacred Heart was laid by His Grace Archbishop Redwood of Wellington on 22 July 1894. The building was blessed and first used in July 1902. The Vicar Apostolic of Fiji was then the Most Reverend Julian Vidal S.M. D.D.. Architect – Fr. Anthelme Rosier S.M. Builder - Mr. Felix Emberson. The Vicar Apostolic of Fiji was then the Most Rev. Charles J. Nicholson S.M. D.D.
Construction of the Sanctuary and major upgrading were undertaken in 1993-94 by the Archbishop of Suva His Grace the Most Rev. Petero Mataca D.D. Chairman of Building Committee – Mr. Berenado Vunibobo C.B.E. Architect – Jaimi Associates. Builder – Fletcher Construction Ltd.
To commemorate the 150th anniversary of Catholic evangelisation in Fiji the Cathedral was solemnly dedicated by His Emminence Jozef Cardinal Tomko Special Envoy to Pope John Paul II on Monday 15 August 1994 the Feast of the Assumption of Our Lady.
Lovely engraving bottom left of the plaque.
As we turned to leave we saw this very poorly chap come to make his final visit. Barely alive, no tail, not just dry to the touch but crinkly, we wished him a quiet corner and went down the stairs.
On ground level we saw an open door, a chap bade us "Come in, come in, welcome". Under the cathedral was this meeting room.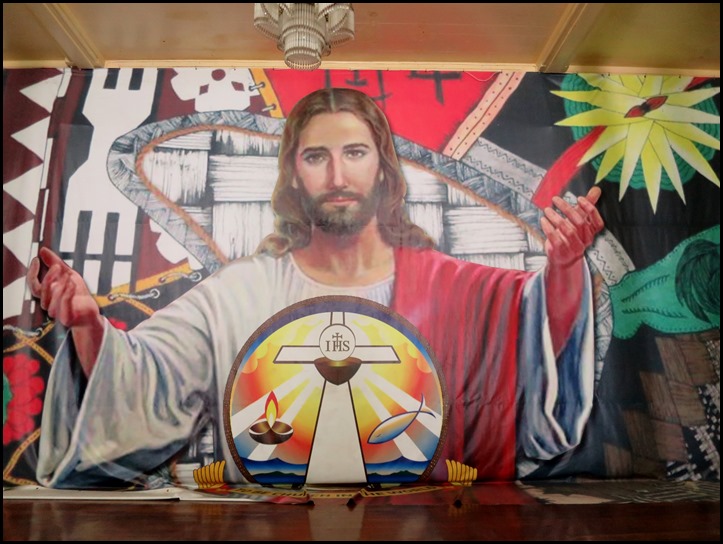 Dominating the far wall was a mural of the Lord holding a welcoming pose.
Display cases each side of the room, in one a very ornate but elderly monstrance, opposite was a set of 'tools of the trade', a handsome red chasuble together with tincture, rochet and surplice, would have loved to have found labels, but sadly, none to be seen. We thanked the chap who had sat patiently for us and bade our farewell.
To our left as we left the cathedral, the Salvation Army building dominates the hill above. Time to bimble.
ALL IN ALL A COMFORTABLE CLASSIC
SIMPLISTICALLY BEAUTIFUL
---