Bear Bolt Hunting

Beez Neez now Chy Whella
Big Bear and Pepe Millard
Thu 6 Jun 2019 23:57
Bear Bolt Hunting
This morning Bear did a bale out.
Off he went ashore to meet Inthie with the alternators broken bolt.
Inthie took Bear to an engineering workshop and saw a bit of head scratching.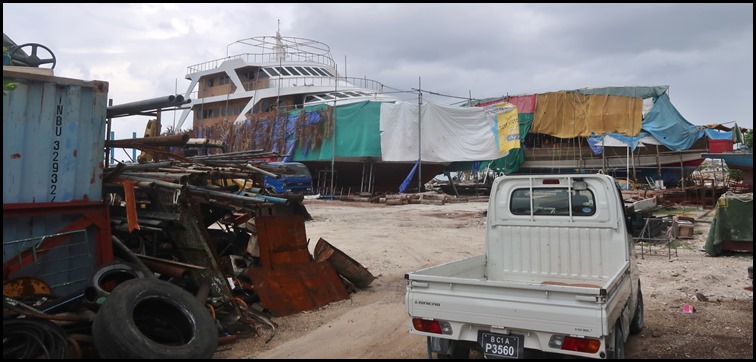 Quite big boats were out for repair. I really like the palm frond cover.
Chap top right was welding.
Our view all afternoon. We have decided to postpone leaving until Tuesday to let all this stuff pass.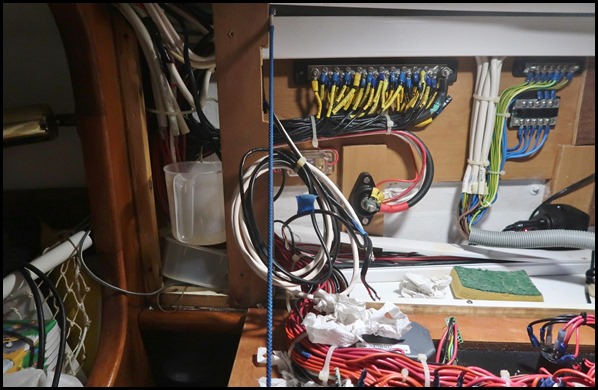 The leak is ongoing but Bear thinks the water tracks through the solar panel wires.
Not often Baby Beez has five inches of water, especially after only a few hours. In fact rare she ever had water further forward from the back to about half way. Inthie told Bear he has doubts if many Eid parties will happen tomorrow.
I took a turn at bailing out and went with last night's quarry in hand. Last night I got up to spend a penny and saw a dark flash run and hide under my bedside stool. COCKROACH. I wrapped my stool in our shower mat and Bear raced for a bin liner. The whole lot was covered, sealed and put out in the cockpit. Once in Baby Beez I undid the top of the black sack and bailed into it, grabbing the top in between filling motions. Sloshed about a bit, I went on the hunt. Nothing, nudda. OH NO, I can only hope the creature is a chap and causes no mischief. After all these years of being so careful, not having seen one on board in years, and then we see one in the cockpit in Hulhudheli and now indoors here (Inthie told us later that they fly from the woods behind us). It would be such a shame, annoying and creepy if we ended up with a settlement........ Bailing done, time for a swift sherbet and games before supper and NCIS Los Angeles.
ALL IN ALL A GOOD START SAVE FOR THE CREATURE
PROBLEM SOLVING BEGINS
---