Night Four, Day Five

Beez Neez
Skipper and First Mate Millard (Big Bear and Pepe)
Fri 17 Oct 2008 23:16
BACK TO MARRAKECH
We arrived shattered after "the long and winding road" experience repeated itself on us. We left Hotel Sahara at 11:00, having left the dunes at 08:00, stopped at the same place in Ouarzazate and arrived back in our Riad at 8:00pm. Showered and off to the main square once again. Bear wanted a Shoosh, the long piece of cotton that the desert people make into a kind of turban, he chose his colour, I chose mine and off we went into barter mode, tired and hungry the price started at 200 Dirham's each, I wanted them both for 100. Yes.
The great chef Paul Bocuse once said " There are only three cuisines in the world, in no particular order: French, Chinese and Moroccan". We found a cafe, I sat carefully because I had put quite an injury on my left buttock, I had nipped in quick to the loo and the brass toilet roll holder attacked me. OUCH. I fancied just chopped cucumber with tomato naked, followed by burger, 100% meat in small patties and chips. Bear had olives and cous-cous royal. Water, coke and two coffees for the princely sum of £8.00. We had decided over dinner to get a taxi back, a) because we were tired b) it saved the risk of getting lost again and c) being hassled by anyone late at night. We climbed into a grand, not petit taxi ( mistake ) and showed him our address. He tried to drop us somewhere we had no idea about. He asked to see the map we had and also put on Bear's spectacles. We all fell about laughing. "Time for bed" said Zebedee.
After a late breakfast off we went for our last wander to the main square, sun very hot, so the snakes should be up for a good dance.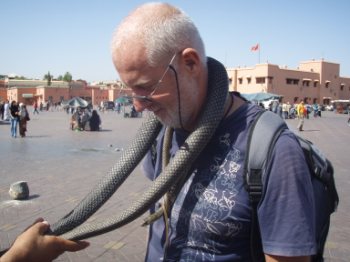 En route to the Djemaa el Fna, we popped into the Post Office to send off some postcards. The streets' mail boxes. Bear 'getting garbed' with the warning "DON'T let go of his head". You cannot see the sweat running down the side of his face. But give him his due, Bear smiled for the camera.
His friends happily swaying and trying to nip the handlers ( were Black Cobra from the Sahara ), if they got too boisterous the tambourine came in as a good shield and potential dark place, hat for calming. I shared Bear's new friend. He wasn't one bit fussed to report to me about feeling the peristaltic waves down his body. In a flash of me holding him, together with Bear for joint luck in our 'calm seas and fair winds', he had wrapped his tail tightly around my wrist. No sooner had he let go than a henna painting woman got hold of me. "a good luck picture" that will last for three weeks, no question of allergy or what pattern I might want. I didn't actually want it at all, but as Bear had his scorpion - Oh Well. Time to hail a horse drawn carriage to the train station. One chap wanted 250, we said the taxi was 50 but we didn't mind paying 100, a little voice from the back of a crowd of drivers said "OK"
The driver got Bear to climb through a carriage, at which point I was poised to take photos, I saw Bear get out the other side and expected two old nags, they were not too bad. Half way to the station the driver wanted more money, but Bear had made him take the money as soon as we had left the square and shake on it. Leaving the square. The first time we had seen it in daylight. A bit of bad driving that had happened only moments before we got there to see a car in the fountain, many stood around with much head shaking and scratching.
We trotted around this articulated bus, were dropped off opposite the station, complete with armed police and checked the time on this impressive clock.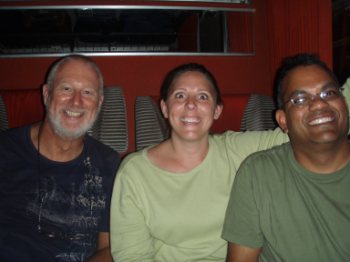 Just time for a McDonald's lunch. Boarding the one o'clock train. Manesh and Stephanie who tried desperately to read quietly, put up with us prattling on all the way back to Rabat, safe journey back to Boston.
Winston Churchill said "If you have only one day to spend in Morocco, spend it in Marrakech". He also said " I am ready to meet my Maker. Whether my Maker is prepared for the ordeal of meeting me is another matter". A sentiment I felt every time I met one of the hawkers who tried to rip me off, Bear at one point accused me of being hard on them. "Not when they would steal your eyes and return later to steal your eyelashes".
My particular favourite whilst on Churchill is in response to Lady Aster saying "Sir, You're drunk". "Yes, Madam I am drunk. But in the morning I will be sober and you will still be ugly".
We arrived back at Beez Neez after a round trip of 1,100 miles. Tired, hot, sticky but exhilarated.
All in all a mind blowing experience, we would not have missed for the world.
---