Cairns First List

Beez Neez
Skipper and First Mate Millard (Big Bear and Pepe)
Wed 22 Jun 2016 22:57
First Shopping Expedition, Cairns
Bear went off early this morning to ablute, rushing back all excited as he had seen a cruise ship coming down the channel. Off he went with the camera and I'm rather proud of his efforts, considering flare, the bright sunshine and only using the point and shoot.
Coming toward the last green marker.
She's P+O.
Crossing the end of the marina.
The Pacific Aria was built for the Holland America Line in 1994 as the Ryndam by Fincantieri of Italy. She transferred to P+O in November 2015, registered in London and renamed. Her length 219 metres, beam 31 metres. draught 7.71 metres. Gross tonnage 55,820, maximum speed 20 knots. She carries 1500 guests on nine decks.
Bear came back having taken a picture of Beez with her new neighbour Maloo – we left Mourilyan Harbour just before and arrived at Fitzroy Island just after her. The space to our right is empty for a couple of days as El Gato has gone up river to be hauled so she can have her bottom rubbed. We look forward to seeing her return. Bear's last shot was of two little chaps sunbathing.
At half eleven we set off clutching our first shopping list. Hybreasail had just pulled in (also on the rally), we chatted for a while and then we bimbled along the boardwalk. Pacific Aria is in until tomorrow evening, safely tucked up for now. We found the Tourist Information Office and booked our joint birthday presents to each other – the rail/skyway to and from Kuranda on Friday, that gives the passengers all chance to do it tomorrow.......
En route to the shopping centre we saw 'Tropical Queensland' on a car number plate, we keep forgetting we are back above the Tropic of Capricorn.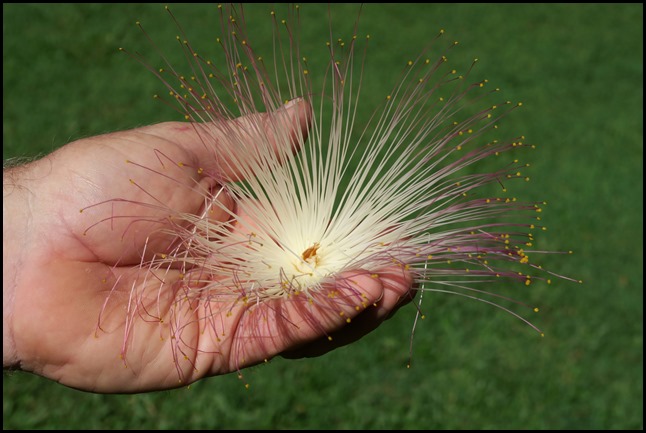 We stopped to admire a fallen flower from a tree.
We spent a long time bimbling around the humungous mall, treating ourselves to KFC for lunch – won't need that again, the chips had strange salt and it was a bit soggy but the chicken was nice and moist though. We gathered all sorts of bits and bobs from the huge K Mart then we had a good poke around the Japanese equivalent of the pound shop to collect some bits for the Indonesian children, footballs are very unwieldy creatures to carry tied to our biggest Ikea bag. Last shop was Woolworths to get stuff we can't get in Coles – big list for Sunday. Result, Bear pulling the cart with three chocker-full-up-folding-crates, the cool bag on top and strapped to the front a big yellow breadboard that I will convert into a sun shade for his IPad. I had to stop once when my thumb went navy blue, Ikea bag, carrier bag and shoulder bag had been arguing.
Never so pleased to see Beez, Gin and Michael waiting, what a wonderful surprise. We had a sherbet on board before they set off for Hybreasail to watch the football. NSW play Queensland. We fought the shopping and by eight we were standing under a much needed shower. Poor feet have taken a pounding, yet again.
ALL IN ALL VERY FRUITFUL
GOOD LONG TROT AND MUCH ACHIEVED
---