Moorea by Car

Beez Neez
Skipper and First Mate Millard (Big Bear and Pepe)
Tue 27 Aug 2013 22:07
Exploring Moorea by Car
Dave, Jenny (Alexes) and the Beez pair hired a car for the day to complete the massive circuit of thirty three point three miles. Dave was at the wheel as we headed for the hills.
Moorea is known for growing pineapples for the nearby islands.
We stopped at Rotui Fruit Juice Factory at Pihaena, sadly not at the right time to take a tour, but the shop was rather lovely. I bought Bear a nice pineapple liquor and he bought me a coffee cream. The lady at the till had been born here, visited Tahiti, the Gambiers and the Australs but couldn't wait to get back to her island. "Friendly, small and reasonably unspoilt" we didn't disagree with her.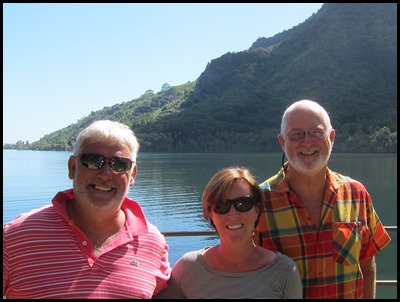 The happy group at one of our many photo stops and our tiny car.
We stopped at Opunohu Bay, where the small cruise ships anchor. A lovely little church.
Bear took these pictures of a girl who clearly had a bad time on a reef.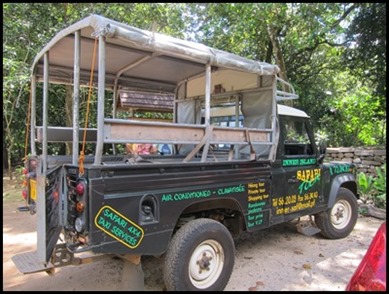 Then he was tickled and took a picture of this local tour vehicle when we stopped to look around Marae Titiroa, (own blog) well I liked the advert for air conditioned climate. Yes dear.
Belvedere View Point at seven hundred and ninety feet, gave us a view of Opunoho Bay on the left and Cook's Bay (Beez parked at the very bottom of the bay) to the right – separated by Mount Rotui, the sacred mountain of ancient Polynesia.
OK just one pose as tourists.

We stopped at the Sofitel to 'see how the other half live'. Very nice. A luxury over-the-water, one king bed costs five hundred and ninety five pounds for full bed and breakfast per night – in September, television extra. To fly here costs two thousand, three hundred and eighty four pounds from London. Not a direct route, changes include Paris, Los Angeles, Papeete with a fifteen hour wait for the local plane, all of fifteen minutes in the air to Moorea. We saw about two dozen guests. One look at the luncheon prices and we were off down the road, we found a lovely 'food shack' with seating at the rear complete with splendid views for a fraction of the cost.
The views from Temae were breathtaking. Tahiti across the crystal clear water..
Our final stop was at a lovely beach, our chauffeur had a little power nap.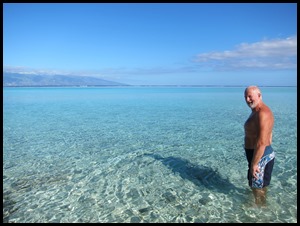 Bear took a dip whilst we watched.
ALL IN ALL A VERY BEAUTIFUL ISLAND
ABSOLUTELY STUNNING, EVEN I CAN SEE THE COLOURS
---