Christmas 2012

Beez Neez now Chy Whella
Big Bear and Pepe Millard
Tue 25 Dec 2012 21:57
Christmas Day 2012
The far end of Brooksy Point Marina
Beez in place between Georgeann (sadly Howard is in hospital in San Pedro Sula and Janelle is with him – we wish them a speedy return) and Mike's (Brooksy owner) fire damaged girl, currently undergoing a major refit. After our wash cycle ride here from Livingston we had a couple of hours well earned sleep. I superglued the two pieces on my cooker top and Bear did a couple of very gentle chores.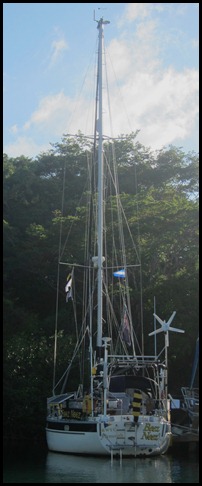 The hassle with the water in the fuel tank has had Bear scratching his head and investigating. The long and the short of it is a crack in the filler cap allowing a 3mm gap that has happily been letting rain / sea water in. No idea how long for but judging the amount of clear stuff retrieved, for quite some time. Judy and Aubrey came over from Veleda and got to work with their hand pump. Bear has since bought a set for us and has put a couple of new jobs on his monthly engine check list. He did say we were very lucky to have limped in to the dock under our own steam, steam being the operative word. We had about three tablespoons of fuel in the line before we conked out once again. Good ol' Beez, what a star she is. When we get back from our Christmas pressie three day trip to La Ceiba next week, Bear will run the girl and do the final check to say she is all better.
Engine troubles aside. Just look at Bear's Christmas meal. Grand indeed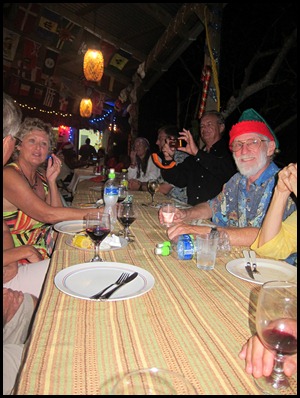 Mike and Lilo provided a wonderful looking turkey and ham, the rest of the cast brought dishes to share. It was lovely to be amongst old friends first met in the Rio and new ones too, all in festive spirit. In all there were about forty of us. After our feast it was present time. This was a new one on us. You hand in a gift, get handed a number. Numbers go in a hat, get picked, on hearing your number you go up to the table and choose a gift. If someone goes to the table but prefers your gift they can take it from you and you go and choose again, or, take from another person. I unwrapped and lost a bottle of whisky, returned to the table and unwrapped another bottle of whisky. This once again was taken from me. When Bear's number was called he took original bottle back. Whoever is in charge of the game can dictate (before you begin) just how many times the present can be 'swapped' or 'stolen', ours was set at three, so once Bear had reclaimed the original – it stayed with him. After everyone had a gift, some great, some silly and some just plain daft we listened to a local band and all retired happy and tired.
We had a gentle start to Boxing Day. Bear did his best to win a few games to dent my lead (in all four games, Huh, not best pleased). Moving on. In the afternoon we went for a shandy on Sirena of Oare. A blog classic then happened. Sitting chatting to Eric and Dee I happened to say that I passed my carrots (yesterday) to Bear. I had tried them twice, couldn't make my mind up about the flavour and decided they tasted like they had been cooked in dodgy pond water. Eric, with a wry smile chirped "I did them, and I did them fancy in orange flavoured water." Oh and thrice Oh. Of course Bear fell about laughing and said get out of that one then sweetie.
Sweetie my oath.
Have you ever seen a Sprite can hurled with such well aimed precision and vehemence.
Bear has, Duck Bear, Duck
Actually, I was vindicated a few days later when Eric admitted that when came the time to eat the denuded fruit in the bowl, it turned out to be a grapefruit.............................
We spent a chilled afternoon and then went for a gentle walk along the beach en route to the Fantasy Island Resort bar for a sex on the beach – best not ask, but it tasted very good and very strong. Henry did a good job......... We saw agouti's rummaging about at the waters edge. Wandered through the pretty lights and waved farewell to the now brightly and festively lit Sirena.
We jumped in to Baby Beez and the two minute dinghy ride was over in a flash. Then it was time for Beez Christmas dinner. Not too sure what to say about the tinned sprouts but I won't buy them again. They did look the part though and weren't too bad if you squodged them in with the mash. If you say so. Time for a game of backgammon and an inch or two of Baileys. Marvelous.
ALL IN ALL A GOOD END TO A SHAKY START
---