Bus to Antigua

Beez Neez now Chy Whella
Big Bear and Pepe Millard
Thu 28 Jun 2012 22:07
Our Bus Ride to Antigua, Guatemala
The alarm went off at 05:45, we 'jumped' up said our farewells to Beez Neez and settled in the marina launch at 06:40. No sooner than we had been dropped at Bruno's Marina than 'the old trouser leg performance' occurred. As we waved the launch off, I threatened the English speaking guard that on our return we would be chatting to him in Spanish. Gulp. Mucho laughter, good cheer and off we walked to the bus station. Being my birthday Bear trotted off to buy me some grapes and an orange juice, what more can a girl want...............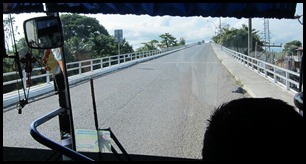 The others arrived to make up our happy group - The Senile Seven (Dorothy and Duncan, Marlo and Larry, Brian and us), on the 08:00 bus which left promptly, on time twenty minutes later. Our first time over the bridge that dominates this end of the Rio Dulce and a final wave down to Beez Neez as we saw her marina down on our right. Dorothy had organised us front right seats, grand for taking pictures – Thank You D. Brian was behind us with his new best friend, a lady who spent the first two hours taking solidly on any one of her three mobile phones (and he thought I could talk). The others were settled in the two rows to our left. Pleasant Spanish music – this is going to be a nice easy journey..........
Our driver snacked as we passed through towns, villages and roadside stalls, this one selling bananas.
After three quarters of an hour we passed the scene of a dreadful accident, just behind the-car-behind-the-police vehicle, was a lorry on it's side well in to the bushes. Tragic.
Our driver was passed his fruit snack as we trundled along behind local traffic. We laughed at the "in case" rolls of wire up on many of the posts.
Our driver snacked on cake as we waited to overtake clippings and cows overtaking fruit. We soon got used to pull out, not enough space, pull in quickly routine and were pleased with the kidney jolting braking. Orange juice to lips – orange juice to ear - and back again. Curving, meandering, swerving, braking mmmmm moving on.
Our driver snacked on cashew nuts as we pulled in for a fifteen minute break half way. What an ice cream. Bear had a waffle cone with local rum and raisin topped with melted chocolate and nuts. I had two scoops of coffee ice cream with big chunks of bitter dark chocolate – my absolute favourite.
Our driver visited the bushes as we got held up in a traffic queue to get through road widening work.
We went from pretty countryside to the Guatemala City outskirts
At a set of traffic lights Dorothy laid on a clown juggling for me....... I was very taken with the rear window on the car in front.
We arrived at the Guatemala City Bus Station at 14:20 to catch the 14:00 minibus. Just as we found our transport a tremendous clap of thunder and busy gray clouds began greeting each other, O Oh. The driver magically assembled a rear bench seat for three at the back which meant his bucket of cleaning material had to go on the roof. So did the driver. So did my case with Beds. My laptop was safely stowed inside my pillowcase, my pillow on top, but I did take a sharp and deep breath as the driver rested on it whilst stringing rope through a variety of handles (my case top right). A too small tarpaulin was half covering the pile of luggage as we pulled out at 14:40 for the hour long journey to Antigua – Beds banging on the roof, screaming as the thunder and lightning turned to torrential rain. I really did feel Dorothy had pulled out all the stops to give me a water feature.......
This part of the journey saw roads so steep it was the first time in many years that the Senile Seven had seen emergency exit ramps. Finally we entered the skinny, one way streets of Antigua.
Finally the minibus (with only twelve passengers and driver came to a careful halt outside the cathedral
I stood anxiously waiting for the driver to launch himself up on the roof, was nervous as Larry and Bear took hold of my case and immediately retrieved a quaking Beds - ears back in shock.
Marlo did her best to comfort Beds by introducing him to Ferdinand. We gave short shift to a variety of sellers who greeted us with recorders, hand drums, offers of tours as we squeezed in to two taxis whose exhaust pipes barely made it above cobble level and were dropped just at the corner of our accommodation – Posada Juma Ocag.
History of the Guatemalan Capital City: Antigua was the third capital of Guatemala. The first was founded on the site of a Kakchikel-Maya city, now called Iximche, on Monday the 25th of July 1524 - the day of Saint James - therefore named Ciudad de Santiago de los Caballeros de Goathemalan (City of Saint James of the Knights of Guatemala). Naturally, St. James became the patron saint of the city.
After several Cakchiquel uprisings, the capital was moved to a more suitable site in the Valley of Alotenango (Rio Guacalate) on the 22nd of November 1527, and kept its original name. This new city was located on the site of present-day San Miguel Escobar, which is a neighborhood in the municipality of Ciudad Vieja. This city was destroyed on the 11th of September 1541 by a devastating lahar from the Volcano de Agua. As a result, the colonial authorities decided to move the capital once more, this time five miles away to the Panchoy Valley. So, on the 10th of March 1543 the Spanish conquistadors founded present-day Antigua, and again, it was named Santiago de los Caballeros. For more than two hundred years it served as the seat of the military governor of the Spanish colony of Guatemala, a large region that included almost all of present-day Central America and the southernmost State of Mexico, Chiapas.
In 1566 King Felipe II of Spain gave it the title of "Muy Noble y Muy Leal" ("Very Noble and Very Loyal").
On the 29th of September 1717, an estimated 7.4 magnitude earthquake hit Antigua and destroyed over three thousand buildings. Much of the city's architecture was ruined. The damage the earthquake did to the city made authorities consider moving the capital yet again.
In 1773, the Santa Marta earthquakes destroyed much of the town, which led to the third change in location for the city. The Spanish Crown ordered (in 1776) the removal of the capital to a safer location, the Valley of the Shrine, where Guatemala City, the modern capital of Guatemala, now stands. This new city did not retain its old name and was christened Nueva Guatemala de la Asunción (New Guatemala of the Assumption) and its patron saint is Our Lady of Assumption. The badly damaged city of Santiago de los Caballeros was ordered abandoned, (although not everyone left) and was thereafter referred to as la Antigua Guatemala (the Old Guatemala). Building materials were plundered for the new city but a coffee boom allowed Antigua to be reborn. But just as the city was returned to its former splendour disaster struck. A major quake in February 1976 left thousands dead and undoing much of the restoration work.
Unesco's designation if Antigua as a World Heritage Site in 1979 has added new impetus to the restoration campaign. Spanish-language schools (Gulp) have brought huge numbers here to learn from all over the world. Next week we join their number (Double Gulp). We will settle ourselves with a host family (Triple Gulp) and enroll for six hours a day, six days a week (Muchos Gulping) Oh Bear it will be fun. Don't be silly.
Antigua is one quarter of the Guatemalan chapter in the 1000 Things book, we look forward to exploring over a couple of days. Pop a few miles on a bus to see an active volcano on horseback –
Don't be bloody silly.
A certain amount of relief shows on Bear's and Duncan's faces as they stand in reception. The garden patio in front of them. Brian is downstairs and our three rooms adjoin upstairs.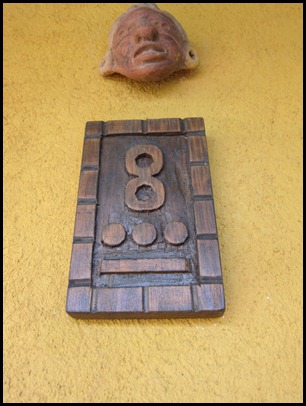 We all spent about two minutes choosing our rooms, Irene the very helpful manageress got us to sign the book and that was that. Beds shuddered when he saw the 'head' above our door number but I reassured him "it's a Mayan thing". He was very happy with the community patio outside our room, that we can use until 22:00 and was soon settled comfortably in bed. His ears have even come forward a little. I have had to reassure him constantly that any further roof travel in thunder, lightning and torrential rain will NEVER EVER be repeated. In fact no roof travel AT ALL.
Ditto for Ferdinand whose eyes were shut in seconds.
ALL IN ALL A FULL AND VARIED DAY
.
---