Final Santa Cruz

Beez Neez now Chy Whella
Big Bear and Pepe Millard
Mon 6 May 2013 22:27
Our Final Blog from Santa Cruz
We witnessed our first Pecalin fight this morning. These two ladies got down and dirty, one had the others head in her mouth for what seemed like an endless battle. No real reason other than one getting the hump.
The loser scurried away to hide behind the cruiser next to Beez, we didn't see her take off for ages.
We spent the day tidying and Johnny delivered our Zarpe clearing us to move first thing in the morning. Then ashore later for a few more bits and time for a tourist shot with a teenage chap.
Bear was very amused by the quayside antics.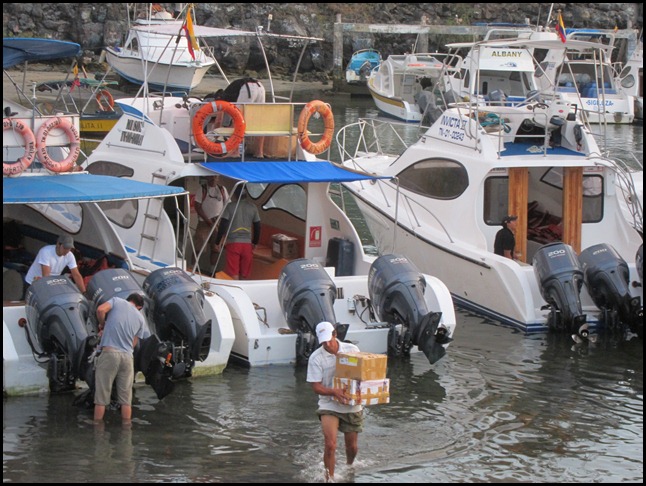 Engine repairs, stowing and unstowing. Always something to see.
To the left of the commercial jetty, we take a final look at the taxi rank..............
.....................and Beez bobbing in the middle.
Well MOTH, all I can say is this is not the place for a Bailey's o'clock habit. Fifty eight dollars for a small bottle. Mmmmmm.
Skipper with our final supermarket load for some time.
Then a final treat. At least mine was slightly smaller than Bear's. But at least mine has some healthy fruit. Grrrrrr. It is with some sadness we leave here at six in the morning because our next hop of fifty miles to Isabela will be our last in the Galapagos Islands. Just as well as we could spend a very long time here and there is just too much to see around the corner.
ALL IN ALL A GREAT BASE TO EXPLORE FROM
---