Up to Tambopata

Beez Neez now Chy Whella
Big Bear and Pepe Millard
Mon 6 Sep 2010 21:01
Our Journey Up River to the Wasai Tambopata Lodge
We are here at the Wasai Lodge and will end up here at the Tambopata Lodge
We watched fresh supplies and eggs being loaded
We got in the boat at twelve forty five en route natural jungle dwellings. Our guide Omar - Our driver Cesar
Wasai Tambopata Lodge is located in the heart of the Amazon, approximately fifty kilometers away from Puerto Maldonado as the crow flies but actually one hundred and twenty kilometers on the river by our transport, to the heart of the Tambopata Candamo National Reserve. On the banks of the Tambopata River is primary rainforest and spectacular natural beauty.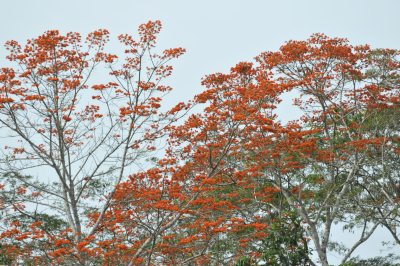 The natural raw beauty was amazing. A local had marked his home base with a dangling traffic cone
Every so often Cesar would pull over and patiently wait for Omar to point out something new - A Horned Screamer - a new one on us
Nests of the Oropendula Bird and a man panning for gold
We saw many men panning for gold, Omar explained that they would have to work extremely hard to make any money. An ounce of gold would fetch twelve Soles (about four English pounds) but it would cost him at least eight Soles to produce it. Costs for fuel for the generator to pump the river water, the middle man to take the gold to town and the hardship of the back breaking work, mostly alone.
All part of the local river scene
Lots of turtles. In the first picture a butterfly actually sitting on the head of the chap on the left
Butterflies grouping together to lick the salt from the sand. Became known as Alan's welcoming committees
Amazing trees and many birds
Many birds of prey and lovely butterflies
Our first sight of parrots were Scarlet and Blue Macaws.
Capybaras (own blog)
Omar told us the river was about nine meters deep in the middle, this can raise and lower by six meters depending on dry or rainy season, now about mid height. Many trees litter the way and Cesar expertly took us around over falls, debris and shallows. We arrived at Wasai Tambopata Lodge at ten to five
ALL IN ALL AN INCREDIBLE JOURNEY WITH UNIQUE FLORA AND FAUNA
APART FROM THE SPEED IT FELT LIKE A REAL EXPEDITION INTO THE JUNGLE
.
---