Fruit Market

Beez Neez now Chy Whella
Big Bear and Pepe Millard
Thu 12 Jul 2012 22:29
To Buy a Melon and a Pineapple
After coffee break today our teachers insisted we go with them to the fruit market to buy our fruit. We have our first presentations in Spanish after coffee tomorrow, after which we are to give all the students and teachers a sample piece, about twenty four people in all. Bear is presenting on the pineapple or pina, and I'm doing the watermelon or sandia. I was quite happy to buy our fruit on the way home from the lady who sets up a stall next to where we live. Last Sunday we bought a massive melon for one pound forty and it was absolutely delicious. Anyway, be that as it may, off we trotted, with Grande Oso in the lead with Brenda.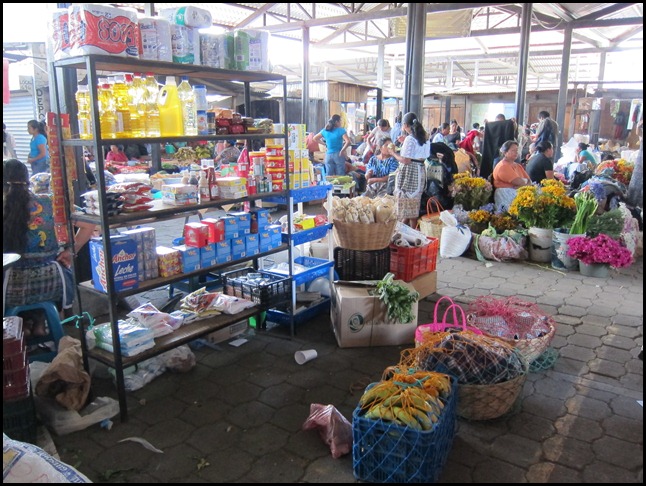 Ten minutes later we were in an enormous rabbit warren of stalls selling just about everything as well as giant radishes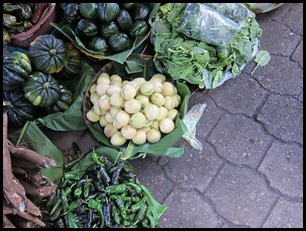 The ladies pointed out all kinds of fruit and veg, surprisingly cauliflower and broccoli are the same, as were many of the flowers – gladioli, chrysanthemum, statis and lily.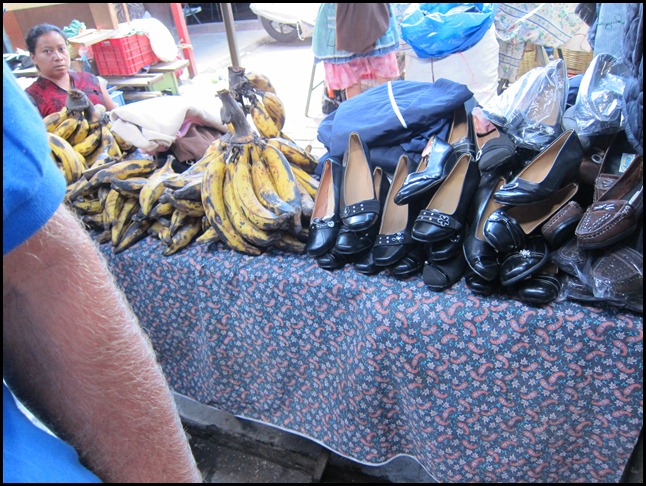 No guesses who's furry arm got in the way, but it was the first time in my life that I've seen bananas next to shoes.
I did get a bit cheesed off with being just the wrong height. All the ladies with 'stuff' on their heads happily brushed me the whole time and the noise was something else, with everyone shouting out their wares. The narrow alleys were the worst. we saw many new vegetables to us. Some interesting 'snacks' and piles of eggs. Tripe by the yard and some very dodgy looking 'parts'. Clothes, shoes, Kiwi shoe polish, Ponds and Nivea creams.
Strange fruits punctuated by make-up
Such an enormous market
Complete with live crabs I of course wanted to release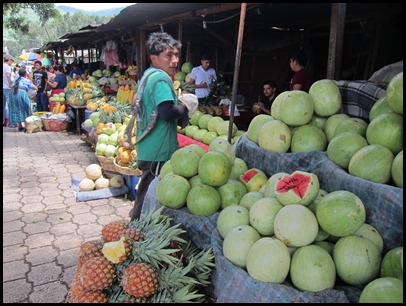 We were 'steered' to a particular stall and 'persuaded' to get two melons (I knew I only needed one), I did put my foot down at the suggestion of three pineapples and only bought two (cut correctly one may have done the job) for the princely sum of eight pounds and fifty pence. We could have got the four fruits from our local lady for less than five pounds. I was more than a little cross at allowing myself to be stiffed in such a way without reacting. Oh well, the old saying "Fool Me Once".
At last out in to the open, dodging yet another head-hand-bag, past the chicken buses, to see a man relieving himself at the back of one. Apparently this is a very 'macho' society where men do as they wish and any word against may produce a good slapping. We were warned that I would be fine in a queue but Bear may have to put up with locals blatantly pushing in. The buses made for a colourful picture though.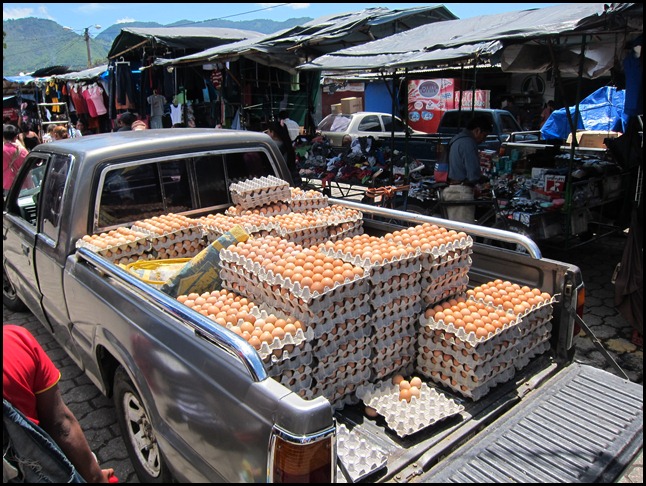 My favourite picture was of the eggs 'sunbathing'
Cute or Sad ??? A straw and a plastic bag as toys.
ALL IN ALL QUITE AN EXPERIENCE
BUT VERY HOT
---