To Hot Beach

Beez Neez
Skipper and First Mate Millard (Big Bear and Pepe)
Sat 27 Sep 2014 22:57
To Hot Beach, Coromandel
The day started extremely badly for himself, an incident with his NYPD mug. He climbed out of Mabel with the plan of bravely skulking to the bin. He hesitated just too long, I couldn't take the face any longer and before I could stop myself I felt the lips pucker to ask why. Well, I really would like to take it home to Beez and glue the handle. I've never had a handle break off, I could try with.........OK already, put it away in the home box. Big grin from Big Bear........ Straight down to The Warehouse and we bought him a new, just stand in for now, until I've cured my proper one, yes dear, jet black one, even slightly bigger. Yes dear. My day on the other hand, began very well as there was a silver bug parked next to us with just a taster view of Lake Taupo. New mug safely stowed we were off toward Coromandel.
Now the way it goes is that I type blogs and Bear drives at a leisurely cruising speed, mindful to let cars pass by. If he gets tired I take over. I look up every few minutes to see if anything needs a picture or Bear tells me camera ready. After supper we settle to watch a film or an episode or two or sometimes three.....- just finished season four of Game of Thrones.....and I edit and store the days pictures. It works well this system of ours. Today was to be no different. We cleared Taupo and on a country road, nothing different scenery wise, so with head down I was typing the history of the Duesenberg car. Next thing I hear there it is and have to pick my laptop out of my knees. I look up, still nothing, we do a u-ee in a garage and head back, now I am intrigued. Well indeed, there it was. The Beez Neez Lodge. In we went down the long drive.
A lodge for forty, sadly currently closed and on the market with Harcourt's.
The present owner – Mr David Lewis introduced himself as did we and we spent a very pleasant time learning about our dear girls namesake. In the main building there is an upstairs boudoir that used to house a full-sized billiard table, big bed and mirrors. In those days it was called the Bird Watchers Bar............ The lady of the house was apparently a very good stripper and her husband ran the 'business' until she ran off with a client.....
Dave, used to be a dairy farmer on South Island before owning a successful trucking business, one of his ladies has done one point seven million kilometers and only had three drivers in her steady life. "Blows a bit Dave" said the mechanic at her last service. Dave is touching nothing as he fears once they start "fiddling about, things will go bad for the girl." At sixty seven he wants to sell Beez Neez Lodge to spend more time in his own camper van. Lovely visit but time to move on.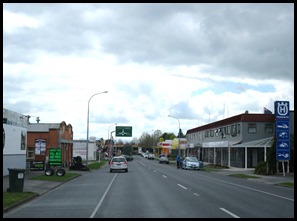 We went through a couple of little towns and it was nice to see local markets and activities going on on a Saturday. A gymkhana. Then my chauffeur pipes up, there's a lorry moving a house. Well that calls for a closer look and a short stop.
Mmmm looks a bit 'one careful owner' potential.
Intriguing, would loved to have seen that lorry and load bimbling down the road.
On we went until the wicked witch told us to turn right to Thames. We drove over the bridge guarded by lots of handsome chaps and crossed the water, not the Thames but the Waihou River.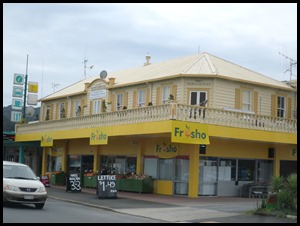 Like so many other towns we have visited, Thames began with the gold rush in the 1800's, now a mix of old and new buildings. I hope you are not looking at me as you type the word old. I couldn't possibly comment, but, if the cap fits...............thank you.........
We were just on the outskirts of Thames when we saw the brown tourist sign to the Butterfly and Orchid House, turning right we passes a rather handsome house with a gorgeous front garden. The butterfly place is next to the reception of a Kiwi Camp, we parked and ate our lunch in Mabel. From the outside the Butterfly and Orchid House looked a little tired but the inside was well worth it. Two new plants that we have never seen before and many butterflies fluttering about – own blog.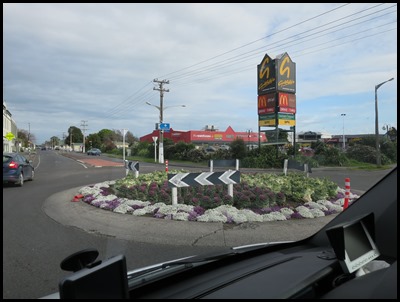 No sooner than we had got going than an policeman stopped all traffic going up the left side of the Coromandel Peninsula. When it came our turn to speak to him, his face said it all. In the UK they only close a road due to a fatality, the same here. Later we looked on line.
A person has died after a car and a motorcycle collided on State Highway 25 north of Thames, t
wo other people received minor injuries in the accident this afternoon, police say.
Police are urging motorists to avoid the area as the highway is blocked in both directions.
Motorists were advised to use the 309 Road, a narrow winding road, as an alternative but that road also became blocked by a separate collision.
The serious crash unit is investigating.
Next-of-kin are being advised. How very tragic. Sadly motorbikes never do well against cars. Our thoughts to the victim and their family. We were not caught in the other queue as we had passed by only reading of this other crash later. Amazing since being in New Zealand we have only seen one car upside-down on the road to Dorothy Falls. Today we saw a bit of a do between three cars at a roundabout, now these two incidents all in one day. We drove back through Thames and followed the road up to Kauaeranga into the countryside.
We crossed a ford and stopped at the Kauaeranga Information Centre, but it was far too late in the day to do the tramp to the Pinnacles. Back to the main road.
The original plan was to camp just north of Coromandel Town for a few days 'holiday' then on to Hot Beach for Bear to frolic at one of his stopping choices. No problem we'll just swap the stops round.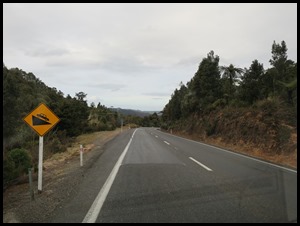 The road rose steeply toward Whangamata. We stopped at the top thinking it was a lookout, but it was a helicopter landing site, bit random. Also random it seems was a memorial to C.J.W. Parsons. District Engineer and District Commissioner of Works, Ministry of Works, Hamilton, 1949-64, whose foresight and perseverance resulted in the construction of the Kopu-Hikuai Road and its completion in 1967.
An odd shaped house, but rather funky. What looked like St Michael's Mount and nearly our last bridge of the day.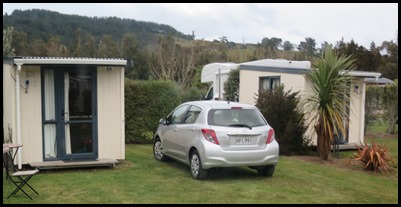 As we drove into our campsite we saw the cutest lodges yet, opposite us were the little 'shed' houses. Not pleased, in fact cross as a wasp, lost five nil at both backgammon and sequence but you won money at rummikub. That's not the same thing. Yeah Yeah. Watch it.
Have you ever seen a packet of 'special offer' mince wrapped round the back of someone's head.
Bear has.
Off to the shower Bear, Off to the shower.
ALL IN ALL A VERY VARIED DAY
INDEED SO
---