To Suva

Beez Neez
Skipper and First Mate Millard (Big Bear and Pepe)
Sun 9 Aug 2015 22:57
To Suva by Baby Beez, Ferry, Minibus, Plane and Taxi
We were both awake long before the alarm went off at half past six. Final bits of packing including my pillow and of course Beds, fly paper up, roach hotels down, sprayed doors, all done and in baby Beez by half past seven. I stood up as I didn't want to get wet but Bear caught a big one and half of him was soaked. He dropped me next to the Malolo Cat IV and went back to pick travelling companions from Scott-Free. By the time Bear had dropped them and taken Baby Beez to the dinghy dock our luggage had been boarded, I had intended to get him a dry shirt and shorts – ooops........
We bought our half-price return tickets, Bear stood in the sun and by the time we boarded his shirt was pretty dry.......... Settled behind Chris and Steve for the hour-long journey to Denarau.
As we pulled away from the dock the crew of this medium-sized working girl, Kusima waved heartily.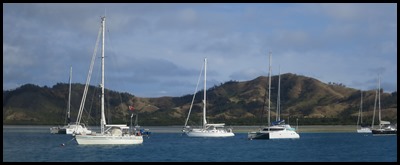 We waved 'bye-bye' to Scott-Free [left front] then to Beez Neez [on the right] and made our way over to a brief stop at the Plantation Resort next door. A fair few families boarded here, all done efficiently and we were soon off.

The inner reef with easy to see marker..........
It was low tide so we could clearly see the outer reef and the three very big girls anchored beyond the sand bar.
The sleek motor vessel is called Dragonfly, owned by one of the men at Google. If you Google her – no pun intended, she went to Vanuatu soon after Cyclone Pam hit and provided much needed medical help, made drinking water and helicoptered aid to otherwise cut-off islanders. There is a video of her helping. Very well-done to her and her well-trained crew.
Out in deep water we passed 'one of our own' doing our sort of speed, just then, Steve showed us our current speed of eighteen point four knots. Mmmm.

Moments later, we slowed and entered the clearly buoyed entrance to Denarau.
We made our way over to the middle, above where it says Marina.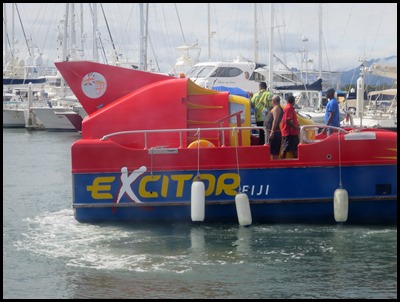 As we docked a day-tripper was on her way out as was Excitor, who sheltered on a buoy near us during the recent storm.
As soon as our bags had come off the ferry we were sitting in a minibus en route to the airport. I had no idea I would be taking pictures of an orchid collection in the modest cafe after eating a chicken wing and a date and chocolate cake, but there we are. Snacks finished we had a look at the little planes on the domestic runway, checked our bags in and went to sit in Domestic Departures.
Our lady. Settled in our comfy seats the stewardess handed out tiny bottles of water and there was slight disappointment at the packet of peanuts that turned out to be a wet wipe, very nice smelling, just a little surprising.
Up we rose for ten minutes, just above the lower clouds for ten and down we went over the River Rewa for ten. Wiki says:-
The

Rewa River

is the widest river in

Fiji

, the river originates in

Tomanivi

- the highest peak in Fiji, and flows southeast for 145 kilometres to

Suva

. The river drains approximately one-third of Viti Levu.
The Rewa River is fed by two large

tributaries

, the

Wainibuka

and the

Wainimala

and it is joined by several other rivers of importance before it reaches the sea by a

delta

of many mouths. It is

navigable

by small crafts up 100 kilometres from its mouth and its basin is enriched by a deep deposit of

alluvial

soil. There are more than 200 native villages situated on its banks.

The river is crossed by the

Rewa Bridge

at

Nausori

. A short time later our knowledgeable taxi driver, Saud, told us:- the original single track bridge was built by the British and was used for over fifty years – now a pedestrian bridge. The new road bridge was built by E.U. funding.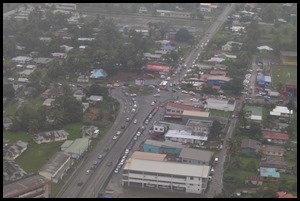 The clouds disappeared just before we landed and we saw an old river bed, The city bus station and the main road in and out of Suva.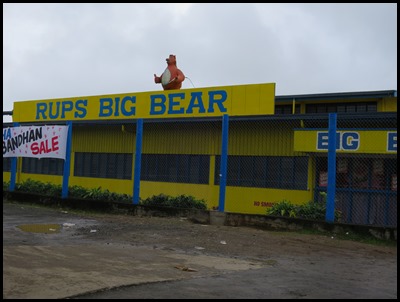 On our journey in to the city, thirty kilometres from Nadi airport – pronounced Nandy, Saud stopped for Bear to take a picture of the main Big Bear depot. Well, colour is all happy, our apartments are a stones throw up the hill from the big, Big Bear superstore. Apparently you go here when you want to buy just about anything really cheaply.
Capricorn Apartments, looked swell from the outside. If you read up the 'terribles' on Trip Advisor you'll get a good laugh, but budget in some cases does indeed mean budget.......... but we are after all the Well-Ard Millards.
Bear, of course sees everything as an at-venture and was soon checking the kitchenette. The television is set at quite a jaunty angle but hey, we have a pool view. Not sure the towels will dry anytime soon as it's just beginning to drizzle.
Beds too takes it in his stride but was happier to be settled on my pillow. I know just how jealous you are of my bedside lamp already, dear reader, so I will add a closer view. You either got the bulb and flappy shade or the gaffer tape on the switch – I chose for you, the bulb and flappy shade it is then........ We can hear every drop of water that passes anywhere in the building but with our toilet door and the shower door closed, things are not too bad. Bear settled to read the information booklet and several earwigs scattered. Later I swooped on a cockroach but he was only small. No mosquitos thus far so all could be so much worse. "More", I hear you ask. Ok just because you asked so nicely.
Our shower is conveniently situated at a space saving angle, the showerhead sprays Bear at heart level, designed for leprechauns' and the toilet has its own door. The petit wash basin has taps quite close together and the hot one does screech a little but I'm sure we'll get used to it. I could give you more, but feel jealousy is not healthy amongst our readers.
Popping next door, there were plenty of hysterical giggles but a slight problem with the fridge. I did get Maj to pose in her toilet. Time to walk to the end of our row. Much more giggling to be heard.
We walk past our neighbouring building and there.............a sea view. Is that a chum I see.
Well colour me happy, the main port of Suva and I can watch chums to my hearts content, if I carry a chair along the corridor I can do it a leisure..........Maj and the skippers fridge was soon working and we were told the main shopping mall was a five minute bimble down the hill. Off we went to find something to eat. The whole top floor is a food hall with just about every country catered for. Bear had Mongolian, Skipper had Indian and Maj and I had Chinese. Splendid. My sweet and sour chicken was served on a sizzling platter, not a speck of skin on any of my huge pile of chicken, together with rice and a diet Coke for just on three pounds. We are going to have a ball here here in Suva. In bed at a reasonable time, found something in English to watch at a better angle as Bear has propped it up a bit and settled for an early night as we are being led by Maj on the morrow on a walking tour of the city.
ALL IN ALL A MARVELLOUS DAY
FABULOUS DAY AND A GREAT APARTMENT
---