To Tanjung Gedong

Beez Neez now Chy Whella
Big Bear and Pepe Millard
Thu 18 Aug 2016 22:57
To Tanjung Gedong
It was extremely tough to drag ourselves away from Kroko Atoll.
So we went for one last snorkel in a perfect fish tank with clear visibility, had showers and up came the anchor at ten to ten.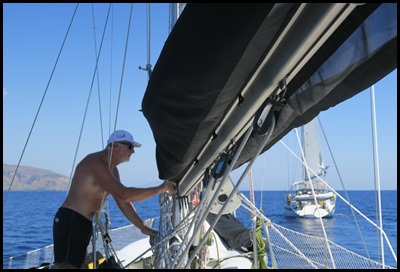 Skipper footerin' about as we follow Afar VI.
Wishful Thinking just behind.
How blue, lure trolling along behind.
Sun shining, we hug the coast for our thirty two mile journey.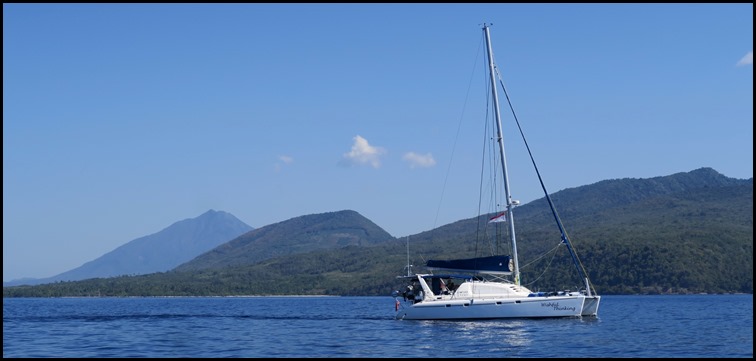 Wishful Thinking looking lovely on our left.................
..........on our right a local girl chugs along.
Our only bend ahead.
Around the bend.
Anchorage ahead. Deep water right up to the edge.
Wirraway looking gorgeous at anchor.
We passed the local girls and found four metres below. Backing up the reef not far behind. Sadly, the coral here was hit hard by explosives and cyanide, there are signs of recovery but the marine fish pet industry has much to answer for.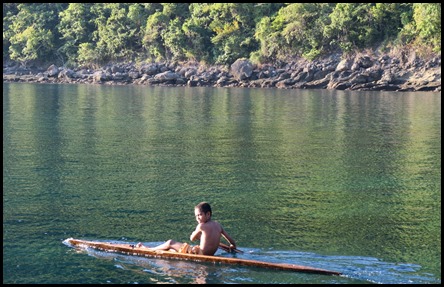 Before the anchor was down we had two men in a dugout canoe clinging to the side of Beez. They patiently waited and asked for snorkel masks, we only possess our own but we sent them off with some fishing line and hooks. One little lad paddled off, a cute smile with his new tennis ball. Another dugout with bigger boys asked for pens, pencils and notepads but we gave all we had away – they were happy enough with a ball each.
Todays journey. When you change the scale on the chartplotter it has to have time to put the detail on. It looks rather funny naked of the busy names.

A still sea and a bright sunset to eat supper and have a few games before turning in for an episode of Hustle.
ALL IN ALL A PERFECT DAY TO BE A CRUISER
A LOVELY JOURNEY IN THE WINDLESS ZONE
---