Iluka Nature Reserve

Beez Neez now Chy Whella
Big Bear and Pepe Millard
Tue 19 Apr 2016 22:47
Iluka Nature Reserve
Dromalus novaehollandiae is Australia's tallest bird reaching between 1.9 and 1.9 metres in height. Unlike their inland cousins, coastal emus are not highly mobile. They live in areas of swampy heathland with plentiful water and a diversity of fruiting plants, all of which are provided in Bundjalung National Park between Iluka Nature Reserve and Evans Head.
With less than fifty coastal emus left in this area they are listed as an Endangered Population under the Threatened Species Conservation Act 1995.
Coastal emus are major large seed dispersal animals that help maintain the diversity of plant species of Bundjalung, they are a part of the unique coastal heritage and a national icon that needs to be protected. Threats come from feral animals, road kill, habitat loss and wildfire. We will be keeping a sharp eye out along with anything else to be seen.
The entrance to the forest was just a short walk down the road from the pub. As soon as we began bimbling the track we could hear plenty of birdsong.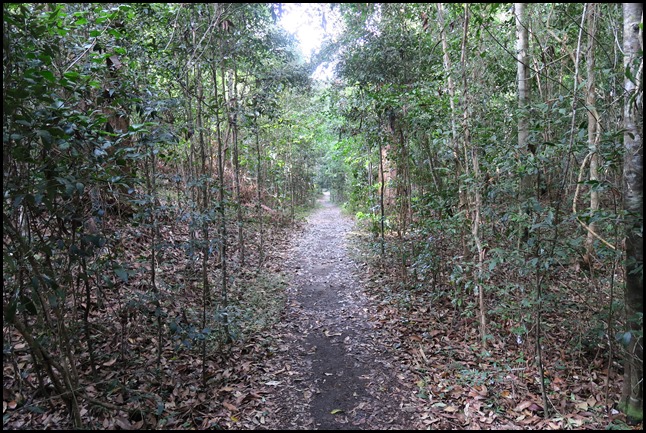 Iluka Nature Reserve protects 136 hectares, much of which is littoral (coastal) rainforest. Littoral rainforest simply means 'by the sea' and features elements of both subtropical and dry rainforest. It requires shelter from constant salt-laden winds and has evolved a low canopy made up of salt-tolerant, blunt leaved trees.
Often found as a remnant on the southern side of coastal headlands, littoral rainforest represents only 0.6% of all rainforests and is the most poorly conserved type of rainforest in New South Wales. Most of the remaining littoral rainforest grows on sand which is well drained and nutrient poor, making its existence here even more remarkable.
Stranglers and Supporters: One of the most distinctive trees found at Iluka Nature Reserve is the Strangler Fig (Ficus watkinsiana). It begins life as a tiny seedling lodged in the fork of a host tree, eventually engulfing and killing the original tree. Other specialised plants known as epiphytes are not parasitic, but rely on trees for support only. Epiphytes live on nutrients from rotting leaves or animal droppings, and include the Elkhorn (Platycerium bifurcattum) and the Birds Nest fern (Aspenium australasicum).
Vines such as Native Hoya (Hoya oligotricha) climb upwards to the sunlit canopy of the littoral rainforest. Vines have evolved a number of climbing methods such as tendrils that grasp (a baby we found waiting to find something to grab hold of), in the Long-leaved water vine (Cissus sterculifolia) and spiny stems that stick, in the Burny Vine (Malaisia scandens). Unfortunately garden escapees such as Madeira Vine and climbing asparagus have invaded some parts of the rainforest where they smother smaller rainforest plants and mature native trees. The NSW National Parks Wildlife Service and the Iluka Dunecare and Landcare Group have joined forces to control weeds in the Nature Reserve.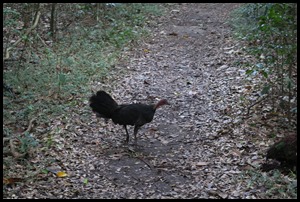 Our tally of birds, plus we saw finches – too quick, and a honeyeater
.
We came to the end of the track, through the kissing gate, across the car park and had a while on the beach.
Then up to the lookout, this way looking over the picnic area and north. We were looking at the 'sticky out bit' on the seaward side.
On our walk back, a kindly man suggested he take our picture, with that he jumped off his bike and did just that. Bade us a "good day" and disappeared. The middle tree, on looking up, was in perfect health despite looking like a beaver had been at it. My Tarzan, My Protector wrestles a baddie...........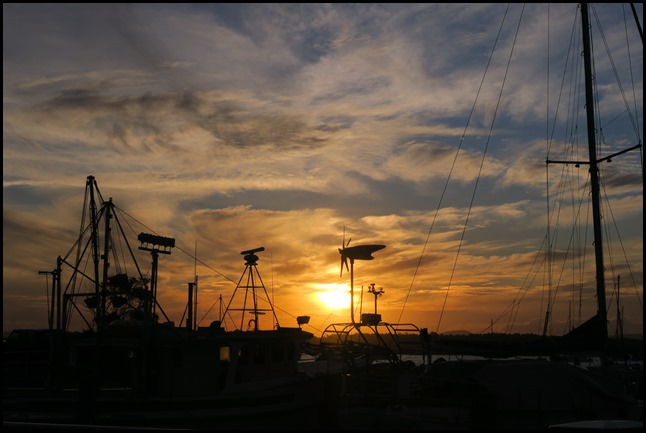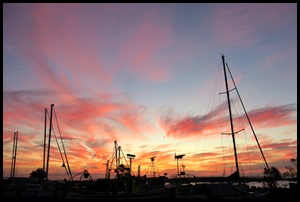 We bimbled a total of three and a quarter miles ending at the fish and chip shop, where we watched the sun going down. Then home to be once again mashed at Mexican train dominoes. Yes, but, who snuck two games of backgammon and a ton of money. It was a deal I signed very hesitantly that you wouldn't whine about my backgammon if I didn't put up too much protest to the Mexican, but I don't like the four all last minute battles, I like winning five one or two. Huh.
Bear had notice a sign saying the 'posh' dinghy dock was constructed under the NSW Government's Better Boating Program. This NSW Maritime initiative provides infrastructure for the benefit of the community using funds from boating fees. This project was jointly funded by NSW Maritime, Clarence Valley Council and McGeary Bros Earthmoving. 2010. Well done and thank you from impressed yachties. We were treated to a pretty sunset across the bay and an awesome one as we approached the girl.
ALL IN ALL A VERY ENJOYABLE BIMBLE
GOOD EXERCISE IN AN UNUSUAL FOREST
---