Jaipur Digs

Beez Neez
Skipper and First Mate Millard (Big Bear and Pepe)
Mon 22 Apr 2019 22:57
Jaipur Digs
After a night in our dark corridor room, the nice manager moved us upstairs to a big room with a classic double door entry and noble elephant prints on the wall.
Beautiful decorative niches next to the huge bed.
Our desk and chair were of classic design with enamelled pattern.
The room next door was occupied by a couple in town to meet with the wedding planner organising their daughters nuptials. Seven-day festivities are becoming out of vogue as everyone is shattered after three, time off work and generally trying to keep things going is a good enough reason. We were shocked to hear that the table decorations alone are going to cost forty thousand American dollars..........Jaw dropping. The room beyond our neighbours (from Mumbai, now off to America for the graduation of their son) is a pretty sitting room.
The painting above the settee is of Rawatsar Fort.
To the left: Rawat Kandhal, counted amongst the bravest of the brave engaged in battle against sarang Khan (Dehli Emperor's Governor of Hissar) "Sarang Khan charged him with the whole imperial cavalry veteran made a gallant fight supported by but 15 men on foot. 21 assailants fell round him and crossed blades with Sarang Khan himself but numbers prevailed and Rawat Kandhal at length fell" (1490 A.D.) Rawat Kandhal was the founder of the Kandhlot Rathores and the Rawat of Rawatsar is the chief of the branch of the Kandhlot clan.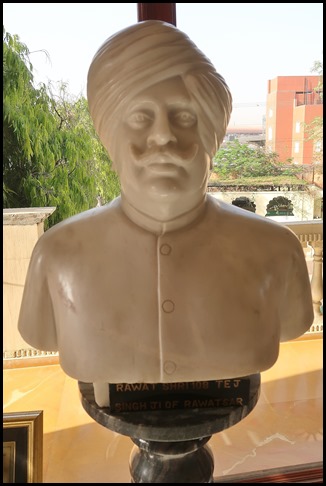 Rawat Shri 108 Tej Singh Ji of Rawatsar.
A picture of the hotel taken from the front. (Heritage listed).
Dera Rawatsar - A family boutique hotel run by the House of Rawatsar, who traces their ancestry from Kandhlot Rathore clan of Rajputs, offers the traveller a quiet and relaxing experience amidst the freshness of a garden. Being located in the heart of the city, historical monuments, heritage walled city, shopping areas - are all easily accessible from here. The hotel, blending traditional Indian hospitality & Indian modernism, has impressive exterior and interiors with architecture typical of Jaipur. Your stay at this Jaipur hotel is sure to leave a lasting spell on your mind.
The pool from our level and then from the far end looking back.
Single rooms in the corner and knick-knacks.
The path toward reception and on toward the dining room.
The front gate and the garden.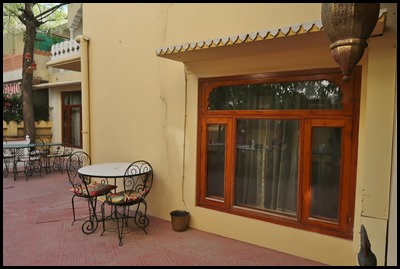 Our first room and round the next corner.
Loved the triple seat.
Bear settled at breakfast in the dining room – many more paintings and photographs.
Rawat Kishan Das. I typed out the label but as it made little sense, left it in place.
By the might of his sword. Rawat Ragno Das carved out territory consisting of 120 villages and founded Rawatsar thikana (estate) in the last quarter of the 16th century. The Rawat of Rawatsar was premier noble of Bikaner state. He had a designated seat on the right hand of the Bikaner throne and played a pre-eminent role along with other premier nobles during coronation of the Bikaner ruler.
Guru Govind Singh (tenth and last Guru) embarked on a journey in 1708 A.D. to meet Emperor Aurangazeb stationed in the south. During his sojourn he camped at Rawatsar. Rawat Lakhdhir Singh of Rawatsar accorded a warm reception, remained in attendance throughout his stay and received the blessings of the venerable Guru.
Kanwar Bahadur Singh son of Rawat Anand Singh, a fearless warrior, dedicated his life in fighting Bhaati Muslims who held sway over Bhatner Fort and adjoining areas. He expelled them from Fatehgarh. In 1801 in an assault on Bhatner Fort he met a warrior's death. In 1804 Rawat Vijay Singh of Rawatsar along with Bikaner forces captured Bhatner and renamed it Hanumangarh. For his bravery Rawat Vijay Singh was granted additional villages by the Bikaner ruler.
Rawat Kandhal co-founder of Bikaner State. No label. Rawat Man Singh Ji Rawatsar and Rawat Ranjit Singh Ji Rawatsar.
Rawat (another word for Raja) Tej Singh Ji Rawatsar.
Party Joanna. Rawat Vijay SIngh Ji Sahib of Deogarh, 1924 and Rani Saheba Nand Kamwar Jhalee of Deogarh, 1925.
Rawat Tej Singh of Rawatsar and Padam Shri Dr. Rani Lakshmi Kumari Chundawat of Rawatsar. So interesting to potter about our digs on our day off. Very helpful, friendly staff and good food. We tried to ignore the poor internet and noise by spending a couple of hours in the pool, which, in the middle of a city was a pleasant surprise and very enjoyable.
ALL IN ALL HOOTING ALL NIGHT BUT A VERY HISTORIC BUILDING
NICE ROOM AND POOL BUT A BIT NOISY
---